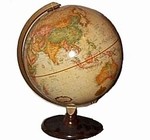 C. Raja Mohan is India's premier strategic analyst and Strategic Affairs Editor at The Indian Express. At a Gateway House meeting on December 10, he spoke to Gateway House's Shloka Nath about the new threats in the Indian Ocean where geopolitical players like China have already arrived, India's lack of assertion over its natural waters and the necessity for corporate India to develop a strategic view of India's global interests.
Q: Is Indian foreign policy keeping up with the changing geopolitical challenges?
This is a work in progress. In the last 20 years as India began to globalize and reform its economy,  it had to make significant adjustments. With the controversial nuclear test, we had a whole range of new and different political pressures to deal with. There have been many attempts to redefine how India deals with world –the system is adapting but we need to adjust more.
For instance, today you might say our defining foreign policy strategy is actually strategic autonomy. Now you will say, autonomy from what? Essentially that means we have been focused on preventing others from constraining our autonomy. But now this will change as India becomes a growing economic power – our business is going to be about constraining others' autonomy.
We also have to ask ourselves important questions, like are we merely protecting ourselves or do we need to protect others too? Historically we have been non-aligned but what if someone else wants to align with us? If we're the third- largest economy and other countries come to us asking for our support, what do we say then? Then of course you have to think about intervention versus non-intervention. We may say we have not intervened, but our neighbours have a very different opinion.
We have to stop being so moralistic about our foreign policy – ultimately politics is a contestation of power. So we can't keep reducing things like intervention or not to philosophical questions.
Q: How can corporate India take a more strategic interest in a globalizing India?
Indian corporate interest is becoming more global and it needs to take more of a strategic view of its expansion. Indian industry is setting up power plants and importing things like coal from different parts of the world, it is acquiring assets around the world – clearly, the footprint of corporate India is global now and growing. But corporate India is not thinking about this in a more systematic sense, which is to create and generate more alternate views on how their interests should be pushed from Delhi. Corporate India needs to invest in supporting think tanks and ideas about what kind of foreign policy will work better for it, so as to enable it to do better expand into other markets and to bolster its own commercial interests.
Q: Is a rising China a matter of concern for Indian policymakers?
For the government, China is one of the biggest concerns. We are encouraging trade with china – and already it is the largest trading partner in goods- almost $60 billion. Only recently, Reliance Power inked a $10 billion deal with China's power equipment supplier, Shanghai Electric Group Co Ltd. So the scale of our commercial interaction with China is growing rapidly. But the private sector also needs to invest in a broader public understanding of policy, and they need to support better programs on China studies and analyses, and open up more channels for interaction with China and its elite.
China matters more and more but what have we done to understand China? Forget the government – what is society doing to look at China? What is the corporate sector doing to enhance its own understanding of China and its economic strategy? There is a need to promote those kind of studies. The corporate world cannot expect government to do everything without corporate India needing to do nothing.
Q. What about our policies towards our neighbours?
When it comes to our neighbours, clearly we have failed in our policies. But it's a matter of the past. Its fine to pass judgment on the events that have already occurred, but now it's just not enough to say, 'We failed.' What we need to do is take a good, long look at the current situation and say, 'This is what we can do.' Which is why again it's up to our think tanks and those outside of government to do that research, conduct those studies, and make actionable recommendations.
Q: How important is maritime security in India's foreign policy?
There is currently a complete power transformation taking place in the Indian Ocean. US power is declining, China's power is on the rise and India is emerging as a power. We are on the cusp of a transformation where we are setting up new arrangements in the Indian Ocean.
Also, very important is that India has now become a trading nation. From no trade in the mid eighties to nearly half a trillion dollars today and close to 40% of India's GDP comes from trade. This is completely different from an India from 20 years ago.  The same is true for China; we will see it make very important investments in maritime security.
Interestingly, from a historical standpoint, both India and China faced security threats mostly from land. Today both they are facing a scenario where their security interests and threats will emanate from the seas. India also very dependent on resources from outside and as China's power rises and the US declines – it remains to be seen as to who will manage these complex transformations. As a result, maritime concerns are going to be central to India's foreign policy.
C. Raja Mohan is India's premier strategic analyst and Strategic Affairs Editor at The Indian Express.
This interview was exclusively conducted for Gateway House: Indian Council on Global Relations. You can read more exclusive content here.
For interview requests with the author, or for permission to republish, please contact outreach@gatewayhouse.in.
© Copyright 2010 Gateway House: Indian Council on Global Relations. All rights reserved. Any unauthorized copying or reproduction is strictly prohibited.