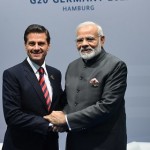 This year marks the completion of seven decades since the establishment of diplomatic relations between India and Mexico, established on 1 August 1950. The relationship was important in the 20th century and has become even more valuable in the present century. There are solid achievements in bilateral relations but also future possibilities for what can be achieved together.
At the center of the deliberations is not only a vital relationship between the two governments but also the people of the two countries. They live on the opposite sides of the globe, and yet they are bound together through a web of exceptional similarities of geography, climatic conditions, biodiversity, physiognomy, historical experience and cultural values. The two countries' journey on the path of socio-economic development and their roles in global affairs are issues of immense interest to both the elites and peoples alike. A holistic perspective, therefore, needs to be crafted for this memorable occasion.
Cultural affinities between the Aryans and the Mayans are well known. They are found to be truly striking in art, architecture, beliefs, traditions, cuisine and life-styles. It has been debated for long whether cultural influences journeyed from the Indian subcontinent to Mexico. Eva Alexandra Uchmany, editor of India-Mexico Similarities and Encounters throughout the History, advocated the view that exchanges between New Spain or Mexico and India and Southeast Asia began only in the colonial period and intensified in the 20th century. However, the reality is deeper and more complex, as other scholars have pointed out.
Octavio Paz, a noted diplomat, man of letters and Indophile par excellence, was selected in 1951 to serve as a young attaché in Mexico's first diplomatic team that was led, as ambassador, by Emilo Portes Gil, a former president. On learning that he was posted to Delhi, Paz thought of a country with "rituals, temples, cities whose names evoked strange tales, motley and multicoloured crowds, women with feline grace and dark and shiny eyes, saints, beggars …" Later, Paz returned to India to serve as ambassador for six years. A Nobel-laureate, he wrote in his celebrated work In Light of Asia, "I understand what it means to be an Indian, because I am Mexican."
Mutual attraction and shared perception that each country has much to learn from the other were the twin drivers behind regular high-level interactions from the 1960s to the 1980s. Between 1961 and 1986, eight visits at the Head of State and Government level took place. After a hiatus lasting two decades, four visits followed during the period 2007-2016. Three of them were by the Indian leaders. This underlines the need for a greater frequency of visits, and especially a conscious decision by Mexico to place India on the itinerary of its top leaders in the future. To begin with, a virtual meeting between the President of Mexico and the Prime Minister of India should be arranged in this 70th year of diplomatic relations.
During my short but fascinating tenure as ambassador in 2005-2006, I was struck by widespread interest in India and the desire to deepen the relationship – in Mexico's political, business and intellectual class. Over half a dozen ministerial visits facilitated the task of expanding bilateral cooperation. The last visit in my time was by the minister of state for external affairs, Anand Sharma, which initiated the process that led, in due course, to President Calderon's visit to India and later the visit by President Pratibha Patil to Mexico.
One of my most pleasant duties as the Indian ambassador to Mexico was to present, on behalf of President A.P.J. Kalam, the Padma Vibhushan Award to Dr. Norman E. Borlaug. It was on the research stations and farmers' fields in Mexico that Dr. Borlaug had developed successive generations of wheat varieties with exceedingly high potential. By mid-1960s, he took his high-yielding 'Mexican wheat' to India, thus sparking what later came to be known as the 'Green Revolution.' Borlaug graciously accepted the award, as he put in a letter to me, "in the name of hundreds of Indian scientists, policymakers and millions of farmers, without whom there would have been no Green Revolution".
India-Mexico relations are in a good place today. Prime Minister Narendra Modi's brief visit in June 2016 imparted new impetus. The blueprint for a privileged or even strategic partnership is in the works. Bilateral trade has surpassed $10 billion, with Mexico emerging as the biggest trading partner of India in Latin America. Big-ticket companies of both countries have a stake in the relationship. Increased investment flows, growth in tourism, cooperation in science and technology, space, aerospace, energy, environment and digital innovation are all indicators of a healthy relationship.
But this is no time for complacence. The two countries have to achieve much more. As fellow non-permanent members of the UN Security Council for the period 2021-22 as well as pro-active members of G20, India & Mexico need to intensify their mutual dialogue and cooperation on how to overcome the current weakening and impasse in the multilateral system. The two capitals could hold an exclusive discussion on India's concept of "Reformed Multilateralism." Long used to viewing each other through the Atlantic/European prism, Mexico and India could develop a new strategy anchored on cooperation across the Pacific. Aggravating U.S.-China tensions are a source of concern to both countries. Business stakeholders have been moving on the right path, but they need to factor in the setbacks caused by the Covid-19 pandemic and cooperate better to expand the economic relationship.
Besides, Track II linkages between the two countries are highly inadequate. A creative approach recommends itself.
Above all, the India-Mexico relationship needs a core group of champions and advocates from the interested sections of their polities, informed people who are convinced of the imperative to secure more in all relevant areas of complementarity. The driving motto should be to create deeper dialogue and better synergy all around.
The webinar conducted between both counterparts celebrating the seven decades of diplomatic relations, leveraging technology which defies distance, is an excellent first step on their future journey together. Let it trigger a series of well-scripted conversations between Indian and Mexican friends. New ideas and plans will be born as a result.
This article is based on the speech delivered by Ambassador Rajiv Bhatia at the "Past, Present and Future of India-Mexico Relations" Webinar hosted by the Indian Embassy, Mexico on 13 August, 2020.
Rajiv Bhatia is Distinguished Fellow, Foreign Policy Studies Programme, Gateway House. He is a former ambassador to Mexico.
This article was exclusively written for Gateway House: Indian Council on Global Relations. You can read more exclusive content here.
For interview requests with the author, or for permission to republish, please contact outreach@gatewayhouse.in
© Copyright 2020 Gateway House: Indian Council on Global Relations. All rights reserved. Any unauthorized copying or reproduction is strictly prohibited.