In India, digital manufacturing has begun in parallel with global efforts. The most obvious mode of entry has been through multinational companies that are transferring updated technology to their India operations. Schneider, Siemens, ABB and Rockwell are leaders. Their parent companies are among the 69 entities on the WEF's Global Lighthouse Network for effectively integrating digital technologies to enhance manufacturing processes. These companies have long been at the forefront of industrial transformation. China is a clear leader with 20 facilities on this network, but here too, nine of these facilities are foreign MNCs.
The ongoing trade war between U.S. and China, as well as the pandemic have reemphasised the urgency for building resilience and agility in supply chains. Companies that saw digital transformation as an option, now understand it as a business imperative. The addition of 16 manufacturing facilities against the backdrop of the pandemic-induced economic uncertainties reflects the tremendous potential of digital manufacturing at overcoming challenges across value chains.
Discrete manufacturers[1] have been more successful at adopting digital transformation as compared to process manufacturing[2] facilities. India has been able to achieve the more difficult task in digital transformation – all three Indian facilities on the Lighthouse Network are process manufacturers. Tata Steel, with three facilities on the lighthouse network (two in India and one in Netherlands) leads the way. Tata Steel has demonstrated successful implementation of digital initiatives at three distinct levels – (a) greenfield facility in Kalinganagar; (b) brownfield facility of 1907 vintage in Jamshedpur and (c) facility in a foreign country.
This is good news for India, as it begins to build its manufacturing capacity, encouraged by global trends and the various Aatmanirbhar Bharat incentives available to them. It's also good news globally, as supply chains begin to diversify away from single-source options like China, bringing India, with its lower costs and high-tech capabilities into competitive trading systems. Most importantly, it promises to create new jobs and products while boosting productivity.
This infographic depicts India's competitiveness with respect to other countries in new age manufacturing. India is not far behind industrialised nations like U.S., France and Germany, and must outcompete them in the coming years by embracing Digital Manufacturing across value chains.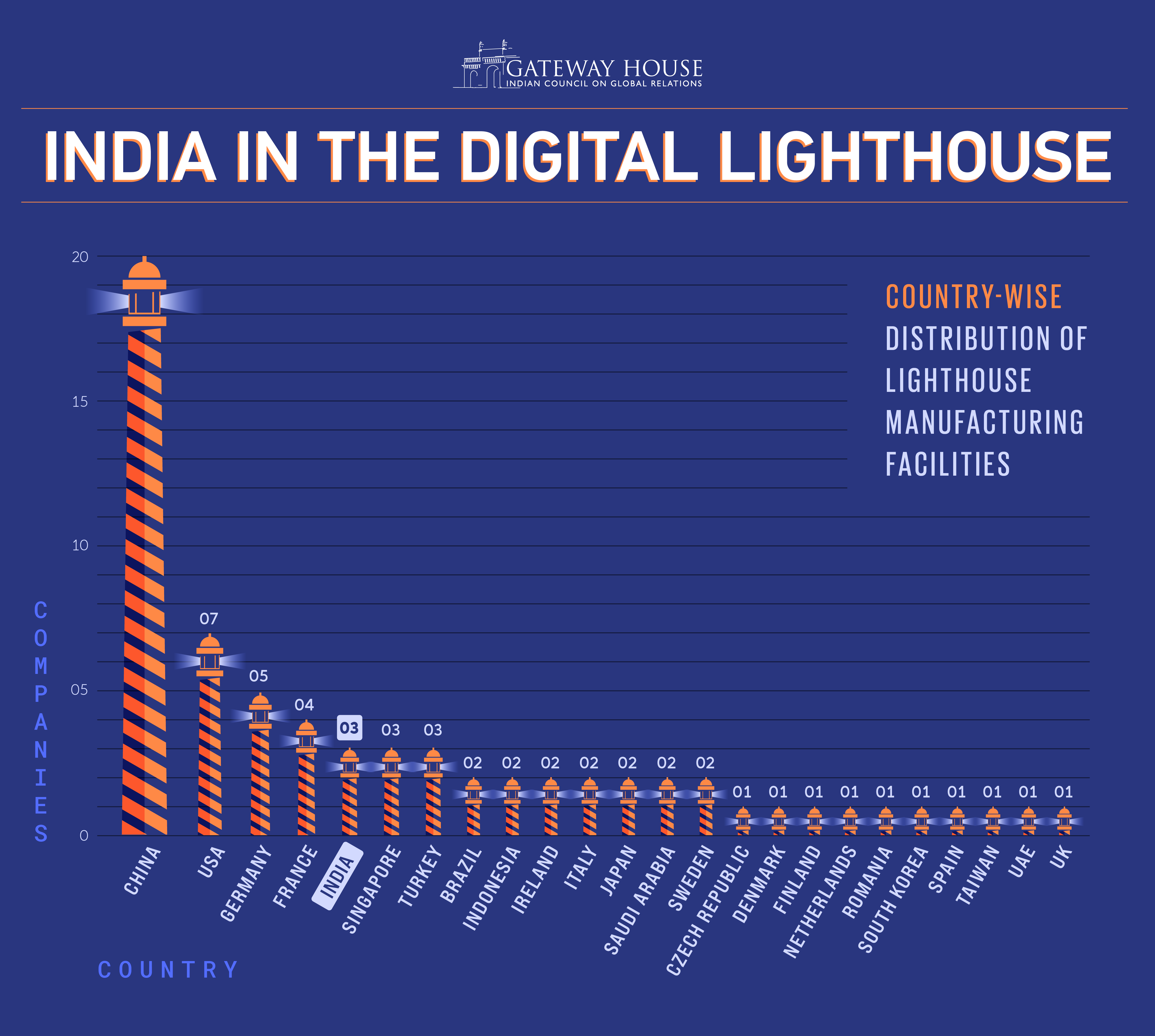 Designed by Debarpan Das.
Read the paper, Digital Manufacturing in India.
This infographic was exclusively developed for Gateway House: Indian Council on Global Relations. You can read more exclusive content here.
For interview requests with the author, or for permission to republish, please contact outreach@gatewayhouse.in
© Copyright 2021 Gateway House: Indian Council on Global Relations. All rights reserved. Any unauthorised copying or reproduction is strictly prohibited.
Endnotes:
[1]  Discrete manufacturing involves assembling things, and making things that are distinct. Automobiles, furniture, toys, smartphones, and aeroplanes are examples of discrete manufacturing products.
[2]  Process manufacturing involves mixing of ingredients according to specific formulas or recipes. Oil, natural gas, steel, and cement are examples of process manufacturing products.