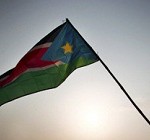 The Republic of South Sudan was born on 9 July, 2011 and joined the international comity of nations as the 193rd member of the United Nations. The people of the new state voted with an overwhelming majority of 99% in favour of secession from Sudan. India fully endorsed the successful closure of a referendum that was envisaged in the Comprehensive Peace Agreement (CPA) of January 2005, designed to end the on-going civil strife between North and South Sudan.
India and Sudan have an old and established relationship. On the eve of its independence from British rule, Sukumar Sen, the then Indian Chief Election Commissioner, conducted the elections in Sudan in 1953.  Later, the North African state was included, by Prime Minster Jawaharlal Nehru, for participation at the Afro-Asian Relations Conference at Bandung in April 1955 – a year before it gained independence in 1956.  India extended political support to Sudan and Pundit Nehru visited the country in 1957. Since then there have been several high level political visits between Sudan and India.  On 9 July 2011, a high level delegation led by the Vice President of India, Shri Hamid Ansari represented India on the momentous occasion of South Sudan's day of independence.
India-Sudan relations have been symbiotic and characterized by people to people exchanges, trade, commence and investments and a shared outlook on several global issues within the framework of South- South Cooperation. In the years ahead India, will seek to capitalize on the goodwill built over the years and continue to safegaurd her economic engagement, amongst others, in the hydrocarbon sector and explore fresh avenues for investments, in  both- Sudan and South Sudan, based on mutual interest and reciprocity.
        Protecting existing Indian investments
India will protect her existing investments and loans, valued currently at about 3 billion USD (Embassy of India in Khartoum, 2010). The major investments, of about 2.4 billion USD, have been made by ONGC Videsh Limited (OVL), a government of India undertaking. The oil company has invested in acquiring exploration and production assets that straddle both Sudan and South Sudan (Ministry of External Affairs (MEA) 28 April 2011).  OVL's blocks in Sudan give it approximately 2.4 million tons of crude oil annually (ONGC 2011).  Of the 160,000 barrels of oil that India sources from Sudan, India receives 100,000 barrels from South Sudan,( MEA, 28 April 2011), where about eighty percent of the total oil-producing asset reserves of undivided Sudan are located. OVL also has a 25% stake in the 1,600 km Greater Nile Oil Pipeline that originates in the South and connects the Khartoum refinery in the North to Port Sudan on the Red Sea, the point of exit for Sudanese exports, including oil exports to India.(Business Standard 21 January, 2011).
However the oil assets of the two Sudans will be recalibrated after the referendum on the contested, oil-rich Abyei region which at present, is being claimed by both sides.  However, it is hoped that the solutions on  such issues will be worked out through negotiations and in a peaceful manner,  as  the two neighbours are aware of the fact that their destinies are intertwined, and will remain so for the short to medium-term period.  Until South Sudan develops its own refineries, she will have to rely on Sudan's processing facilities and shipment of oil through Port Sudan on the Red Sea.  On the other hand, Sudan that has lost the major oil sources to South Sudan post-secession will now depend on the revenue payments from the transfer/ shipment/refinement of oil through the Red Sea outlet. President Omar Hassan al Bashir's, attendance at the Independence Day celebrations at Juba, the capital city of South Sudan, is evidence of this inter-linked future [1](Sudan Tribune 9 July 2011).
As far as India is concerned, the bifurcation of Sudan into its two constituent units will have no impact as the contracts pertaining to India will be honoured by South Sudan (MEA 28 April, 2011). Against the above stated backdrop this research tries to outline India's present relationship with the nascent state of South Sudan and makes projections for the future, with a specific focus on economic engagements between the two countries that are based on mutual interests and reciprocity.
    India and South Sudan:  current engagements
India has made a significant contribution to humanitarian assistance through donations of medicines and grain supplies to control the kala azar epidemic (1983) and flood relief (2008) in both North and South Sudan ( Embassy of India in Khartoum, undated).
Of the total force of about 10,000 uniformed personnel of the United Nations Mission in Sudan (UNMIS) set up to support the Comprehensive Peace Agreement of 2005, a third comprises Indian police officers and military and is led by Lieutenant General Jasbir Singh Lidder of the Indian Army[2] (See UNMIS, May 2011; See also UN 24 December, 2009; UNMIS undated; MEA, 14 July, 2011).
The UNMIS is mandated inter-alia to implement the Ceasefire Agreement of 2005 and monitor violations, assist with the disarmament programme, work towards reconciliation and community rebuilding through efforts that include medical and veterinary camps to prevent outbreak of diseases such as East Coast Fever (livestock is the main source of livelihood for the locals) and work towards the promotion of human rights (For details see UNMIS, Mandate).
 At independence, India was the first Asian nation to recognize the nascent state of South Sudan headed by President Gen. Salva Kiir Mayardit. India's Vice President Hamid Ansari represented India at the independence day celebrations in  Juba, the capital of South Sudan, where India established a consulate as early as 2007 – a farsighted step taken to support its energy investments in South Sudan.
 About 80% of the oil resources of Sudan are within the state boundaries of South Sudan where OVL has major investments in the hydrocarbon sector (oil production, oil refinery, multi product oil pipeline).
Source: BBC accessed at
http://www.bbc.co.uk/news/world
Water and Power Consultancy Services (WAPCOS), part of India's Ministry of Water Resources provided consultancy services to  the World Bank-funded Sudan Emergency Transport and Infrastructure Development Project[3] ( SETIDP), for Southern Sudan (See World Bank 12 December 2005) .In  October 2007,  WAPCOS signed a contract for consultancy services with the World Bank and  prioritized six state capitals of South Sudan for the implementation of  power distribution, water supply and sanitation sectors and prepared feasibility studies and tenders documents for the implementation of the above schemes in South Sudan (WAPCOS, pers comm).  The project cost is estimated at 200,000 USD[4] (Price Waterhouse Coopers (PWC), August 2010). WAPCOS is the first Indian government entity to get a World Bank project in South Sudan.
Community tube well in the town of Rumbek in South Sudan
(Source: Personal communication WAPCOS)
 India pledged 5 million USD towards development assistance, capacity building and training under the  Aid to Africa and India Africa Foreign Summit (IAFS)-II programme (MEA  7 July , 2011) .Training programs are conducted at the Vocational Training Centre and  the Rural Technology Park at the National Institute of Rural Development (NIRD)[5]  (For details see NIRD website).
 Seventy five seats have been earmarked exclusively for South Sudan under the Indian Technical and Economic Cooperation (ITEC), a bilateral assistance programme launched by India in 1964[6] (Ministry of External Affairs, undated).   In the past years, in addition to training under the ITEC, scholarships for higher education in sectors such as agriculture, oil exploration and others, Sudanese diplomats have attended professional training course at India's Foreign Service Institute and their defence personnel have benefited from short term courses on peace keeping at the United Services Institute (MEA 28 April 2011). India also plans to extend the tele-medicine and tele-education under the Pan-Africa E-Network Project to South Sudan (MEA 7 July 2011).
 About 30,000 Sudanese students have graduated from Indian centres of education and about 5,000 students (from undivided Sudan) enrol for higher studies in India every year (Embassy of Sudan in Khartoum). [7]
  India's role in capacity-building, training and upgrading of human resources will be its major contribution to both North and South Sudan in the years to come. In return India expects continued support from such countries in its bid for permanent membership of the UN Security Council and at other international fora. Similarly, the nascent South Sudan would look to India for backing in the international community on issues such as the grant of development aid, writing off debts and related issues and economic investments to reconstruct the infrastructure/services deficit country.
        Areas of synergy: sectors for potential co-operation
South Sudan is blessed with natural resources such as petroleum, iron ore, coal, gold, silver, copper that it can now use to generate revenue for reconstructing the country (Government of South Sudan, GoSS)."Given the many years of civil war, Southern Sudan is literally being built from scratch. The road network, housing, banking sector, insurance, schools and other amenities in the huge country all need urgent attention and the focus is on the donor community, the government, and above all, commercial investors" (GoSS, 2011a). The new government in Juba will seek to reduce its dependence on earnings from oil and diversify its sources of earnings through investments in agriculture, tourism, power, telecom, water utilities and infrastructure development sectors. Agriculture, in particular, will be priority sector for investments- given the fact that of 'the total population of 8.23 million (2008 Census), 83 percent of the peoples live in rural areas and 78% of households depend on crop farming or animal husbandry as their primary source of livelihood and 51 % the population (55% of the rural populace as compared to  24 percent in the urban areas)  live below the poverty line'(South Sudan Centre for Census Statistics and Evaluation (SSCCSE) 2010).
Indian can certainly provide the expertise that South Sudan needs in the entire above mentioned sector in addition to others.   Indian companies can be the partner of choice for the 'triple A' (adaptable, affordable and appropriate) technologies that they have mastered better than other nations. Indian companies –from the public sector and the private listed below, have business prospects in the new state in the years ahead:*
State-owned Bharat Heavy Electrical Limited, (currently executing the 500 Mega Watt Kosti Power Project in Sudan, financed through an EXIM Bank letter of credit of $350 million), can develop river cargo and other projects in the new state.
Angelique International, a private sector enterprise (executing the $41. 90 million Singa Gedarif power transmission project in Sudan with EXIM Bank support) has the potential to rebuild the power and related sectors in South Sudan.
Indian Railways Construction Company Ltd (IRCON), a state enterprise (supplied locomotives to the Sudan Railways Corporation, Sudan in 2005) (Sudan Tribune, 20 October, 2005) can help build railroads which can link citie, towns in South Sudan and with neighbouring states in East Africa.
Rail India Technical & Economic Services (RITES) Limited, a GoI undertaking that provided engineering, consultancy and project management services in the transport infrastructure- has business opportunities for the development of railways, highways, river ports and waterways, airports that need to be built on a priority basis in South Sudan.
The Indian postal department with its expertise in delivering mail to remote areas efficiently, can set up the network of postal services between Juba, the main cities with the interior locations and with neighbouring countries in East Africa.(GoSS, 2011b)
South Sudan's natural beauty, bio diversity and wild life parks have the potential of generating revenues from tourism- that can be a major revenue earner.  Several Indian companies from the hospitality sector can play a key role in helping rebuild the economy on the basis of reciprocal interests.
Agriculture will be a key sector for the alleviation of poverty and generation of livelihood for the peoples in South Sudan. Agricultural potential in South Sudan is high with about 90% of its total area considered suitable for agriculture, 50% of which is prime agricultural land and the country also has abundant rainfall and waters from the Nile (USAID 2009). Agro transnational companies such as Bangalore's Karuturi Global have invested in the neighbouring state of Ethiopia, in the Gambela region that borders South Sudan. Karuturi has acquired "311,000 hectares of land on lease hold basis in the Baka and  Gambela region in Ethiopia to grow cereals ( rice, maize)  on 70,000 hectares and oil palm on 20,000 hectares" (Karuturi website, undated).  The extension of Karuturi's investments across the border into the new state can potentially provide the much required capital and technology to the neglected agriculture sector of South Sudan that suffers from severe under-capitalisation, in particular low technology and weak knowledge-based agricultural small holder farm production systems.
Kirloskar Brothers Limited (KBL), applications such as industrial pumps are being used for the sugar plants, heavy duty compressors for food processing sector and irrigation pumps for agriculture are being used in Sudan since the early 2000s.  Agriculture development in South Sudan offers business opportunities for KBL, Jain Irrigation amongst others Indian business groups that have a presence in several African countries and can potentially supply customized appropriate and affordable agricultural equipment such as small tractors, drilling and irrigation equipments for small holdings units.
 South Sudan offers immense opportunities for India's banking sector given the fact that only 1 percent of households in Southern Sudan have a
bank account! (SSCCSE, 2010)India's state-owned financial institutions such as State Bank of India that provide a range of banking products through its vast networks including in the rural parts of India can share their experience in interior regions of South Sudan where there is a need for banking infrastructure as most of the existing Banks have a presence in the country's major urban centres. The Bank of Baroda that followed the Indian diaspora, mainly the Gujaratis, has branches across the borders of South Sudan, i.e., in neighbouring Kenya and Uganda. There is potential for  business for these two government owned Banks and other private sector Indian banks as well, that aim to have a foothold in Africa, seen as the new frontier for growth by the entrepreneurial community
The list of  private Indian companies that can engage with  South Sudan is long – Larsen & Toubro (L&T)(technology, engineering, construction and manufacturing company), Overseas Infrastructure Alliance (OIA) ( project development and management),  Reliance Industries (oil and natural gas sector), Essar (oil, telecommunication),  Tata  (automobiles, Tata Sudan operates in Sudan, ICT, agriculture equipments ), Mahindra & Mahindra (automobiles and agricultural equipments, presence  of Mahindra Scorpios in Sudan in partnership with Symex International), Shapoorji Pallonji (construction, power, finance), Kalpataru (power), education,  hospitality sector (three Indian owned hotels are operational in Juba) and retail (one large Indian owned departmental store exists in Juba) (MEA 14 July, 2011). Cipla, Ranbaxy, Aurobindo Pharma and others (pharmaceuticals), healthcare (multi specialty hospitals and clinics) have a scope for business and reportedly representatives of Indian hospitals such as, ' Fortis from Bangalore, MIOT from Chennai have already made presentations and held exploratory talks with healthcare sector authorities in South Sudan.' ( MEA 28 April 2011)
The Indian companies can seek support and facilitation through inter-alia, the EXIM Bank that has a long experience in promoting the agenda of infrastructure development and food security on the African continent through the extension of concessionary loans.
        The way forward
This might be the time for Indian business houses to take up the challenges and business opportunities and take a leap especially over China and the West that will offer stiff competition in the years ahead.[8]  A decade from now,  one can anticipate  heavy investments by Chinese companies in the major capital intensive and long-gestation projects such as; airports, roads, power projects as a part of their ' oil for infrastructure' deals, as  they have done in the case of oil-rich Guinea and Nigeria.  China sources oil from Sudan (5 percent of its total oil imports) and claims to be a "reliable friend" of both North and South Sudan.  China too has played a role along with the international community to bring an end the civil war between the neighbours- Sudan and South Sudan (FOCAC, 10 July 2011; Business 30 June 30, 2011).
The civil strife between North and South Sudan has raged for about four decades now and the war torn countries will require sustained efforts and massive investments to rebuild their war-ravaged economies. International development and humanitarian assistance programmes funded by multiple donors such as the World Bank, United Nation and individual countries are ongoing for both North and South Sudan. In South Sudan that is in a state of transition and reconstruction, United Nations aid has been extended to sustain a food and agricultural industry and builds infrastructure.  In fact, Sudan is the thirteenth largest recipient of official development assistance (ODA) (excluding debt relief) allocated to countries between 2000 and 2009, of which 60.6% is humanitarian aid between 2005 and 2009 (Global Humanitarian Assistance report, undated).
Though South Sudan maintains access to 80% of oil reserves of the former undivided Sudan, the transportation routes through Port Sudan on the Red Sea and refining facilities lie in North Sudan. Until the proposed Juba- Lamu route for the transportation of oil and goods is executed between South Sudan and Kenya, the hydro-carbon sector – the major revenue earner for South Sudan – will remain hostage to the present regime in Sudan and the potential for ongoing conflict, over the issues of transportation routes for oil exports through the Red Sea and sharing of oil revenues will undergird the tenuous relationship between South Sudan and its neighbour, Sudan.
Source: STRATFOR .com cited at
http://dehai.org/archives/dehai_news_archive/jun-dec10/0887.html
         South Sudan's proposed incorporation into the five-member East African Community (EAC)[9] is a debatable issue, given the flip sides of an open door trade policy and the future adverse impacts on its embryonic manufacturing sector.  Membership to the EAC will be crucial for the land-locked country of South Sudan, to gain access to the world through the Indian Ocean ports of Lamu and Mombasa in Kenya.  An alternative outlet to Port Sudan is of essence for South Sudan's trade and shipment of oil in the years ahead, as peace between the North and South Sudan is fragile,  though support by the international community and efforts by both  Sudans are ongoing so that they do not  slip back into the quagmire of their conflict ridden past. For the EAC, South Sudan offers the prospects of increased trade, investments in mining, quarrying, energy, agriculture, tourism and other sectors (For details see allAfrica.com 5 April 2011).
Prospects for investments in South Sudan are a highly contested business proposition.  The major disincentives for investments in the new state are; an underlying potential for political instability due to the renewal of conflict between South and North Sudan,  Sudan's low ranking on the global corruption index of  Transparency International ( Sudan Tribune 27 October 2010),  tribal conflicts within South Sudan South Sudan's fledgling regulatory frameworks and lack of access to a sea port. As per UN reports "around 2,368 people were killed in 330 violent incidents in various parts of the south from the beginning of the year until the end of June" and on August 22, "600 people were killed and hundreds others were injured in tribal clashes in Jongolei State in South Sudan" (Xinhua 23 August 2011)  Thus there is the challenge of maintaining political stability within  South Sudan, demining the country and reintegrating the returnees- those who were internally displaced, refugees and others from the North.
Global investors will also keep a watch over the manner in which the Republic of South Sudan works to resolve its unfinished agenda with Sudan inter-alia, on issues of sharing oil revenues, border demarcation, more specifically in the oil rich Abyei region, transportation of oil from South Sudan through the Port of Sudan in the North and contestation over the sharing of Nile river waters between the new state of South Sudan and its neighbour the Republic of Sudan.
The absence of a significant Indian diaspora that can be a bridge between investors fr
om India and investments in South Sudan (an estimated 10,000 people of Indian origin and non resident Indians are settled mainly in and around Port Sudan, Khartoum and other cities of Sudan.) can also be a drawback, mainly for the private sector investors (MEA 28 April 2011, See also Embassy of Khartoum, undated).
In the years ahead, South Sudan will have to market itself as an attractive destination for investments. The South Sudanese government's message for foreign investors through their official website affirms the government's policy of non-discrimination and states, "… foreign investors are allowed to invest in and run businesses in any sector in Southern Sudan and provides guarantees against expropriation – Government of South Sudan shall not nationalize any enterprise. Further, no investor will be compelled (by law or otherwise) to cede any part of investment capital." (For details see Information for Investors, undated, GoSS website)
At present, South Sudan is open for investment in sectors across the board. For those with an appetite for risk and seeking opportunities amidst adversities, this can be an opportune time to invest and capture the market. The vigilant investors, will wait, watch and assess the security and investment climate before foraying into business opportunities that the Republic of South Sudan offers.
       Disclaimer
*The names of companies listed are not exhaustive but merely illustrative (and not confirmation of their investments) but based on areas of convergence of potential requirements by the GoSS and what the Indian companies offer at a global level.  Finally economic engagements will always be based on and guided by national interest of the former and profit margins and request for investments, for the latter.
The research assistance offered by Johann Salazar (Centre for African Studies, University of Mumbai) and Mohit Nair (Cornell University, intern Gateway House, Mumbai) is acknowledged with gratitude.
This article has been republished in the Pambazuka Press, a Pan-African publishing group made up of an African community of 2,600 citizens and organisations. You can find the republished piece here.
---
babasteve/Flickr