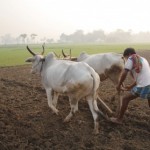 Agriculture was a major winner in the Government of India's Union Budget for 2016, announced on 29 February.  The sector, which employs 49% of the work force but contributes only 16% to the GDP, received an 84% increase in outlays for the fiscal year ending 31 March, 2017.  The allocation comes off a small base and is almost $7 billion at current exchange rates, or 2.25% of the total budget.[1]
This may not seem like a large outlay, but when added to relatively greater expenditures on chemicals and fertilizers, road transport and highways, and rural development, the message of the Modi government is clear: the spotlight is back on agriculture and the rural sector.
In recent decades, India has taken its eye off the agricultural ball. Deregulation of the economy, initiated in 1991, led to much national interest in multinational business, cross border mergers and acquisitions, the ascent of stock exchanges and capital formation, import/export trade, domestic venture capital, and private equity. The IT sector, which today employs about ten million according to the India Brand Equity Foundation, was also a winner and the subject of fascination – software industrial parks in Bangalore and Hyderabad are now state of the art like their counterparts in Silicon Valley.[2]  The traditional imagery of India morphed from elephants and bobbing cobras to sleek corporations and armies of highly talented Indians on the march and making it everywhere. Once scorned by ensconced Fabians and other socialists who deemed private capital a menace, the profit motive became something glorious. Making money is now quite in vogue.
But over the years, Indian agriculture has been allowed to drift. Continued fragmentation of holdings due in part to inheritance laws has resulted in much subsistence farming, as villagers are unable to achieve a scale that justifies investment in irrigation equipment or risk taking. Today about 3/5 of the farmed land in India is still dry farmed.[3] There has of course been much success dating to the 1960s and the Green Revolution, with high yield wheat and rice seeds developed by the late Nobel Prize Laureate, Dr. Norman Borlaug, and the introduction of herbicides and pesticides.  Nonetheless, the increase in agricultural output has been largely limited to select areas of Punjab, Haryana, parts of Rajasthan and west U.P., Tamil Nadu, and some other parts of central India and the South.
Indian agriculture is not glamorous. Conditions are rough indeed, and it does not attract like IT. The summer heat is beyond comprehension of many westerners, as is the humidity during monsoons.  It is remarkable that agricultural labor can work under those conditions. Cutting wheat during the harvest, wading into the rice paddies, whacking sugar cane, and picking chilies can be back breaking work, as is loading jute bags of produce into garishly painted trucks that spew diesel fumes on their way to the market. A foreign visitor to village India is only too happy to retreat to an air conditioned hotel room, exhausted from the day's quaint venture, which is a way of life for hundreds of millions in rural parts.
India's infatuation with business success and IT, coupled with limited resources and the need for an outsized defense budget, may be responsible for a maxing out of agriculture. Certain technical factors, such as the depletion of aquifers, are also to be reckoned with.
But the good news in the budget is the creation of an irrigation fund, more agricultural credit and crop insurance, an internet portal to connect farmers and animal breeders to communicate best practices, and the development of roads to improve access to agricultural markets.  Complete rural electrification, adding 400 million people to the national grid by May of 2018, is also a stated objective of this budget.
In general, the fiscal 2017 budget tilts toward rural India which represents about two thirds of the population of over 1.2 billion. It has some provisions to help private enterprise, including certain real estate developers, the energy sector, and start-up ventures for example.  Nonetheless, the Modi government is making a wise statement in support of traditional India.  Recently criticized by the opposition and even members of his own party for aggressive sponsorship of eminent domain in rural areas, Prime Minister Modi has had to back off on such rapid industrialization and has decided to champion the rural sector, or Mother India as it is known.
There is a lesson in the national neglect of agriculture: the importance of manufacturing should not be similarly underestimated.  Commanding only 29.5% of the GDP, it is fair to say that India has not yet experienced a large scale industrial revolution. Instead, it has transformed itself into a service hub for the world. While this has benefited the country, India still needs to add at least ten million jobs every year by some estimates, and only manufacturing growth has the scale to perform this.  The "Make In India" initiative of the Modi government offers some hope for growing the manufacturing base.
The Modi budget is a very positive initial step to revitalize agriculture and develop rural India, and this will take much time and consistency of resource allocation.  As ever, diagnostics and strategy in India are world class. One must hope that strident factional politics do not impede even this, an excellent financial roadmap.
Frank Schell is a business strategy consultant and former international banking executive. He is a lecturer on South Asian affairs at the University of Chicago, Harris School of Public Policy where he has served on the Dean's International Council. He was posted in north India in the U.S. Peace Corps and speaks Hindi-Urdu.
This article was exclusively written for Gateway House: Indian Council on Global Relations. You can read more exclusive content here.
For interview requests with the author, or for permission to republish, please contact outreach@gatewayhouse.in.
© Copyright 2011 Gateway House: Indian Council on Global Relations. All rights reserved. Any unauthorized copying or reproduction is strictly prohibited.
References
[1] The Hindu,  Budget 2016: Where the money comes from and where it goes, 7 March 2016, <http://www.thehindu.com/business/budget/budget-2016-where-the-money-comes-from-and-where-it-goes/article8297149.ece>
[2] Indian Brand Equity Foundation, IT & ITeS Industry in India, December 2015, <http://www.ibef.org/industry/information-technology-india.aspx>
[3] The Economist, In a time warp, 27 June 2015, <http://www.economist.com/news/asia/21656241-india-reforming-other-bits-its-economy-not-farming-time-warp>