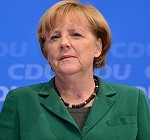 Although undoubtedly globally significant, the election on 22 September in Germany had ambiguous outcomes. Even if the result – the re-election with a vastly increased majority, of Chancellor Angela Merkel and her Christian Democratic Union (CDU) – was expected, its fallout in Europe and beyond should not be underestimated.
In the voter gains made by both big parties, Germans again displayed their broad preference for middle-of-the-road but conservative economic policies that safeguard the country's prosperity and competitiveness. In this consensual political framework, the opposition Social Democratic Party (SDP) generally supported the CDU-led government's mostly centrist policies, including its insistence on austerity-laden rescue packages for troubled Euroland economies for the last four years. But it campaigned on a somewhat more left-of-centre platform of minimum wages and some softening of growth-constricting policies for troubled Southern European economies.
At the same time, this election has thrown up major upsets in the returns of smaller parties, which together won a third of the approximately 45 million votes cast.
The irony of this election result for Chancellor Merkel is that she may find herself negotiating the next coalition from a position of weakness, despite her huge personal popularity, which increased the voter support for the CDU and its sister party in Bavaria, the Christian Social Union (CSU), from 34% in 2009 to almost 42% this year. Her weakened position is a result of the crash in support from 15% to less than 5% for her preferred partner, the Free Democratic Party (FDP). Under Germany's stability-seeking rules, the FDP will not have any representation in Parliament. Moreover, the CDU-CSU is in a minority in the Bundesrat (the Federal Council, the German equivalent of the Rajya Sabha) and does not control a majority of the 16 provincial governments.
Although Merkel has started to reach out to potential partners, her principle challengers, Peer Steinbruck and his SDP, are not exactly raring to join a grand coalition. The SDP, together with its natural left-of-centre partners, the Greens and The Left (the old East German communist party) won 43.7% of the votes – well ahead of the CDU-CSU coalition with its 41.5%. However, the SDP is feeling the heat of getting only 26% of the votes on its own, a significant drop from its high of 34% in 2005. As a result, it will likely join a grand coalition, but demand that economic policies be more worker-oriented with at least a minimum wage guarantee.
The biggest loser in the German political arena is the 65-year-old pro-free market Free Democratic Party (FDP) which fell from 15% to below 5% and will therefore no longer be represented in Parliament. The shock gainer is the freshly-minted Alternative for Germany. This party of economists and intellectuals won 4.7 % of the votes on the single issue of reviving the Deutschemark and taking Germany out of a Eurozone that includes less economically stable and poorer southern European countries.
The nearly 5% support for the Alternative for Germany party, taken together with the over 2% that the anarchic Pirate Party won, reflects a lowering of the people's commitment to European unity that has been the bedrock of post-war German economic and political policies.  However, under German law, neither party will be represented in Parliament, so they will not be able to officially influence policy. But they will continue to influence public attitudes in a more nationalistic and isolationist direction.
The fall of the neo-Nazi National Democratic Party of Germany from 2% of the vote in the last two elections to just 1.30% would have been good news if that support had not been picked up by the even more xenophobic and anti-immigrant Republican Party. This is a negative trend in an ageing Germany, where the population is expected to decline from the present 80 million to less than 74 million over the next 35 years. Already, with unemployment below 6% Germany needs an infusion of well-qualified outsiders to sustain its economy and welfare system. The further rise of anti-immigrant sentiment will be a blow to potential immigrants from southern European countries like Romania and Bulgaria, which are aspiring for full European Union membership. It can also dampen the interest of qualified professionals from India.
It may take Chancellor Merkel several weeks to negotiate a new coalition, but the massive vote for stability means that change will only be at the margins of current policies of EU stabilisation. This has already led to bitter comment in newspapers, especially in Greece, which needs an immediate third bailout, of Germany swallowing Europe. But Greece is not the only country complaining, as other Europeans also frame their angst in the old question of a "German Europe or a European Germany."
Germany's foreign policy is likely to remain more or less the same – continued commitment to membership of the EU and NATO, with its implications for working with the U.S.; support for viable relations with Russia, which is a major supplier of energy to Germany; a willingness to make some concessions to keep the UK in the EU; and continued indifference to an economically-stagnant, out of new ideas France.
Germans, deeply conscious of the extent of Nazi atrocities, have so far preferred to concentrate on being an economic superpower. They continue to build reminders and pay homage to the diverse and numerous victims of the holocaust, and have extended unquestioned support to Israel.
It will be interesting to watch how the third Merkel-led government deals with an economically vital but politically more assured China, which is trying to muscle into Europe, as well as how it handles the always-controversial question of  EU membership for a troubled Turkey, and what positions Germany takes on the exploding Arab world. The immediate issues Germany must now address include how to influence the nascent opening between the U.S. and Iran, how to resolve the fallout of Syria without another war while curbing the spread of Islamist terror, and the counterrevolution in Egypt.
So far, Germany has generally followed the European consensus on these issues, but it may now be forced to provide more leadership commensurate with its economic weight in the EU, especially as the financially strapped UK and France are unable to match their big power postures with military muscle. Even the U.S. is displaying signs of military exhaustion and the need to focus on its domestic economic problems, lending urgency to its calls on its allies and friends to undertake more burden-sharing.
For India, strong ties with Germany are underpinned by bilateral trade worth approximately $25 billion annually and $4 billion of cumulative investment since 2000. Almost 1300 German companies operating in India are a vibrant source of technology and know-how. Although no figures are readily available, Germany is also an important source for India's purchase of hi-tech defence equipment.
Of real strategic importance for India might be how Germany reconciles its de facto membership of the UN Security Council (P5 plus Germany in nuclear talks with Iran) into continuing to work with India, Japan, and Brazil to jointly reform the Security Council so that all obtain de jure membership together.
Ambassador Neelam Deo is Director of Gateway House: Indian Council on Global Relations and former Ambassador to Denmark and former Joint Secretary for Myanmar, Sri Lanka, Maldives and Bangladesh.
This article was exclusively written for Gateway House: Indian Council on Global Relations. You can read more exclusive content here.
For interview requests with the author, or for permission to republish, please contact outreach@gatewayhouse.in.
© Copyright 2013 Gateway House: Indian Council on Global Relations. All rights reserved. Any unauthorized copying or reproduction is strictly prohibited.