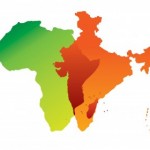 On July 7, Prime Minister Narendra Modi will make his first visit to the African continent, with his first four-country stop in Mozambique. He will be the first Indian Prime Minister in 34 years to visit a nation where India has vast interests and stakes in strengthening development partnerships, and forging long-term energy security, beneficial to both countries.
The visit comes after a markedly successful India-Africa summit in New Delhi last October, and two high profile visits this year by Vice President Hamid Ansari, to Morocco and Tunisia from 30 May to 3 June, and President Pranab Mukherjee to Ghana, Cote d'Ivoire, and Namibia from 12 to 18 June.
The prime minister will also visit South Africa, Tanzania, and Kenya, where he will talk trade, energy, food security, maritime cooperation, and to the vast Indian diaspora.
These four countries, located on the southern and eastern flank of Africa, represent a key segment of the Indian Ocean that enjoys traditional links with the Indian subcontinent. Three of the four countries – South Africa, Kenya, and Tanzania – host large Indian-origin communities. The fourth country – Mozambique – represents Lusophone Africa, which needs sustained cultivation. Taken together with the five countries visited by the vice president and president recently, the four countries on the Prime Minister's itinerary would help Indian diplomacy enhance its outreach to a vital part of Africa. The package of visits by the top three Indian leaders within a short span of six weeks puts to rest earlier criticism of India's visibility deficit in Africa.
The choice of specific countries for the earlier visits by the vice president and the President was also deliberate and significant. The essential purpose was to expand India's footprint in the region. Both Morocco and Tunisia represent moderate faces of Islam, and the latter is also the "cradle of the Arab Spring". The King of Morocco has endeared himself to New Delhi through his high profile and constructive participation in the Third India-Africa Forum Summit in October 2015. The Ansari visit to Morocco was the first vice presidential visit in 50 years. To Tunisia, it was the first ever at the VP level. Speaking at the Tunisian Institute of Strategic Studies, Carthage, the vice president observed: "we have a vital stake in the stability, security, and economic wellbeing of this region (i.e. West and North Africa), and are willing to expand our strategic and economic partnership."
The President's itinerary included Cote d'Ivoire to facilitate India's entry into Francophone Africa. The government bestowed the nation's highest civilian award – the National Order of the Republic of Ivory Coast – on the Indian dignitary. Ghana was undoubtedly the most important of the five countries covered by the two leaders. Namibia, the smallest of the five, has always appealed to the Indian imagination, considering that India provided steadfast support to its liberation, and the strong friendship forged between Indian leaders and Sam Nujoma, leader of the Namibian liberation struggle and the country's first president. Mukherjee's visit to Ghana and Cote d'Ivoire was the first by an Indian president. The visit to Namibia took place after a gap of 21 years.
A close look at the visits and their immediate results merits the following observations.
First, they were a good blend of symbolism and substance, as well as protocol, public relations, and friendly dialogue on issues of mutual interest. Our leaders promoted "Brand India" well, and absorbed Africans' views and perspectives.
Second, political issues of a bilateral, regional, and global nature were discussed in each capital. They included terrorism, peacekeeping, the reform of international institutions, South-South cooperation, and the promotion of Africa's agenda in world affairs. Everywhere, India was assured of support for its quest for a permanent seat in the reformed Security Council. Even though this would have little impact on ground realities, it was a welcome "feel good" factor.
Third, the focus on trade and economic cooperation was welcome to both sides. In Morocco and Tunisia, much emphasis was placed on food security, as India's investments in the fertilizer industry there are substantial. Trade with Ghana, valued at $1.6 in 2014-15, shows promise for significant expansion. The visits seem to have prepared the ground for more Indian business companies to explore future possibilities.
Fourth, new areas and ideas were explored. Ghana conveyed its desire to begin civil nuclear energy cooperation with India. Solar energy linkages were discussed. Namibia assured a fresh look at the export of its uranium to India if it could overcome the present constraints. "Capacity-building" was the buzzword everywhere.
Fifth, Indian dignitaries utilized opportunities to address and interact with the non-governmental segment of societies too, stressing India's friendship toward African people, and determination to expand mutually beneficial cooperation. Apprehensions that the attacks on African nationals this year might cast a dark shadow on the visits proved baseless.
In sum, India's political and diplomatic drive for reinvigorating relations with Africa is a continuing one. It was unleashed with the First India-Africa Forum Summit in 2008. It gathered special traction with the third summit. Recent visits have provided it fresh momentum. As President Mukherjee reiterated, "India will always stand by Africa."
Prime Minister Modi will no doubt carry forward the mission to a new level through his African safari from July 7. Now it remains for other stakeholders – in the business and financial sector, civil society, especially youth and women leaders, media, universities, the strategic community, and Africa's representatives in India – to catch up and help fulfill the promise of a special, multi-dimensional relationship.
Rajiv Bhatia is Distinguished Fellow, Foreign Policy Studies Programme, Gateway House, and a former high commissioner to South Africa, Lesotho, and Kenya.
This article was exclusively written for Gateway House: Indian Council on Global Relations. You can read more exclusive content here.
For interview requests with the author, or for permission to republish, please contact outreach@gatewayhouse.in.
© Copyright 2016 Gateway House: Indian Council on Global Relations. All rights reserved. Any unauthorized copying or reproduction is strictly prohibited.