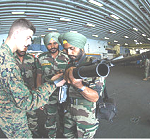 Chuck Hagel is in New Delhi for three days of defence talks. He will be meeting many members of the new Indian government's top leadership—including Prime Minister Narendra Modi—for the first time.
Unfortunately, when it comes to India, Hagel does not have a strong track record of making good first impressions.
In February 2013, soon after being confirmed as U.S. secretary of defence, video surfaced of a speech Hagel made in 2011 at Cameron University in Oklahoma. What he said in the speech was controversial, to say the least.
"India for some time has always used Afghanistan as a second front, and India has over the years financed problems for Pakistan on that side of the border," Hagel declared.1
Indian officials and analysts were not pleased. India's embassy in Washington retorted that Hagel's comments were "contrary to the reality." Former diplomat K.C. Singh demanded an "immediate retraction."2 & 3
Hagel's jarring remarks fed the suspicions of many that Hagel—like Secretary of State John Kerry—was more sympathetic to Pakistan than to India. It made for a strong contrast with the prior George W. Bush administration, where many senior officials—such as Robert Blackwill and Nicholas Burns—were regarded as trusted friends of India.4
Fortunately, this controversy has largely been forgotten, and the Pentagon has emphasised Hagel's strong support for India. In recent comments, Pentagon press secretary Rear Admiral John Kirby said that Hagel "recognises that India is [a] global power, is a strong nation…and he respects it. This is a relationship that matters deeply to him."5
Defence Department officials have emphasised that Hagel's visit is more about diplomacy than deal-making, and that its purpose is "to nurture" defence ties.6
And in that regard, there are already many positive things to build on.
Bilateral defence trade has grown immensely in recent years—with almost $9 billion worth since 2008 (New Delhi imported nearly $2 billion worth of U.S. military materiel last year alone). Not surprisingly, the United States is now India's largest arms supplier.7 &8
This defence cooperation also extends to operational levels, and particularly in terms of maritime activities. The two countries regularly perform joint naval exercises in the Indian Ocean. This month, significantly, they (along with Japan) have conducted joint naval war games in the Sea of Japan.9 Indian warships have also escorted U.S. cargo vessels through the volatile Malacca Straits.
U.S.-India security cooperation is also enhanced by strategic convergences. Both countries support robust counterterrorism policies, and share great concern about Pakistan's militancy problem. Additionally, the U.S. and India have both published maritime strategies with similar goals and themes.
All this said, bilateral defence ties do face challenges. There are differences in expectations; Washington sees combined military operations as the most critical element of the defence partnership, while New Delhi thinks more in terms of military technology transfers. Deeper defence trade with the United States is constrained by Indian laws that limit how much military equipment can be imported from abroad. To its credit, the new government has announced an increase in defence sector FDI from 26 to 49%—but industry insiders suggest that this increase is unlikely to motivate U.S. companies to invest any substantial amount.
Additionally, despite all the defence sales of recent years, some in Washington are likely still smarting over India's decision in 2011 to reject a $10 billion American offer of warplanes.10 The U.S. ambassador at the time, Tim Roemer, resigned soon after India's decision was announced.
Nonetheless—and despite the Pentagon's suggestion to the contrary—we can assume that Hagel is in New Delhi to talk business. Both countries would benefit from even more arms trade. India needs new military hardware; major quantities of its existing stock (particularly its naval fleet) are ageing or in disrepair. Meanwhile, for the U.S., sending more arms would help solidify a defence relationship that Washington truly wants to work. Furthermore, given Moscow's increasing pariah status in the eyes of the Barack Obama administration, Washington likely wants to start weaning India off its dependence on Russian weapons imports, which is considerable.
So what can we expect from Hagel's visit? We can assume there will be talk about potential arms deals. We can also assume there will be discussion about making progress with the new U.S.-India Defence Trade and Technology Initiative. This effort would help further India's military modernisation by enabling cooperation on high-tech production and development—an objective that would seem particularly palatable to the modernity-minded Modi. Ultimately, Hagel will hope to bring the two sides to the cusp of some sort of deal or agreement—so that it can be announced when Obama and Modi meet in Washington in September.
Aside from all this, however, Hagel's chief objective is much simpler, and it mirrors that of Kerry's recent visit: make a good first impression on a new Indian leadership that Washington is keen to engage.
Despite the unfortunate incident at Cameron University in 2011, there's good reason to believe that Hagel will succeed.
Michael Kugelman is the Senior Associate for South Asia at the Woodrow Wilson International Center for Scholars. He can be reached at michael.kugelman@wilsoncenter.org or on Twitter @michaelkugelman
This article was exclusively written for Gateway House: Indian Council on Global Relations. You can read more exclusive content here.
For interview requests with the author, or for permission to republish, please contact outreach@gatewayhouse.in.
© Copyright 2014 Gateway House: Indian Council on Global Relations. All rights reserved. Any unauthorized copying or reproduction is strictly prohibited
References
[1] Lakshmi, Rama., "Chuck Hagel confirmed in Washington, but doubts remain in India", The Washington Post, 27 February 2013. < http://www.washingtonpost.com/blogs/worldviews/wp/2013/02/27/chuck-hagel-confirmed-in-washington-but-doubts-remain-in-india/>