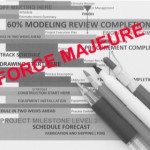 The 2011, Fukushima-Daiichi, nuclear power plant disaster, left parent company Tokyo Electric Power Company (TEPCO) with no choice but to invoke force majeure and terminate its uranium supply agreement with Canadian uranium mining company, Cameco.[1] However, the invocation was disallowed and TEPCO had to pay US $ 40 million in damages to Cameco. With the current crisis there are likely to be thousands of contracts that will undergo similar litigation under force majeure as COVID19 shuts down businesses across the world.
The clarity on this clause however, is tricky. Force majeure, commonly known as 'Act of God', is a French phrase for 'superior force'. It is an event that cannot be anticipated or controlled, preventing businesses from fulfilling contractual obligations. Under force majeure, a business or an individual can delay, suspend, or cancel their contractual obligations under specific extreme situations which would otherwise have amounted to a breach of contract. However,its interpretation changes depending on the situation and legalities. Epidemics such as SARS (2003), H1N1 (2009) and Ebola (2013) have seen several companies spar over invoking force majeure clauses in commercial contracts. The French judiciary for instance, has ruled to exclude epidemics such as H1N1 as force majeure events. However, in March 2020, in one of the first judgements on COVID19, it included COVID19 as a force majeure event when a detainee was unable to attend a court hearing due to exposure to the strain.[2]
How can companies seek relief from fulfilling contracts and mitigate their losses during this pandemic?
The first thing to know is that every country has a different way of enforcing this measure. In countries such as China it is covered in the statute of the country. In the current pandemic the China Council for the Promotion of International Trade, has issued over 5,000 force majeure certificates[3] to help suppliers who have foreign trading partners. The validity of these certificates however, for enforceability against a foreign partner is questionable and depends on the governing law of a contract. A governing law clause determines which country's laws will apply to a contract.
In other countries such as India, U.K. and Japan, force majeure clauses are part of individual, private contracts and differ depending on the way each contract has been framed. Even in the same industry or supply chain, two companies in identical businesses can have different force majeure clauses. This is of special concern to buyers and suppliers since the enforcement of force majeure by one link affects the entire supply chain.
Currently, India does not have a clear, codified, law on force majeure.[4] The Finance Ministry's Manual for Procurement of Goods 2017,[5] contains a force majeure clause for suspension of performance under a contract, but does not explicitly cover government action or epidemics. In light of COVID19 however, the Indian government has been quick to notice and change this. In February 2020, the Ministry of Finance declared that any disruption in supply chains due to unavailability of components that were being imported from China or other countries be treated as a force majeure event.[6]This provides immediate relief to government contracts with international suppliers. India imports over 80% of its solar modules and cells from China.[7] The Ministry of New and Renewable Energy has notified companies in the industry to consider the pandemic and related supply chain disruptions as a force majeure event.[8]
At the moment, many Indian companies are scanning their contracts for force majeure clauses, looking for ways to mitigate losses. Legally, this can have three possible outcomes:
Invoke force majeure: In March 2020, Hero MotoCorp invoked force majeure clauses under its contracts with suppliers and vendors, and suspended payment.[9] Similarly, Reliance Retail, Future Group, PVR have sent notices to invoke force majeure clauses in their lease agreements.[10]
Internationally, PetroChina, China's top gas producer and piped gas supplier, has issued force majeure notices to suppliers, thereby suspending natural gas imports.[11] China's largest LNG importer, China National Offshore Oil Corp, has also served force majeure notices to suppliers such as Total and Shell but these have been rejected.[12]
Renegotiation of contracts: This can be undertaken when the force majeure clause does not provide an adequate remedy. However, even where force majeure is adequate businesses leverage events such as the COVID19 pandemic to renegotiate contracts looking for lower costs. Renegotiation requires mutual consent however, on multiple clauses, new payment obligations and other issues.
Dispute resolution: In the event that a contract does not contain a force majeure clause or where the clause is under dispute the only legal recourse available is to adopt a dispute resolution mechanism. This can be through,mediation, arbitration or litigation.
The following are some key points to remember when looking for relief under a force majeure clause in business contracts:
Clarity: Under private contracts, force majeure often includes government action and lockdowns. Few contracts categorically include epidemics and disease outbreaks. In India, the declaration of the lockdown by the Central Government[14] could be considered to be a force majeure event, if 'lockdown or government action' is included in the clause of a contract.
Establish a causal link: Mere existence of such a clause does not promise relief. A reasonable link between the force majeure act and the impossibility of performance must be established. For example, a minor earthquake which has not caused any damage to the supply of goods may not be counted as a force majeure act for a supply of goods contract. However, a big fire that causes major structural damage may be sufficient grounds to invoke force majeure in a real estate agreement as it shows a complete inability to use the premises.
Determine governing law: In the case of cross-border contracts, the governing law is important as it determines the law which applies to the contract. For example, in a supply contract for the import of solar equipment from China by an Indian company, the governing law could be that of China or India, depending on how it has been framed.
Analyse termination rights: A force majeure clause will often contain a provision for termination. This allows for termination of the contract if the force majeure outlasts a specific period. This could have long-term economic ramifications for the whole supply chain.
World GDP growth in the three quarters ending June 2020 is expected to be negative (approximately -6.2%).[13] As many companies struggle to stay afloat, meeting contractual obligations is becoming difficult and in some cases, will be imopssible. Businesses will need to be very careful in how they seek recourse and will require foresight to draw up force majeure clauses in future contracts in the event of similar calamities. This will create the need for new types of insurance contracts to cover future losses under force majeure enforcement.
For Indian companies an immediate concern meanwhile is the increased cost of delays and litigation, given the uncertainty of resolutions in the case of disputes. The Ministry of Law & Justice, Government of India should consider codifying force majeure into a clear law to ensure uniform application of the doctrine and reduce the economic impact of litigation.
Ambika Khanna is Senior Researcher, International Law Studies Programme, Gateway House.
This article was exclusively written by Gateway House: Indian Council on Global Relations. You can read exclusive content here.
For interview requests with the author, please contact outreach@gatewayhouse.in.
© Copyright 2020 Gateway House: Indian Council on Global Relations. All rights reserved. Any unauthorized copying or reproduction is strictly prohibited.
References
[1] Cameco, "Arbitration Tribunal Rules in Favour of Cameco Inc. in TEPCO Contract Dispute", July 13, 2019.
<https://www.cameco.com/media/news/arbitration-tribunal-rules-in-favour-of-cameco-inc-in-tepco-contract-dispu>
[2] Baker McKenzie, "France: First Decision to Declare COVID-19 Outbreak as a Force Majeure Event", March 31, 2020. <https://www.bakermckenzie.com/en/insight/publications/2020/03/france-decision-declare-covid19-force-majeure>
[3] Arnold & Porter, "What to Do When You Receive a Coronavirus-Related Force Majeure Notice", March 4, 2020. <https://www.arnoldporter.com/en/perspectives/publications/2020/03/what-to-do-when-you-receive-a-coronavirus>
[4] The Indian Contract Act, 1872 contains two provisions that are relevant in the case of a dispute on force majeure or absence of a force majeure clause in a contract. Section 32 addresses enforcement of contingent contracts and Section 56 provides a 'doctrine of frustration' which provides that if the objective of the contract has become impossible to perform or an event makes the performance impossible to perform, then the contract can be deemed void.
[5] Ministry of Finance, Government of India, "Manual for Procurement of Goods 2017".  <https://doe.gov.in/sites/default/files/Manual%20for%20Procurement%20of%20Goods%202017_0_0.pdf>
[6] Ministry of Finance, Government of India, "Office Memorandum – Force Majeure", February 19, 2020. <https://doe.gov.in/sites/default/files/Force%20Majeure%20Clause%20-FMC.pdf>
[7] Verma, Ayush, "India Imported Solar Equipment Worth $1.18 Bn From China Between April-December", March 6, 2020. <https://www.saurenergy.com/solar-energy-news/india-imported-solar-equipment-worth-1-18-bn-from-china-between-april-december>
[8] Ministry of New and Renewable Energy, "Office Memorandum: Time Extension in Scheduled Commissioning Date of RE Projects considering disruption of the supply chains due to spread of coronavirus in China or any other country as Force Majeure", March 20, 2020. <https://mnre.gov.in/img/documents/uploads/file_f-1584701308078.pdf>
[9] ET Bureau, "Hero MotoCorp suspends payments to suppliers amid lockdown", March 30, 2020. <https://economictimes.indiatimes.com/industry/auto/two-wheelers-three-wheelers/hero-motocorp-suspends-payments-to-suppliers-amid-lockdown/articleshow/74877047.cms?from=mdr>
[10] ET Bureau, "Lockdown effect: Restaurants, cinemas & retailers at malls seek zero rentals till May", April 3, 2020.
<https://economictimes.indiatimes.com/industry/services/retail/lockdown-effect-restaurants-cinemas-retailers-at-malls-seek-zero-rentals-till-may/articleshow/74956239.cms?from=mdr>
[11] Aizhu, Chen; Jaganathan Jessica, "PetroChina suspends some gas contracts as coronavirus hits demand", Reuters, March 5, 2020.<https://in.reuters.com/article/petrochina-gas/exclusive-petrochina-suspends-some-gas-contracts-as-coronavirus-hits-demand-sources-idINKBN20S10J>
[12] S&P Global Patts, "China's CNOOC declares force majeure on LNG contracts amid coronavirus outbreak", February 6, 2020.
<https://www.spglobal.com/platts/en/market-insights/latest-news/oil/020620-chinas-cnooc-declares-force-majeure-on-lng-contracts-amid-coronavirus-outbreak>
[13] Ministry of Home Affairs, Government of India, Order", March 24, 2020. <https://www.mha.gov.in/sites/default/files/MHAorder%20copy_0.pdf>
[14] McKinsey& Company, "COVID-19: Briefing Materials", April 13, 2020. <https://www.mckinsey.com/~/media/mckinsey/business%20functions/risk/our%20insights/covid%2019%20implications%20for%20business/covid%2019%20april%2013/covid-19-facts-and-insights-april-13.ashx>