---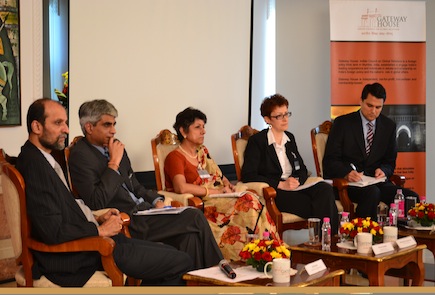 ---
The International Monetary Fund (IMF), in conjunction with Gateway House: Indian Council on Global Relations launched the 2012 Regional Economic Outlook for Asia and the Pacific on Monday, May 7th, at Essar House in Mumbai. Presented by Anoop Singh (Director, Asia and Pacific Department, IMF), the launch of the report was followed by two panel discussions chaired respectively by Subir Gokarn (Deputy Governor, RBI) and Ambassador Neelam Deo (Director, Gateway House).
The IMF report noted that stronger economic and policy fundamentals have helped buffer the region's economies against the global financial crisis, by limiting adverse financial market spill-overs and improving the impact of de-leveraging by European banks.
After releasing the report, Mr. Singh stated that Asia's banks showed resilience during the financial crisis owing to strong financial balance sheets and will continue to be robust. Stating that India's exposure to external shock is on the rise owing to rising trade and financial integration with other Asian economies, he also hinted that India's reserve position is currently comfortable. "Many regional economies have space for a strong response in the event of a severe global turndown," he added.
Mr. Singh identified that the global financial conditions have improved in the first quarter of this year and that better signals were being received from economic data. "Growth momentum in Asia is set for a turnaround in 2012 and we see remarkable growth," he said. Speaking of India's current accounts, he stated that although India has a high deficit at the moment, it will come down in the future. "India's GDP growth is projected to moderate to 6.9 percent in 2012 (from 7.1 percent in 2011), picking up slightly to 7.3 percent in 2013. The lowered growth outlook in 2012 is due primarily to the on-going slowdown in investment. The latter reflects a combination of global, cyclical, and structural factors," he concluded.
Following the release of the report, a panel discussion headed by Subir Gokarn, Deputy Governor of the Reserve Bank of India, was held on Regional Economic Outlook. The panel spoke about how the Asian economies have become highly interlinked with each other and focussed on the importance of intra-regional trade.
The second panel discussion was headed by the Director of Gateway House, Ambassador Neelam Deo, where the subject of debate was 'Financial Market and Banking Spill-Over to Asia from Systemic Economies.'
"More focus on the Indian economy, its weaknesses and what needs to be done would have been welcome and would have also helped in understanding the Asian growth trajectory better, which at present is overwhelmed by China," said Ambassador Neelam Deo about the report.
What next?
The region's policymakers now face the difficult task of determining the amount of effort needed to stimulate a stable financial system. Reining in inflation remains a key priority in India and since policy stances are usually accommodative, normalization may need to restart in 2012. Rebuilding fiscal space should go along with a reprioritization of spending.