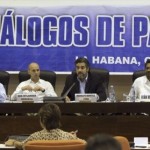 The signing of a final peace agreement on September 26 between the Colombian government and the Revolutionary Armed Forces of Colombia (FARC in Spanish), a national guerrilla movement, may herald the end of an era in Colombia.
It is worth noting that every Colombian president from 1982 till 2002 has negotiated with the FARC. Only Alvaro Uribe, the predecessor of incumbent President Juan Manuel Santos, opted for a military solution. He cut the FARC down to size but was ultimately unable to defeat the group. Santos is attempting to end the Western Hemisphere's longest-running insurgency, which has left 260,000 dead and 6.7 million internally displaced.[1]
Much has been achieved since 2012 when negotiations began in Havana, Cuba. A definitive and bilateral ceasefire has been in effect since August 29, 2016 and the FARC has agreed to fully disarm within 180 days of the final accord. The deal has been lauded globally for its transparent and collaborative nature. The Colombians learned from past experiences in the Philippines and South Africa, and also actively involved countries like Cuba, Norway, Chile and Venezuela in the negotiations. Every minute detail of the deal is now available online, and streamed on radio and television across towns in Colombia.[2] The introduction of a plebiscite to determine whether the deal can be implemented as law adds further credibility to this process.
The peace deal is comprehensive, and includes six elements: (1) rural and agrarian reform, (2) political representation for the FARC, (3) solutions to the issue of illegal crops, (4) transitional justice and reparation for victims of the conflict, (5) the final ceasefire, and finally, (6) the plebiscite. The terms of the deal include lighter sentences for rebels who confess their crimes; but others found guilty in front of a Special Tribunal face up to 20 years in prison.[3] However, the government will not pardon serious crimes, such as sexual violence and crimes against humanity. The FARC rebels will also receive five seats each in the Senate and the House for two consecutive terms beginning 2018.[4]
Peace does not come easy: it has taken Colombia half a century to reach this point. Yet, many may vote 'no' in the upcoming plebiscite on October 2. Everyone in Colombia wants peace, but it is in their definition of justice where opinions diverge.
The terms on offer seem unacceptable to some like Uribe, the indefatigable leader of the 'no' campaign. Uribe has criticised the deal for assuring lighter sentences and a space for the FARC in politics. A large section of the Colombian population agrees with his view. A majority 'no' vote would be a huge setback for Santos and the peace process. If Colombians oppose a peace deal, both parties are unlikely to get back to the negotiation table.
If Colombians vote 'yes,' it will have significant consequences, beginning with a large-scale demining operation (to remove land mines in the world's second most mine-affected country), agrarian and rural reform, and the entry of the FARC into Colombian politics. FARC rebels will be moved into 23 concentrated zones for six months, where 12,000 Colombian soldiers and 500 United Nations observers will protect and assist them as they disarm and begin reintegration programmes.[5]
Peace will bring economic benefits too. Monica Lanzetta Mutis, Colombia's ambassador in India, suggests that her country's GDP would grow at twice its current pace if the conflict stops: foreign direct investment would rise from the current $12 billion to $36 billion.[6] This is a major change from the 7% loss in annual GDP and capital flight of $10 billion between 1998 and 2003 due to the conflict.[7]
Implementing this overarching peace deal would be a gargantuan task, filled with roadblocks. Will all FARC rebels choose to disarm, instead of defecting to smaller groups like the National Liberation Army (ELN)? Will Colombians be able to treat disarmed rebels with dignity and allow them to participate in society and in politics? Will the state be able to re-establish itself and provide services in rural areas, earlier dominated by the FARC?
The Colombian experience must also be viewed from a regional and global perspective. Latin America has some experience reintegrating rebel groups successfully back into civil society. El Salvador's Farabundo Martí National Liberation Front (FMLN), a former rebel movement-turned-political party, is one example. Salvadorians have elected the FMLN into power twice, in 2009 and again in 2014. Jose Mujica from Uruguay, Daniel Ortega from Nicaragua and Dilma Rousseff from Brazil are all examples of ex-guerilla fighters being elected democratically to the office of President.
India will also be watching closely, not least because it will take place on October 2, Gandhi Jayanthi, now also known as the International Day of Non-Violence. India's commercial relationship with Colombia has been rising steadily: imports from Colombia peaked in 2013 at $4.29 billion, more than India's imports from Italy or France that year. Since 2011, Colombia has also been India's largest destination for motorcycle exports – so it's no surprise that India's largest motorcycle manufacturer, Hero Motocorp, chose Colombia as the destination for its first international manufacturing plant.[8] About 30 Indian companies have investments in Colombia.[9] Finally, India can also learn from the open and rather more inclusive style of Colombia's negotiations, which are in contrast to the reticent deal the government signed with the National Socialist Council of Nagaland.
Hari Seshasayee, formerly with Gateway House, is a Latin America specialist working at the Confederation of Indian Industry (CII). This article contains his own views and does not represent the views of the CII.
This article was exclusively written for Gateway House: Indian Council on Global Relations. You can read more exclusive content here.
For interview requests with the author, or for permission to republish, please contact outreach@gatewayhouse.in.
© Copyright 2016 Gateway House: Indian Council on Global Relations. All rights reserved. Any unauthorized copying or reproduction is strictly prohibited
References
[1] Holly Sonneland, 'Weekly chart: Colombia's peace process by the numbers', Americas Society/ Council of the Americas, May 18, 2016, http://www.as-coa.org/articles/weekly-chart-colombias-peace-process-numbers.
[2] Homepage, Mesa de Conversaciones para la terminación del conflict y la construction de una paz estable u duradera en Colombia, Last accessed September 25, 2016, https://www.mesadeconversaciones.com.co.
[3] Joint Communiqué #60 regarding the Agreement for the creation of a Special Jurisdiction for Peace, September 23, 2015. https://www.mesadeconversaciones.com.co/sites/default/files/comunicado-conjunto-60-ingles-1443452175.pdf.
[4] Christine Balling, 'Peace and Democracy in Colombia: Trading one to get the other', Foreign Affairs, August 30, 2016, https://www.foreignaffairs.com/articles/colombia/2016-08-30/peace-and-democracy-colombia.
[5] Paul Angelo, 'A FARCical Deal in Colombia?', Foreign Affairs, August 7, 2016, https://www.foreignaffairs.com/articles/colombia/2016-08-07/farcical-deal-colombia.
[6] Monica Lanzetta, 'In Colombia, peace means sustainable development', Economic Times, August 2, 2016. http://economictimes.indiatimes.com/news/international/world-news/in-colombia-peace-means-sustainable-development/articleshow/53509330.cms?utm.
[7] Rettberg, Angelika, 'The Private Sector and Peace in El Salvador, Guatemala, and Colombia', Journal of Latin American Studies, 39.3, (August 2007), pp. 463–494.
[8] Trade Map, 'Bilateral Trade between India and Colombia', Market Analysis and Research, International Trade Centre, Last Accessed September 25, 2016, http://www.trademap.org/(X(1)S(xumwa355onswwy55txsjmajv))/Bilateral_TS.aspx.
[9] Data received by the author from the Indian Embassy in Colombia.