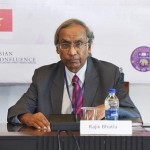 The following speech was delivered at the Inaugural Session of the International Conference on Emerging Horizons in India-Vietnam Relations, in Delhi, on 3 July.  
H.E. Mr. Ton Sinh Thanh, Ambassador of the Socialist Republic of Vietnam, Sri Ram Madhav, Director India Foundation, Sri Shakti Sinha, Director NMML, Sri Nalin Surie, DG ICWA, Dr. Sulekh Chandra, Principal Zakir Husain Delhi College, Dr. Sonu Trivedi, Convener, Excellencies, Ladies and Gentlemen,
As the Chair of the inaugural session of this international conference, it is both my pleasure and privilege to address a sizeable gathering of dignitaries, eminent experts and keen students of India-Vietnam relations. On behalf of the host institutions, I welcome you warmly and thank you all for your presence here today. We assure you that the next two days will give you a rare intellectual treat. Your active participation will further enhance its value and impact.
Usually Delhi witnesses every year several national and international conferences on East Asia as well as India's Act East Policy. It is, however, not a frequent occurrence to see an international conference being held, which is exclusively focused on India's relations with a specific country of the region. In this sense, this event is exceptionally significant as it aims to undertake a comprehensive assessment of the relationship with one of India's most important and enduring strategic partners – Vietnam.
I fondly recall a similar international conference, the fruit of collaboration between the Diplomatic Academy of Vietnam and the Indian Council of World Affairs, which was held in Hanoi in July 2012. Within a month of taking over as DG, ICWA, I had the opportunity to lead a delegation of well-known scholars to that conference. The President of the Socialist Republic of Vietnam extended the unique honour by receiving us at his office. Our dialogue in Hanoi resulted in a book entitled India-Vietnam Agenda for Strategic Partnership, which received considerable acclaim.
India's multi-dimensional relations with Vietnam have their origins in ancient times. India's cultural interaction with Champa, modern-day central and southern Vietnam, left 'an indelible impression' on the life and society through a process that was entirely peaceful. Our collective memories of exchanges of that era provide a solid foundation to our relationship.
In modern times, relations have been nurtured and enriched by the earnest endeavours of several generations of leaders of both countries. The people of India have deep admiration for the Vietnamese people – for their strong patriotism, impulse for discipline and sacrifice, and nationalist traits that enabled their nation to prevail over not one but three great powers at different stages in history. Today, Vietnam stands in the front rank of countries that have achieved rapid economic development and are committed to the cause of peace and security in the region and respect for international law. This is a marked commonality and a strong mutual bond between our two nations.
This conference is being held at a particularly important juncture in geopolitical terms. This is the time when East Asia has emerged as a key theatre of changing power dynamics. These changes are taking place not on a yearly or a monthly basis but perhaps on a weekly and daily basis. The changing equations among four major powers – U.S., China, India and Japan – as well as the internal and external dynamics of ASEAN have been shaping and re-shaping regional politics. In this process of constant, even bewildering, change – the impact of which may not be grasped fully at this stage, the innate strength and vitality of India-Vietnam relations remain a stable and reassuring factor.
We look forward to the distinguished dignitaries and panelists providing us not only a rear view of the shared journey so far, but also a creative roadmap for the future trajectory of the multi-dimensional ties that bind our two nations. The hosts hope to produce a publication based on the deliberations and outcomes of this momentous international conference. I wish it all success.
Thank you for your attention.
Rajiv Bhatia is Distinguished Fellow, Foreign Policy Studies, Gateway House and a former ambassador with extensive diplomatic experience in East Asia.
This speech was delivered at the Inaugural Session of the International Conference on Emerging Horizons in India-Vietnam Relations, in Delhi, on 3 July.
You can read exclusive content from Gateway House: Indian Council on Global Relations, here.
For interview requests with the author, or for permission to republish, please contact outreach@gatewayhouse.in.
© Copyright 2017 Gateway House: Indian Council on Global Relations. All rights reserved. Any unauthorized copying or reproduction is strictly prohibited