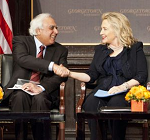 Education is emerging as the next "big" idea in the Indo-U.S. strategic partnership after the Civil Nuclear Agreement of 2008. Unlike the nuclear deal which was cemented against great international opposition and greater domestic uproar in India, education as the new arena of cooperation is immune from international interference and pressures. The field is open and relatively problem-free, if India and the United States go about the business methodically.
Last week, on October 13, India's Minister for Human Resource Development, Kapil Sibal, and U.S. Secretary of State Hillary Clinton, concluded the first Indo-U.S. Higher Education Summit in Washington. It was attended by more than 300 delegates from both countries. Academics, business leaders, university presidents and the usual gang of opportunists and "consultants" mingled over three days and two receptions.
The premise of the deal is that the enormous demand in India can be met with ample supply from the United States. Over the past three decades, the educational traffic has largely been one-way – from India to the United States. Indian students come in huge numbers (100,000 in 2010) for higher education and researchers come looking for good labs. Americans haven't gone to India in large numbers mainly because of New Delhi's self-defeating visa policies. Every American academic was deemed an undercover CIA agent in the 70s and 80s and denied permission for field research. The deficit in "India expertise" in the United States is a direct result of this short-sightedness.
But India is attempting to make up for lost time by making education a priority area of cooperation. Sibal pitched India as a destination for American universities and colleges for collaboration, faculty exchanges, training and research, exhorting and building a case in front of a sometimes skeptical audience. He aimed both at the Ivy League universities and small community colleges, covering the broad spectrum available in the U.S. Clinton called education a "driving force" of the strategic dialogue. A joint statement was issued with the promise to hold annual summits, calling cooperation in higher education "the new phase" in bilateral relations, which needed a boost given the current stall.
The minister's main thrust was that interdependence and globalization had made it imperative for countries to work together to solve problems even if they didn't wish to. "Your problem is mine and my problem is yours," he said in his first speech at the Center for Strategic and International Studies, a major think tank in Washington. Nations will have to transcend boundaries in "thought and action" to find affordable solutions to global problems, be it food security, global warming or water scarcity. And who better to provide "affordable" solutions than qualified Indians?
Although grandiose in rendition and high on rhetoric, Sibal, nevertheless, presented his case forcefully. He came close to marketing India as a giant out-sourcing destination for education. He should be careful: that visual can easily become a political liability for American leaders faced with 9 percent unemployment at home.
But an education deal could be truly beneficial. India desperately needs an infusion of institutes of higher learning and education professionals. More than 100 million Indian youth are expected to join the work force by 2020, a number greater than the combined labour muscle of France, Britain, Italy and Spain. They represent a great potential for the world but only if they are "empowered with education and skills." India needs to build an additional 1,000 universities and 50,000 colleges to serve the aspiring millions, to say nothing of the thousands of new qualified faculty members. A recent study conducted by the Tata Institute of Social Sciences, Rutgers University and Pennsylvania State University revealed that India needed to recruit 1million faculty members by 2020 to satisfy the burgeoning domestic education demand.
To sustain economic growth, India requires a skilled workforce of about 500 million by 2022. Since the current global economic focus is Asia, a young skilled Indian workforce can be the engine for world growth, especially when the west is faced with aging populations and recessionary trends.
India took some good first steps at the education summit. Sibal indicated that India would initially sponsor 1,500 faculty and junior scholars from India to come to various U.S. universities and research institutions for training, and to broaden the interaction. He also wants to tap into the large numbers of Indian-Americans teachers and scholars in the U.S. who feel the tug of the mother country. The desire to "give back" could be a key factor in the "brain gain" if the government and the private sector can band together to channel this talent.
There are plenty of hurdles to be overcome before the grand ideas can be executed. Although India permits 100% foreign direct investment in education, it does not permit the institutions to set up their own campuses and award degrees. So immediately, Sibal has to push the Foreign Education Providers Bill through the Indian Parliament, which will regulate the entry and operation of such institutes – a minimum statement of fact before universities and businesses here can take his intentions seriously. Although the minister said much could be done short of U.S. universities opening campuses in India, he failed to address some of the concerns about the bill. For instance, there are serious questions about the repatriation of profits and the requirement of a deposit of $11 million while the university is in operation in India (mostly to guard against fly-by-night operators). For now the best option will be for U.S. universities to find an Indian partner who can build the infrastructure while the U.S. one would provide the expertise.
It was apparent that while U.S. representatives of universities were more interested in running quality institutions with the best faculty (read high fees-high profits) that can help them recover costs quickly, it will not serve the needs of the lower middle class Indians and small-town students who are desperate for a decent education. This mismatch in expectations clearly needs to be fixed. The India-Yale Higher Education Leadership Programme, which took 26 directors, deans and vice chancellors to the U.S. with Indian funding this year, can't be the template.
The business opportunity is clearly huge. India's education sector is a massive, raw new market estimated at $25 billion – higher education is $15 billion alone – waiting to be tapped. New Delhi plans to spend about 5% of GDP over the next five years on education. The key is in devising credible projects and going beyond administrators taking junkets abroad and beefing up their own resumes.
Seema Sirohi is a Washington-based analyst and a frequent contributor to Gateway House.
This article was exclusively written for Gateway House: Indian Council on Global Relations. You can read more exclusive content here.
For interview requests with the author, or for permission to republish, please contact outreach@gatewayhouse.in.
© Copyright 2011 Gateway House: Indian Council on Global Relations. All rights reserved. Any unauthorized copying or reproduction is strictly prohibited.