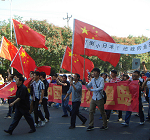 During the outbreak of anti-Japanese sentiment throughout China, it has become increasingly clear that the costs for regional business and Sino-Japanese economic ties are rapidly rising. In the aftermath of Japan's 'purchase' of the Diaoyu Islands, protests and demonstrations have broken out across China, often resulting in destruction and defamation of Japanese products and businesses.
While the political and nationalistic consequences of this situation remain central to regional harmony, the impact on China and Japan's economic relationship should not be forgotten. Last year, two-way trade between China and Japan generated approximately US$345 billion. According to statistics from Japanese custom authorities, in the first half of this year Japanese exports to China amounted to US$73.54 billion, while imports from China were US$91.29 billion. As China is Japan's largest trade partner, the severity of soured relations cannot go understated.
A senior Chinese trade official has warned that the Japanese purchase of the Diaoyu Islands will "inevitably have a negative impact on China-Japan economic and trade ties." A stable political environment is a predominant prerequisite for productive economic trade. If tensions in the East China Sea over the ownership of the Diaoyu Islands persists, regional business ties are predicted to suffer.
In the past week, numerous Japanese businesses and factories have closed down, with their owners expressing concern about dangerous anti-Japanese sentiment. Protests throughout China have seen the destruction of Japanese-made products and the looting of Japanese restaurants and shops. Most troubling for regional business ties, anti-Japanese demonstrations have also resulted in the defamation of Japanese-owned factories, and the besiegement of Japanese embassies.
Edwin Merner, president of the Atlantis Investment Research Corporation in Tokyo, noted that "if things continue to deteriorate, a possibility, the damage could become serious, recovery might take a year or more, trade could contract."
Well-known Japanese corporations operating in China that were closed down this week include:
Toyota Motor Corp.: Arsonists damaged their stores in Qingdao, however they have not revealed the total number of closed factories. Their Chinese sales account for 10 percent of global revenue. Toyota has now stated that it may scale back its expansion plans in China.
Honda Motor Co.: Arsonists damaged their stores in Qingdao, forcing them to close all of their factories on Tuesday and Wednesday. Their Chinese sales account for one-fifth of their global revenue.
Nissan Motor Co.: Reported damage to its dealerships in Qingdao, and that they have halted production in two of its factories. Their Chinese sales account for over one-quarter of their global revenue.
Panasonic: Halted production in a factory in Qingdao after it was sabotaged by its Chinese workers. Also closed plants in Suzhou and Zhuhai.
Canon Inc.: Suspended three of its four main plants on Monday and Tuesday, including a laser printer and digital camera factory in Guangdong, and a copier plant in Jiangsu.
Japanese firms are now questioning whether further expansion into China is possible, even considering completely pulling out of the country and shifting operations elsewhere. A recent Reuters' poll reveals that about 41 percent of Japanese firms believe that anti-Japanese sentiment in China will negatively impact their business plans.
"We are trying to forecast things in advance and preparing as much as possible to avoid any impact on our business," said Takanobu Ito, Honda's chief executive.
Further worrying for regional business ties is the threat of Chinese sanctions against Japan. It has been suggested by the Chinese Academy of International Trade, which is a branch of the Commerce Ministry, that China should impose sanctions on Japan's bond market unless they reverse their decision to nationalize the Diaoyu Islands. As China is Japan's biggest creditor, any bond sanctions would likely create a massive fiscal crisis for Japan.
Japan has already experienced the diplomatic and economic pressure that China is able to exert to get their way, two years ago when Japan arrested a Chinese trawler captain whose boat collided with a Japanese patrol vessel. Japan may once again have to deal with the vast economic power that China is able to leverage. China's People's Daily newspaper, which is the mouthpiece for the Communist Party, affirmed that "Japan's economy lacks immunity to Chinese economic measures."
Jin Baisong from the Chinese Academy of International Trade further stated that "it's clear that China can deal a heavy blow to the Japanese economy without hurting itself too much." He further emphasized that Japan relies on Chinese demand to keep its economy afloat, a fact that China could leverage.
Both China and Japan, however, are increasingly concerned about the economic repercussions of violent protests and demonstrations. An editorial in China's state-owned Global Times argued that violent protest is never an appropriate solution. It also must not be forgotten the Japan is China's fourth largest trade partner. Any harm to Japanese business and investment would in effect harm China's economic interests, something that it cannot afford during its current slowdown.
The People's Daily has also wisely noted the interdependency that exists between China and Japan, stating that any sanctions against Japan would be a "double-edged sword" for China.
Japan has also highlighted the importance of Sino-Japanese bilateral economic ties, with Chief Cabinet Secretary Osamu Fujimura stating that "Japanese companies play an important role in the Chinese economy and employment. We believe we should be calm and make rational judgments from a broad perspective."
In the long-term, it is in neither country's interest to remain entrenched in a territorial dispute that does not result in reciprocal economic advantages. The promotion of friendly political and economic relations must be stressed to ensure that regional business ties remain robust. Certainly, previous territorial disputes between China and Japan have been resolved with little economic consequences. However, if disputes continue to arise, regional trust and goodwill will decline, and may result in a hardening of China's anti-Japanese sentiment.
This article was originally published by China Briefing. You can read the rest of the article here.
You can read exclusive content from Gateway House: Indian Council on Global Relations, here.
Copyright © 2013 by Asia Briefing.