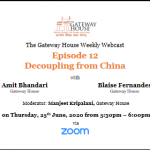 The discussion addressed the issue of decoupling from China.
In this Webcast, which was recorded earlier this week (June 25), the speakers highlight six main points:
a) India is a huge market for any app manufacturer, with a potential audience base of 800 million users. Disruptions in the Indian market will have global ramifications. Given this, India has enormous leverage.
b) Distinctions need to be made between the 4 types of apps available – (1) those that have economic utility, (2) vanity apps, (3) misinformation and nuisance apps and (4) apps that the Chinese government is investing in for propaganda purposes. Regarding the third, the Indian government is well within its rights to take action against them.
c) The fight of this decade is going to be for 5G. The U.K. and Singapore, for example are already stepping away from Chinese vendors of 5G. Nokia and Erickson are both competitors in the market.
d) Hong Kong is becoming more closely integrated with China. The Honk Kong stock exchange is being projected as influential, but it remains to be seen if it can be trusted.
e) While there might be sentiment against Chinese products in India at the moment, without an alternative supply chain this is just rhetorical. Jio is a service provider but is not a manufacturer of equipment. If not China then India will have to look elsewhere, such as the west, for said equipment.
f) Electrical Vehicles (EVs), which are being "pushed" by China could become a "center of dependence", which can later be used by China as a means to hold up the Indian economy. In other words, relying on EV's could be playing into China's hands.