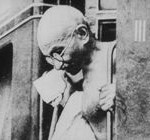 This year's Jaipur Literary Festival was laid siege by those who vowed not to let Salman Rushdie speak there. Even before nerves jangled by this experience could recover, a new controversy erupted. Outraged Sikhs demanded that the Indian government take action against U.S. talk show host Jay Leno for his allegedly insulting remarks about the Golden Temple.
How might we view these flares of competitive intolerance on what is probably the most poignant day on the calendar of contemporary India –  30th January, the date on which Mahatma Gandhi was assassinated?
Lamenting, 'Oh, what has become of Gandhi's India!' is always a waste of time but more acutely so on the anniversary of his murder, reminding us that things were not better before.
The bullets fired by Nathuram Godse into Gandhi were intolerance in its most distilled, carefully-reasoned form. Later, during his trial, in an eloquent speech Godse argued that Gandhi did a great injustice by reciting from the Quran in Hindu temples but never reciting the Bhagavad Gita in a mosque: "He knew what a terrible Muslim reaction would have been if he had done so. But he could safely trample over the feelings of the tolerant Hindu. To belie this belief I was determined to prove to Gandhiji that the Hindu too could be intolerant when his honor was insulted." [Nathuram Godse, Answer to the Charge Sheet (Para. 35)]
Equating tolerance with passivity, and aggression with honour, was the crux of why Godse needed to eliminate Gandhi.
For the 21st century liberal mind, these are primitive concepts existing before the dawn of civilization. But clearly a wide variety of people across the world disagree.  Rushdie may be the most famous target for a particular variety of intolerance but he is part of a large volume of artists, thinkers, writers and political workers who are increasingly threatened, not just in India but in every corner of the world, by those who disagree with them.
As Hindi film lyricist Javed Akhtar pointed out, it was also in Rajasthan – of which Jaipur is the capital – that the film Jodha Akbar depicting the love story between a Muslim emperor and a Hindu princess, was not screened because some Rajput groups declared its story to be an offence to their version of history.
So what is the implication of Gandhi's legacy for those of us who oppose such an assertion of 'might' over the 'right' of free expression and open exchange?
First of all it helps us to remain alert to the risk of becoming intolerant towards those who are intolerant. It might be a knee-jerk reflex to demonize those who threatened to storm the literary festival if Rushdie appeared even on a video link. But this too, is a raw emotional response not conducive to building a social ethic that is both open and creative.
The challenge for us all lies in finding creative ways to actively manifest the faith that acceptance of differences is true strength. Eliminating, or even shouting down, those who disagree is cowardice. This may sound like a cliché within liberal circles but it is a truth worth acting upon collectively more often.
It has been more than a decade since a group of journalists and writers launched a Nirbhay Bano ('Be Unafraid') campaign in Mumbai to stand-up against both physical and verbal attacks by the Shiv Sena, a Maharashtrian right-wing group which routinely ran rough-shod over anyone who opposed them. The campaign consisted of public meetings to celebrate the greater strength of freedom of expression. Initially the Sena troops came to several of these meetings and violently disrupted them. But the campaign persisted in defiance for two months till the disruption of meetings finally stopped. This did not alter the character or tactics of the Shiv Sena – but it left behind a lingering feeling of empowerment for those who value and respect differences.
This takes us to the most vital element of Gandhi's legacy. It inspires us to build strength in community and society rather than seeking constant recourse to the state as either provider or protector. Of course the state's presence is needed when there are acts of violence or infringement of basic rights. So if there is fore-warning that a group intends to storm a peaceful gathering or someone's home or office, it is the duty of the state-machinery to prevent it.
However, state action cannot replace or subsume our own role as members of a sabhya samaj or civilized society. When the Shiv Sena opposed the release of the film My Name is Khan, the government of Maharashtra deployed armed police contingents at cinema halls in order to ensure that people could see the film. This happened again more recently with the film Aarakshan about caste-based reservation, which was released in Mumbai recently under heavy police protection.
But is freedom of expression under police protection a victory at all? It might be far more powerful if we cultivated collective mechanisms for defying acts of intolerance.
It was the state machinery of newly Independent India that apprehended, tried and punished Godse. But he was really defeated by the outpouring of active opposition to his execution, by the family and followers of Mahatma Gandhi – and above all by his fellow Hindus, who instead of feeling liberated by his act, felt so ashamed that an entire generation decisively turned away from the idea of Hindutva or Hindu dominance.
Rajni Bakshi is an Author, and Gandhi Peace Fellow at Gateway House.
This article was exclusively written for Gateway House: Indian Council on Global Relations. You can read more exclusive content here.
For interview requests with the author, or for permission to republish, please contact outreach@gatewayhouse.in.
© Copyright 2012 Gateway House: Indian Council on Global Relations. All rights reserved. Any unauthorized copying or reproduction is strictly prohibited.