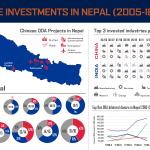 In the early part of the last decade, China's investment in Nepal was marginal in comparison with India. However, since 2008, Chinese investments in the Himalayan state have surged, and in 2014, it outranked India for the first time in terms of total investment. In 2015-16, China contributed 42% of total FDI to Nepal. This increase is also seen in Chinese Overseas Development Assistance (ODA), where China overtook Indian aid in 2015, growing steadily from $19 million in 2010-11 to $38 million in 2014-15 (compared with India's $22 million the same year).
China's strategic inclination towards Nepal is evident from these statistics, and it is a serious challenge to India in its own neighbourhood.
China's funding is evident across major infrastructure and energy projects in Nepal. These include the West Seti Dam, the Pokhara Airport and Upper Trishuli hydropower project. In return, Nepal has agreed to extend its cooperation to the Silk Road Economic Belt, part of China's ambitious One Belt One Road initiative. Infrastructure funding with cultural overtones is part of China's play in Nepal. The Chinese government-funded Asia-Pacific Exchange and Cooperation Foundation plans to invest $3 billion to convert Lumbini, the birthplace of Buddha, into a cultural "zone" that will attract millions of Buddhist pilgrims and tourists.
This financial coziness between China and Nepal has major implications for the security architecture of the region. First, with China becoming more assertive in establishing amicable relationships with India's South Asian neighbours, troubled countries like Nepal will likely respond positively to China. Second, Chinese investment helps to hedge and reduce Nepal's dependence on India. There are trade-offs, of course. For instance Nepal has to adhere to the Chinese line on sensitive issues such as Tibetan refugee protests within the country, peaceful or otherwise.
While China's ODA to Nepal is large, the biggest donors to Nepal by far are multilateral agencies such as the World Bank Group and the Asian Development Bank with $320 million in 2014-15. At the bilateral level, the U.K. leads the pack as the highest donor, followed by China, India, the U.S., and Japan.
But given China's strategic purpose and large manpower presence in Nepal, for now China rules the peaks of the Himalayas, and has surpassed India's dominance.
Rajiv Bhatia is Distinguished Fellow, Foreign Policy Studies Programme, Gateway House, and a former ambassador to Myanmar.
Joost Van Deutekom was a summer researcher a Gateway House, and is now a Yenching Scholar at Peking University in China.
Lina Lee is a research intern at Gateway House.
Kunal Kulkarni is a Senior Researcher at Gateway House.
Bishal Nyoupane is Programme Director at the Asian Institute of Diplomacy and International Affairs.
Designed by Debarpan Das
This infographic was exclusively created for Gateway House: Indian Council on Global Relations. You can read more exclusive content here.
For interview requests with the author, or for permission to republish, please contact outreach@gatewayhouse.in.
© Copyright 2016 Gateway House: Indian Council on Global Relations. All rights reserved. Any unauthorized copying or reproduction is strictly prohibited.