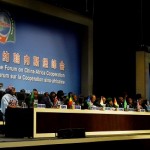 Since the beginning of the 21st century, no other partner country of Africa's has paid as intensive or as sustained attention to building relations with it as China has. This partnership has benefited China and contributed to Africa's development, raising the continent's profile in global affairs and sharpened geopolitical competition. The 'China in Africa' theme is of immense importance to India, the oldest partner of the African countries, which too is engaged in deepening and diversifying its relationship with them—and could imbibe some lessons.
The Forum on China-Africa Cooperation (FOCAC), which has been active ever since its inception in 2000, meeting every three years, reconvenes in September 2018 in Beijing. As a curtain-raiser to this event, the Chinese government in April hosted the presidents of Cameroon, Namibia and Zimbabwe, and could be holding more such high-level interactions.
China's Africa policy was delineated in its first official paper in 2006, which has since been updated.[1] Committed to the "All-Round Development of China-Africa Cooperation",[2] the policy is extensive in scope, covering political, diplomatic, security, economic, cultural and other aspects of the relationship.
The economy is at the heart of China-Africa relations, as evident[3] from data published by the China Africa Research Initiative (CARI) of the Johns Hopkins School of Advanced International Studies.[4]
Trade
The value of China-Africa trade was $10.6 billion in 2000.[5] It shot up to over $221 billion in 2014, but has since declined considerably. Both China's imports and exports have been affected.[6] Reversing the earlier trend, China now maintains a large trade surplus.
The largest exporters to China in 2016 were: Angola, South Africa and the Republic of Congo. The largest importers of Chinese goods in 2016 were South Africa, Egypt and Nigeria.
Investment
During the period 2007-16, China was the third largest foreign investor in Africa, with $64.5 billion as the total capital invested, after UAE ($73 billion) and the UK ($67.7 billion).[7]
Chinese Foreign Direct Investment (FDI) has been on a consistent growth trajectory in contrast to the sharp ups and downs exhibited by FDI inflow from the U.S.[8]
In 2014, the top five recipients of Chinese investment were: Algeria, Zambia, Kenya, Republic of Congo and Nigeria. (Algeria secured over 20% of Chinese FDI flows to Africa in 2014.)
Loans
During the period from 2000-15, the Chinese government, banks and businesses extended $94.4 billion as loans to African governments and state-owned enterprises. (In this period, Angola received loans of $19.2 billion i.e. about 20% of the total.)[9]
The top three recipients of loans in 2015 were Uganda, Kenya and Senegal.
Labour
By end 2016, the total number of Chinese workers in Africa was a little over a quarter million or nearly 230,000.
The top countries hosting Chinese labour in 2016 were Algeria, Angola, Ethiopia, Nigeria and Kenya, accounting for 65% of all Chinese workers in Africa.[10]
Energy
For China, Africa – after the Middle East – is the second largest source of crude oil imports. It supplies about 22% of imports by China. Angola, Republic of Congo and South Sudan are the top suppliers.
China's judicious deployment of economic diplomacy—in sectors ranging from infrastructure, industry, agriculture, services, skill development and development cooperation– has enabled it to develop relations with several African countries.[11]
Since the beginning, a major focus has been on drawing minerals and other natural resources of Africa, which helped fuel the Chinese economy. Its recent deceleration led to decline in African export of minerals and commodities and the fall in their prices. But the Belt and Road Initiative (BRI) is expected to create new opportunities in economic cooperation in the coming years.
In others' eyes
The West has been steadily critical of China's engagement with Africa in its earlier phase, pointing to its display of neo-colonial tendencies: buying African commodities and exporting its own low-quality manufactured goods. Westerners also disapproved of Chinese companies bringing their own labour and refusing to create local jobs; failing to comply with safety and environmental standards; using unfair business practices and violating local laws; and offering cheap credit to shut out the competition. Another argument was that, through its policy of non-interference, China refused to help improve governance in Africa.
In recent years, however, Chinese policy-makers seem to have introspected and their companies have been helping a few African nations in their drive towards industrialisation; they have increased their presence in the services sector and are keeping job creation as an important objective.
Chinese scholars' riposte to such criticism has targeted, in turn, the West's role in the exploitation of Africa in the colonial and post-colonial eras and dismissed some of it as mere "myth" in the light of their changed policy approach. Two experts concluded that China-Africa relations "are promising and encouraging, but more needs to be done regarding multilateral realities and sustainability of resources management."[12]
Opinions about China's policy approach vary within Africa too, but the overarching view is that it has been beneficial to Africa despite the shortcomings. African stakeholders have heaped more appreciation—than criticism–on the growing economic partnership. Discerning analysts, however, suggest that just as China has a coherent Africa policy, Africa too needs to craft its own China policy.
Pointers for India
The asymmetry in the economic strength of the two countries, and India's constraint in timely delivery of projects explain the difference in size of the Chinese and Indian footprint in Africa.[13] China's trade with Africa is three times more than India's; investment is 57% higher; credit offered is at least nine times more; and the intake of energy sources much bigger too.
India, however, has certain advantages: African nations prefer to have diverse partners and India is viewed as a friend. India's technology suits them–it is adaptable and affordable. Its capital comes without its labour; and its business is considered law-abiding.
As for diplomatic outreach, India earned much political capital through the successful Third India-Africa Forum Summit in 2015. This has been consolidated further through visits to two dozen countries by India's top leaders during the period 2015-18. It is now time to translate political gains into economic dividends. A practical strategy such as this will be helpful:
The progress of decisions taken at the Third Summit needs evaluation. New Delhi can next hold a Ministerial Review Meeting (possibly in Addis Ababa, the headquarters of the African Union) to take African parties into confidence.
Indian business needs to shed its customary conservatism and pursue bigger gains in the African market. The government ought to heed its grievances and suggestions in this sphere.
India has extended $10 billion credit to Africa for the period 2015-20; it must be used well and without delay.
The people-to-people relationship continues to suffer a trust deficit, according to Delhi-based African diplomats, and this needs to be addressed.
The proposal to establish an inclusive Africa-India Think Tank Network (AITTN) deserves to be embarked upon.
Devising trilateral linkages (involving India and Africa with a third country, be it Japan, the U.S., UAE, France or Russia), is another area where talk must turn to reality: specific African countries must be involved in trilateral ventures, with pilot projects being conceived soon so that the action can shift—from Delhi's seminar rooms to corporate offices in Mumbai, Chennai and Bengaluru!
Rajiv Bhatia is Distinguished Fellow, Gateway House. He is a former high commissioner to South Africa, Lesotho and Kenya. He writes regularly on developments in Africa and India-Africa affairs.
This article was exclusively written for Gateway House: Indian Council on Global Relations. You can read more exclusive content here.
For interview requests with the author, or for permission to republish, please contact outreach@gatewayhouse.in or 022 22023371.
© Copyright 2018 Gateway House: Indian Council on Global Relations. All rights reserved. Any unauthorized copying or reproduction is strictly prohibited.
References
[1] Factsheet: China-Africa Relations, South African Institute of International Affairs, http://www.saiia.org.za/opinion-analysis/factsheet-china-africa-relations
Please see 'China's second Africa Policy.'
[2] Ibid.
[3] Iluzia Andreea, '3rd Global Conference on Business, Economics, Management and Tourism', Procedia Economics and Finance, 39, 2016, <https://ac.els-cdn.com/S2212567116302611/1-s2.0-S2212567116302611-main.pdf?_tid=cda4c51f-378f-4323-91fb-e6e5c124b569&acdnat=1524360295_b81d3ca0b31cd998d9469512179939f5>
[4] China African Research Initiative, South African Institute of International Affairs, <http://www.sais-cari.org/data/>
[5] Iluzia Andreea, '3rd Global Conference on Business, Economics, Management and Tourism', Procedia Economics and Finance, 39, 2016, <https://ac.els-cdn.com/S2212567116302611/1-s2.0-S2212567116302611-main.pdf?_tid=cda4c51f-378f-4323-91fb-e6e5c124b569&acdnat=1524360295_b81d3ca0b31cd998d9469512179939f5>
[6] China African Research Initiative, South African Institute of International Affairs, <http://www.sais-cari.org/data/>  (Please see under section 'China-Africa Trade.)
[7] "Background Note" relating to 13th CII-Exim Bank Conclave on India-Africa Project Partnership. P 32
[8] China African Research Initiative, South African Institute of International Affairs, <http://www.sais-cari.org/data/> (Please see under section 'Chinese Investment in Africa.')
[9] China African Research Initiative, South African Institute of International Affairs, <http://www.sais-cari.org/data/> (Please see under section 'Chinese Loans to Africa.')
[10] China African Research Initiative, South African Institute of International Affairs, <http://www.sais-cari.org/data/> (Please see under section 'Chinese Workers in Africa.')
[11] Albert, Eleanor, 'China in Africa', Council on Foreign Relations, 12 July 2017, <https://www.cfr.org/backgrounder/china-africa>
[12] Asongu, Simplice A., and Gilbert A.A. Aminkeng, 'The economic consequences of China-Africa relations: debunking myths in the debate', Journal of Chinese Economic and Business Studies, 11, 4, 2013, <https://www.tandfonline.com/doi/full/10.1080/14765284.2013.838384?scroll=top&needAccess=true&>
[13] For a critical appreciation of India's economic ties with Africa at present, please see the author's essay entitled Bhatia, Rajiv, 'An economic agenda for India-Africa ties,' Gateway House: Indian Council on Global Relations,  12 April 2018, <https://www.gatewayhouse.in/economic-plan-india-africa/>