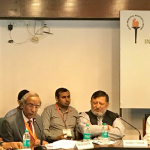 These remarks were given by Rajiv Bhatia, Distinguished Fellow, Foreign Policy Studies, Gateway House as the keynote speaker at the international conference on India-Vietnam: Strengthening Economic Ties July 26-27, 2018. Click here to read details of the event. 
This is an excellent initiative by the host institutions –  to convene a conference exclusively devoted to an in-depth dialogue on the economic facets of India's relations with a major player in ASEAN and the Indo-Pacific region, Vietnam.
Relations between our two countries are officially depicted by Indian authorities as "exceptionally friendly and cordial." This applies to the relationship as a whole, but it may be noted that economic cooperation, though growing over the years, has huge potential to expand further.
The India-Vietnam joint statement, issued during the visit of the President of Vietnam in March 2018, recognized that enhancing trade and economic engagement was "a strategic objective, a core element of the Comprehensive Strategic Partnership."
It is worth recalling that earlier during the visit of the Vietnamese PM to India in October 2014, the two governments decided to make  economic cooperation as "a strategic thrust in the India-Vietnam Strategic Partnership." A few months later, at an official meeting held in January 2015, it was agreed to focus on five key sectors as "thrust areas." They were: garment and textiles, pharmaceuticals, agro commodities, leather and footwear, and engineering. Over three years later, it is now time for a candid assessment which our experts will surely attempt in course of the next two days.
A quick look at the trade figures indicates that the bilateral trade increased from $68 million in the year 2000 to $8 billion in 2015. Trade has been consistently in favour of India, roughly in the ratio of 2:1. The two governments and business sectors have been striving to secure the target of $15 billion for bilateral trade by 2020. How do we rate the prospects of achieving this goal?
India figures among the top ten trading partners of Vietnam. Do we have the ambition and capability to improve this ranking?
India's investments in Vietnam have been constant at around $1 billion. New projects have been coming up since 2016, coving such sectors as food processing, fertilizers, auto components and textiles accessories. According to official sources, India had, in September 2017, a total of 131 major projects with a total investment of about $707 million. This gave to India the 25th rank among 110 countries. This must improve.
Since 1976, Vietnam has been a significant beneficiary of the Lines of Credit extended by the Indian government through the Exim Bank. The macro picture suggests that up to 2016 India extended $191 million as concessional credit for a hydro power project and exports of textiles machinery and equipment. What are Vietnam's perceptions and assessment of the effectiveness of LOC in pursuing its own goal of industrialization and export promotion? What has been the Indian industry's experience? Have LOCs contributed to better business-to-business linkages between our two public/private sectors?
Perhaps we should also review the trends and impact of development cooperation, a field in which India has been aptly generous. Assistance has been expanded through bilateral channels for the establishment of specialized institutions such as English language training centers, entrepreneurship development centers, an advanced ICT centre, a hi-technology crime laboratory etc. In addition, Vietnam has secured assistance within the framework of ASEAN, Mekong-Ganga Cooperation, IBSA and projects especially designed for CMLV countries. It will be very useful for us to hear the views of Vietnamese scholars on the project partnership between our two countries.
Besides, a whole series of other issues such as connectivity, civil aviation links, tourism, energy and power cooperation, Regional Value Chains (RVCs), and the role of SMEs as well as the two special schemes offered by India i.e. Project Development Fund for CLMV and $1 billion LOC for digital connectivity in ASEAN will also fall within the purview of our discussions at this conference.
Finally, there is one critical issue on which India should request Vietnam's help within the ASEAN context – and this concerns RCEP Agreement. Both sides are committed to producing a comprehensive and balanced outcome of the current negotiations. But, as it became clear at Delhi Dialogue X last week as well as in course of our visit to Kuala Lumpur and Jakarta under the auspices of Kalinga International Foundation, many in ASEAN are blaming India unfairly for the delay: this comes at a time when ASEAN has apparently become inflexible over the issues important to India i.e. Services and Investment.
We urge Vietnam to use its good offices to persuade its ASEAN partners that India believes in 'give and take' and, therefore, they should try to be more constructive and cooperative with India. Only then the goal of securing a fair RCEP Agreement by the year-end could be achieved.
We all shall look forward to the emergence of substantive consensus from the rich feast of diverse perspectives that this conference will no doubt offer. I wish our deliberations optimal success.
Rajiv Bhatia is Distinguished Fellow, Foreign Policy Studies, Gateway House
These remarks were given at the international conference on India-Vietnam: Strengthening Economic Ties July 26-27, 2018. Click here to read details of the event. 
For interview requests with the author, or for permission to republish, please contact outreach@gatewayhouse.in.
© Copyright 2018 Gateway House: Indian Council on Global Relations. All rights reserved. Any unauthorized copying or reproduction is strictly prohibited