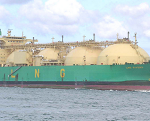 Crude oil prices are at a four-year low and Liquefied Natural Gas (LNG) prices have also fallen since the beginning of 2014. Rising oil production and a slowing of growth in demand are the two main reasons for the drop. The prospect of large-scale shale gas production in the U.S. is also expected to bring down global energy prices after exports start in 2015.
Gateway House has compiled a list of 58 natural resource-dependent economies. We further shortlisted economies where oil and gas account for over 10% of GDP (Figure 1 and Table 1). 1 Of the 19 countries we thus identified, 15 are in West Asia, North Africa, Central Asia, and Latin America. Clearly, these regions will be hurt economically by falling energy prices, even as importers such as India, China and Japan gain. Lower energy prices will also impact ongoing geopolitical events—the Arab uprisings, the rise of the Islamic State (IS), Iran's nuclear programme, and the confrontation over Ukraine.
Figure 1: Oil and gas dependent economies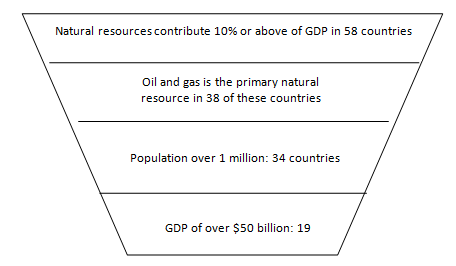 Table 1: Large economies dependent on oil and gas exports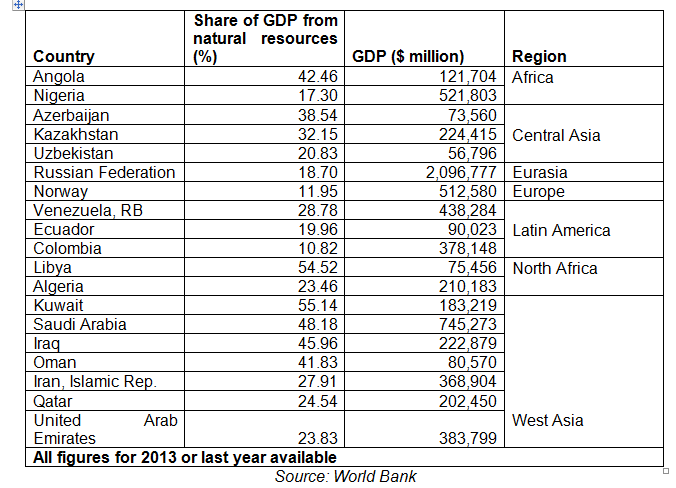 The oil rich kingdoms of West Asia—Saudi Arabia, Kuwait, United Arab Emirates and Qatar—have been the biggest beneficiaries of high oil prices over the past decade. The trade surplus of these four countries has risen from $63 billion in 2009 to $323 billion in 2013. 2 It has allowed these governments to literally buy their way out of domestic and geopolitical trouble—Saudi Arabia, Abu Dhabi, Bahrain, Oman, and Qatar have all tackled Arab upheaval-related political dissent in part by splurging on social spending at home. 3 Lower energy prices will reduce their ability to buy off dissent in the future.
This means that short of quelling future unrest with brute force, these regimes will be forced to introduce some real political reforms where the people are demanding such changes.
The other impact will be on regional unrest: on the Islamic State, Syrian resistance, and the face-off in Egypt between the Muslim Brotherhood and the army. Qatar had provided loans of $7 billion to Egypt's now-deposed Muslim Brotherhood government. Subsequently, Saudi Arabia and UAE extended loans to the current military regime for energy purchases. 4 Saudi Arabia and Qatar are reportedly also arming and funding various anti-government groups in Syria, according to SIPRI, a Sweden-based think tank. 5 Fundraisers acting on behalf of the Islamic State, Al Qaeda and other terrorist groups have been active in the past in Saudi Arabia, Qatar, and Kuwait, according to U.S. government officials. 6 Lower oil prices will bring down the cash surplus in Arab States, and could impact the flow of funds to troubled spots.
The conflicts in Syria and the Islamic State represent a schism in West Asia. On the other side of the divide is Iran, which faces the same financial pressures because of the fall in oil prices even as it aids friendly regimes in Syria and Iraq. Iran's oil exports have dipped considerably in the past few years, and its financial position is weaker because of ever-tighter U.S. sanctions aimed at bringing it to the negotiating table with western powers on the issue of its nuclear programme. If the economic pain caused by the sanctions does achieve this goal and sanctions are lifted, then Iran will be able to export oil more freely, adding to world oil supplies.
Iran's petroleum sector has languished since the 1979 revolution: current production of 3.5 million barrels/day is less than two-thirds the levels in 1978 levels. 7 A long-term solution to the sanctions can bring fresh investments and therefore more oil—and lower prices—into the global market, though this can take several years. Till then, Iran too is constrained in its financing of arms and training to its Shia neighbours.
Russia, another major oil and gas exporter, has also been at the receiving end of U.S.-led sanctions because of the Ukraine issue. The sanctions have not been enforced with particular vigor because the European Union states, buyers of Russia's hydrocarbons, are themselves suffering from slow economic growth and cannot afford the burden. News reports indicate that Europe will reconsider sanctions against Russia near the end of October. 8 The lower oil prices now hitting the Russian economy may prove to be more effective in resolving the Ukraine crisis than sanctions. Russia is now looking for other markets to reduce its dependence on Europe and has recently concluded a $400 billion gas supply deal with China. 9
Venezuela is an example of a petro-state fallen on hard times. The previous president, the late Hugo Chavez, supported friendly regimes in Latin America and was often accused of funding opponents of leaders he disliked by using Venezuela's oil revenues. However, mismanagement has resulted in a sharp fall in oil production and an economy in deep crisis. This has compounded the impact of low oil prices and has hurt the economy. Venezuela is unable to pay for many imports, and foreign airlines have cut flights to the country because the government is unable to settle their dues in hard currency. 10
The good news is that as more oil and gas supply sources become available in the world market, India can leverage the increasing production of hydrocarbon exporters such as the U.S., Australia and Canada, to reduce its dependence on the volatile West Asian region, from where imports 60% of its oil. 11 The combination of diminished purchases by big Asian buyers like India and lower prices may be the just the jolt that the big West Asian producers need to mend their mischievous ways—and to give peace a chance.
Amit Bhandari is Fellow, Energy & Environment Studies, Gateway House.
This article was exclusively written for Gateway House: Indian Council on Global Relations. You can read more exclusive content here.
For interview requests with the author, or for permission to republish, please contact outreach@gatewayhouse.in.
© Copyright 2014 Gateway House: Indian Council on Global Relations. All rights reserved. Any unauthorized copying or reproduction is strictly prohibited
1 World Bank, Data: Total Natural Resources Rents (% of GDP), 2011, <http://data.worldbank.org/indicator/NY.GDP.TOTL.RT.ZS/countries?display=default > and World Bank, Data: Population, Total, <http://data.worldbank.org/indicator/SP.POP.TOTL.>; and World Bank, Data: GDP Ranking, 24 September 2014, <http://data.worldbank.org/data-catalog/GDP-ranking-table>
2 OPEC, Annual Statistical Bulletin 2014, <http://www.opec.org/opec_web/static_files_project/media/downloads/publications/ASB2014.pdf>
3 Wharton, University of Pennsylvania, To Stave Off Arab Spring Revolts, Saudi Arabia and Fellow Gulf Countries Spend $150 Billion, 11 September 2011, <http://knowledge.wharton.upenn.edu/article/to-stave-off-arab-spring-revolts-saudi-arabia-and-fellow-gulf-countries-spend-150-billion/>
4 The Cairo Post, Egypt to Receive $5B from KSA, UAE to Offset Qatar Payments, 13 October 2014, <http://thecairopost.com/news/126945/business/egypt-to-receive-5b-from-ksa-uae-to-offset-qatar-payments>
5 Wezeman, Pieter D., SIPRI Yearbook 2013: Armaments, Disarmament and International Security, (Stockholm International Peace Research Institute), <http://www.sipri.org/yearbook/2013/files/sipri-yearbook-2013-chapter-5-section-3>
6 Cohen, David, Confronting New Threats in Terrorist Financing', remarks on new American security at the U.S. department of the treasury, 3 April 3 2014, <http://www.treasury.gov/press-center/press-releases/Pages/jl2308.aspx>
7 British Petroleum, BP Statistical Review of World Energy 2014, 1 June 1, 2014, <http://www.bp.com/en/global/corporate/about-bp/energy-economics/statistical-review-of-world-energy.html>
8 Russia Beyond the Headlines, EU Will Review Russia Sanctions in Late October , 14 October 2014, <http://rbth.com/news/2014/10/14/eu_will_review_russia_sanctions_in_late_october_40586.html>
9 Gazprom, Alexey Miller: Russia and China signed the biggest contract in the history of Gazprom, 21 May 2014, <http://www.gazprom.com/press/news/2014/may/article191451/>
10 Wilson, Peter, 'Airlines Move to Cut Off Service to Venezuela', Bloomberg Businessweek, 20 March 2014, <http://www.businessweek.com/articles/2014-03-20/airlines-move-to-cut-off-service-to-venezuela>
11 U.S. Energy Information Administration, India: Country Brief, 26 June 2014, <http://www.eia.gov/countries/cab.cfm?fips=IN.>