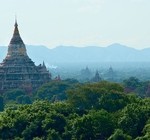 In November 2007, Derek Mitchell and I published an essay in Foreign Affairs ("Asia's Forgotten Crisis," November/December 2007) arguing that U.S. policy toward Burma (renamed Myanmar by the country's military junta) needed to move beyond the debate over whether to place sanctions on the country's repressive military junta or engage it. We also asserted that Washington must form a comprehensive strategy that leverages regional relationships and uses a mix of incentives to nudge the isolated regime toward democracy.
This article was originally published by Foreign Affairs. You can read the rest of the article here.
You can read exclusive content from Gateway House: Indian Council on Global Relations, here.
Copyright © 2010 by the Council on Foreign Relations, Inc.