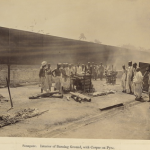 All governments will be judged by how they managed the coronavirus epidemic of 2020. There will be no escaping the final statistics: how many people died and how figures compare with other countries.
The four key policy dilemmas with which all governments have been struggling are:
a) how transparent to be with their citizens. The balance is always between avoiding complacency, on the one hand, and causing panic, on the other;
b) how to weigh the public health aspects against economic considerations. While it seems indecent to consider money at a time of human distress, economic activity is essential to human well-being;
c) whether to rely on the people's innate common sense or resort to stringent measures to enforce inspections, quarantines, curfews, and anti-hoarding legislation;
d) how to manage the narrative, and ultimately, whether and who to blame.
We have seen all four dilemmas in action worldwide in recent weeks. China's initial instinct was to suppress reporting. Later Beijing was draconian in enforcing quarantine. All countries have tried to limit the damage to their economies. In the UK Prime Minister Boris Johnson tended to put trust in people's innate common sense whereas French president Macron was more directive. President Trump was slow to acknowledge the seriousness of the virus, but quick to apportion blame to China and Europe.
Few of the historical precedents help in judging whether these four dilemmas are immutable. The Spanish Flu of 1918-1920 is difficult to evaluate because it came during and shortly after a catastrophic world war. The Black Death of 1346 to 1351 relates to an entirely different world order.
In spite of its colonial context the Bombay bubonic plague outbreak of 1896 is one of the better examples to hand. It originally came from China via Hong Kong.[1] Bombay was then, as now, a vibrant trading city with a busy seaport and connected to India's interior by railways since the 1850s. A population of 820,000 comprised all Indian races and religions as well as a sizeable foreign population. As Tristram Hunt, has shown Bombay was one of the 10 great cities of the Victorian world.[2]
Three aspects of the story are already well-known. The first was the remarkable work of Acacio Viegas, a Goan doctor, who diagnosed the first victim on 18 September 1896. He then devoted himself to fighting the disease at great personal risk. A statue of Viegas still stands in south Mumbai, opposite Metro cinema. The second was the development of a crude but workable vaccine in just three months by a Ukrainian Jewish scientist who had studied at the Pasteur Institute in Paris. Waldemar Haffkine is now best remembered for the Haffkine Institute in Mumbai, but he tested his plague vaccine on himself as he had previously done with his cholera vaccine. And the third was the assassination in Poona (modern Pune) of Walter Rand, the Plague Commissioner in that city.
It is this third event which leads to comparison with today's phenomenon because of the political (as opposed to clinical) aspects of pandemic management.
India in 1896 was still ruled by the British. The Viceroy in Calcutta (modern Kolkata) was in theoretical charge. Lord Elgin was not a particularly notable or successful Viceroy, but he had an overriding concern to avoid civil unrest. The Governor of Bombay, Lord Sandhurst, shared Elgin's concerns but was also aware that, thanks to the invention of the telegraph, real power now resided in London. There the Secretary-of-State for India was Lord George Hamilton. Hamilton had for many years been the target of French, Turkish, and American criticism that ships from India brought infection to Europe and he was determined to stamp out disease and to reinforce Bombay's commercial success.
Hamilton insisted that the annual Muslim pilgrimage to Mecca, the Hajj, be suspended. Elgin immediately saw the danger of alienating India's Muslim minority and he resisted until February 1897 when Hamilton finally got his way.
In March a Plague Committee was formed with authority to search private homes, segregate the sick and evacuate, disinfect, and sometimes, burn possessions and homes. On occasion, British officials and troops entered Indian housing and inspected potential sufferers, causing considerable offence, especially in cases of women in purdah. Indians with their strong family networks also objected to forcible separation.
The authorities were slow to lock down the city. Cotton mill workers and others made use of the rail and road infrastructure to flee the city and spread the plague to the interior.
A particular bone of contention was the inspection of corpses. Hamilton's medical advisors insisted that it was necessary to establish who had died of plague. Elgin objected to the practice in Bombay, but Walter Rand implemented the measure, leading to his assassination in June 1897. His assassins, the Chapekar brothers, became celebrated as did the Indian nationalist B.G Tilak.
In March 1898 the levels of unrest were sufficient for corpse inspections and military searches to be suspended. Responsibility for home inspections was given to Indians and the Special Plague Commission was abolished. Elgin also decided not to take any action against the hostile Indian press which Hamilton blamed for the unrest.
When Lord Curzon arrived as Viceroy to replace Elgin he too preferred to adopt a less intrusive policy of plague mitigation. Most historians take the side of Elgin and Curzon against Hamilton, and yet the stark truth is that cultural sensitivity had its consequences. The plague was not stamped out – and continued to kill until the mid-1920s. As many as 10 million Indians may have died. The fragility of colonial rule made it inadvisable for the British to act as robustly as Xi Jinping has done in Wuhan.
Narendra Modi, the Indian prime minister, has resorted to the Epidemic Diseases Act of 1897 to confront the coronavirus disease (COVID-19) in India. Armed with Hamilton's formidable legislation, it will be interesting to see how he addresses the same four policy dilemmas.
Tim Willasey-Wilsey is Visiting Senior Research Fellow at King's College, London and a former senior British diplomat.
This article was exclusively written for Gateway House: Indian Council on Global Relations. You can read more exclusive content here.
For interview requests with the author, or for permission to republish, please contact outreach@gatewayhouse.in
© Copyright 2020 Gateway House: Indian Council on Global Relations. All rights reserved. Any unauthorized copying or reproduction is strictly prohibited.
References
[1] Echenberg, Myron, ;The Global Urban Impact of Bubonic Plague, 1894-1901′, New York; NYU Press, 2007, Pages 47-78.
[2] Hunt, Tristram, 'Ten Cities That Made an Empire', London; Allen Lane, 2014