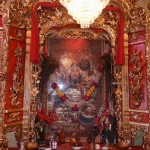 This is part two of a two-part series. Read part one here. 
The unresolved border issues notwithstanding, the economic relationship between India and China has seen a revival since the early 1990s. Trade with China encompasses everything – from household items to heavy machinery – and today, a Chinese bank and corporates too have set up base in Mumbai.
The city has always had a soft corner for everything Chinese because its early builders – mostly Parsi merchants, the most prominent among them being Sir Jamsetjee Jeejeebhoy – made their fortune in the cotton and opium trade with China. They created a taste for Chinese porcelain, furniture, silk, and paintings, among the city's well-heeled, the Parsis mainly – besides the rather more ubiquitous paper lanterns that were once abundantly available in the city's Crawford Market.
Many of these merchants withdrew from the China trade, financially bruised after the First Opium War (1839-1842). [1] The love for all things Chinese continued, with a resident Indian Chinese community catering to local demand. Some descendants of these early migrants remain in Bombay though their numbers diminished greatly after the India-China War of 1962.
Beginnings of a community
There is no confirmed date on when the Chinese community first came to Bombay, but there are two milestones that remain. There is a Chinese cemetery atop Antop Hill (Sewri); five Chinese merchants bought the land for it on 10 November 1889 at 6 annas per yard. It became functional after a boundary wall was erected three months later.[2] The other cemetery, now defunct, is in Kamathipura, central Bombay, a neighbourhood that, at the turn of the 20th century, came to be designated New China Town.
The second milestone is the Chinese Temple on Nawab Tank Road (Mazagaon), dedicated to the legendary Chinese warrior king, Kwan Tai Kung (lit. the Great One),[3] [4] which was consecrated in 1953, but located in a 19th-century building that once housed a Chinese-run marine institute.
Albert Tham, caretaker of the temple and a caterer by profession, explains the connection between these seemingly disparate markers. "The Tham (Cantonese) clan was among the earliest to immigrate to Bombay sometime in the 19th century," he says. (A common surname indicates common ancestral roots. Members of a clan, hailing from the same region in China, are linked together by ethical instructions, passed down through male heirs of successive generations. This meant that the institute was largely for Cantonese Chinese, the dominant group in the early years.)
Albert's grandfather, who spoke very good English and dressed like an Englishman – suit, monocle, walking stick – was a British India Steam Navigation Company (BISN) labour contractor. The Tham clan opened the marine institute on Nawab Tank Road, where migrant Chinese men were trained in ship's carpentry, welding, and fitting, so they could work in the dockyards and on ships. Many also learned cooking and could serve on the BISN passenger ships.
Now referred to as Old China Town, Nawab Tank Road is located outside Mumbai's Mazagaon Docks, which was also formerly the old naval shipyard of the English East India Company that once ruled the city (1661-1858), and had employed many Chinese till the outbreak of the 1962 India-China War.
Bombay's trade with the Chinese mainland first began in Canton (Guangzhou) in 1770, [5] a port designated by the Qing Emperor for foreign traders who could transact business only with one Cantonese traders' guild, called the Co-Hongs. They were also confined within an enclave on the banks of the Pearl River, and encouraged to withdraw to Portuguese-ruled Macao or return home after the trading season ceased. This was to ensure that they did not mingle with the local population or steal saplings of the valuable tea plant: tea dominated China's exports to the West at that time.
It was Great Britain's victory in the First Opium War (1839-42) that skewed the political balance, giving European and American trading houses the upper hand. The Treaty of Nanking (1842), the first of the Unequal Treaties, not only ceded Hong Kong to Britain under a 99-year lease, but opened four new treaty ports that effectively gave market access to the Chinese mainland, which western traders had long hankered after.
This war also triggered the first big wave of migration from Canton and adjoining areas to Hong Kong, South East Asia, Calcutta and Bombay.
Dumplings and dens of opium
Along with the Cantonese – distinguished from the later Hakka and Hupeinese – came their cuisine. Baba Ling, owner of Ling's Pavilion, in Colaba, Bombay, explains, "Cantonese food is bland and steamed. We have varieties of stews. Seafood – crab, fish, prawn – is what we are famous for – because down south, where Guangzhou (Canton) is located, it is available in plenty."
Introducing the Indian palate to the subtleties of Cantonese food was a slow process that led to the creation of new dishes. Nanking, one of the early Chinese restaurants in Colaba, invented corn chicken soup during the Second World War, when a group of Allied soldiers walked in at closing time and asked the chef to whip up something with a tin of corn that they had with them. The introduction of this dish into the Nanking menu soon made it a byword for Chinese food in Bombay.
Next, Flora Restaurant at Worli put fried Chinese spring rolls on the menu for the first time, according to Sylvia Chen, the owner of Butterfly Pond beauty salon, Colaba. Her father, James (Lin Thow Chon), was head chef there, and later, with Nelson Wang's China Garden, and perfected this dish in their kitchen.
The two oldest Chinese restaurants in Bombay, one of them being Lok Jun (1895) on Shuklaji Street, in Kamathipura, opened in areas where Chinese families settled in large concentrations in the late 19th century. Notorious as Safed Gully (or street for European prostitutes) during the War years, this street and its precincts once spawned a host of Chinese shops – bakeries, groceries, a laundry, shoe-makers, peddlers, Chinese dentists, beauty parlours – and stalls serving steamed Chinese dumplings and noodles.
It is here that one can still see a Chinese presence: an occasional face, or reference, such as 'China Compound' for a ramshackle single-storied building, and dental clinics, of which there are still three in Falkland Road, Kamathipura. It also had the Hakka Club (exclusively for Chinese), where the news of the day was exchanged over gambling sessions in mahjong; a Chinese-run opium den, one of many in 19th-century Bombay when the city's port was a major outlet for Malwa opium exports to China; and a Chinese school in nearby Agripada. [6]
Though the community was once concentrated in a particular area, it is made up of Cantonese, Hakka, Hupei (alternatively Hubei), and Shadong Chinese, whose widely differing dialects indicate the period when these regional clans left China and the trades they took up during their early years abroad.
The latter three groups immigrated in large numbers between 1911 (when the Qing Emperor was deposed) and 1949, when the Chinese Communist Party came to power.[7] The Hakka influx was to Calcutta first where they took to shoe-making, leather tanning in Tangra, set up bakeries, and their women entered the beauty salon business, a pattern they replicated in Bombay almost completely. The Hupei, well-known as teeth-setters from central China, came from a region that admitted foreigners only after 1842, settling in Calcutta first. Those from Shadong (a coastal province in East China) were silk peddlers, the region being famous for it.
Reminisces Dhun Lentin, "The Parsi women in Bombay's baugs (Parsi community housing complexes) waited keenly for the silk peddlers, then haggled over prices all through the afternoon. They were quite a match for them."
Most of these silk peddlers went out of business in the early 1950s due to the stoppage of imports from China. A few took to selling Indian silks, but many in Calcutta and one in Bombay, briefly opened laundry shops on loans given to them by the Bank of China, which had a Bombay branch too. The Calcutta experience shows that this community was largely repatriated (during the War) to China as many applied for PRC citizenship to access these loans. [8]
Today, the Bombay-China business relationship has come full circle, especially for the Tata Group. It once had offices in coastal Chinese ports, like Shanghai, and today, Tata Consultancy Services, has a growing presence in China. Though the Bank of China has not set up operations in Mumbai yet, the country's biggest bank, the Industrial & Commercial Bank of China (ICBC), has been in the city since 2011. These businesses have been frontrunners of a renewed relationship that spans across industries, services, and most importantly, the people of the two countries. [9]
Sifra Lentin is Bombay History Fellow at Gateway House.
This is part two of a two-part series. Read part one here. 
This article was exclusively written for Gateway House: Indian Council on Global Relations. You can read more exclusive content here.
For interview requests with the author, or for permission to republish, please contact outreach@gatewayhouse.in or 022 22023371.
© Copyright 2017 Gateway House: Indian Council on Global Relations. All rights reserved. Any unauthorized copying or reproduction is strictly prohibited.
References
[1] Thampi, Madhavi, and Shalini Saksena, China and the Making of Bombay (Mumbai, The K.R. Cama Oriental Institute, Mumbai), p. 33.
[2] The Mumbai Chinese refer to the Chinese cemetery at Antop Hill (Sewri) as being two cemeteries because their burial rites involve burying the body in one half of the cemetery for two to three years, then collecting the bones (which are washed) and then stored in an urn that is kept in the second half of the cemetery. Ancestor worship is a very prominent aspect of Chinese rituals and traditions before the Chinese New Year.
[3] The Great Warrior Kwai Tai Kung, is revered among the Chinese because he is also considered as the God of Wealth, is known for his loyalty, and generosity in fulfilling the wishes of those who pray to him.
[4] In the early phase of the China trade (before the First Opium War), Parsis were prominent because there were no religious restrictions on crossing the seas, moreover, many already worked as brokers, guarantee brokers, managers, later even partners, to the few European trading houses permitted by the East India Company to trade from Bombay.. It must be noted, though they appeared to dominate that period as ship-owners and traders, almost every community in Bombay – such as, the Marwaris, Bhatias, Banias, Ismailis, Memons, Jews, Armenians, Goans – was doing business with China. This was because the consignment system enabled everyone, even small investors, to send goods aboard a ship to China.
It is noteworthy that even today, many old Parsi homes still have heirlooms of Chinese porcelain, silks, inlay furniture and paintings that point to their forefathers having been in the China trade.
[5] Edwardes, S. M., The Gazetteer of Bombay City And Island, Vol 1, Bombay (Bombay, Gazetteer Department, Government of Maharashtra, 1977), p. 412.​
[6] The Chinese School was located in Star Mansion on Motlibai Street, Agripada. The school premises were occupied by trespassers after the dislocation caused by the India-China War 1962.
[7] There was a huge influx of immigrant Chinese with the establishment of the People's Republic of China on 1 October 1949. Many from this last wave were landholders, soldiers, and those fleeing for their lives from insidious clan feuds.
[8] Sen, Tansen, India, China, and the World: A Connected History (London, Rowman & Littlefield, 2017), p.211.
[9] Lentin, Sifra, Mumbai-Shanghai Sister Cities Agreement: Challenges & Opportunities (Mumbai, Gateway House, May 2017). This paper can be accessed on https://www.gatewayhouse.in/mumbai-shanghai-sister-cities-report/
It touches on the historic business relationship between the cities of Bombay and Shanghai, where many old Bombay businesses, like those run by the Sassoons, once had a large presence, and makes suggestions on how both governments can take this relationship forward in the 21st century.