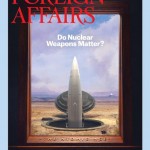 As China's power has grown in recent years, so, too, has the risk of war with the United States. Under President Xi Jinping, China has increased its political and economic pressure on Taiwan and built military installations on coral reefs in the South China Sea, fueling Washington's fears that Chinese expansionism will threaten U.S. allies and influence in the region. U.S. destroyers have transited the Taiwan Strait, to loud protests from Beijing. American policymakers have wondered aloud whether they should send an aircraft carrier through the strait as well. Chinese fighter jets have intercepted U.S. aircraft in the skies above the South China Sea. Meanwhile, U.S. President Donald Trump has brought long-simmering economic disputes to a rolling boil.
A war between the two countries remains unlikely, but the prospect of a military confrontation—resulting, for example, from a Chinese campaign against Taiwan—no longer seems as implausible as it once did. And the odds of such a confrontation going nuclear are higher than most policymakers and analysts think.
CAITLIN TALMADGE is Associate Professor of Security Studies at the Edmund A. Walsh School of Foreign Service at Georgetown University. This essay is adapted from "Would China Go Nuclear? Assessing the Risk of Chinese Nuclear Escalation in a Conventional War With the United States," International Security, Spring 2017.
This article appeared in the Foreign Affairs 2018 November/December edition. It is republished here with permission.
This article was originally published by Foreign Affairs. You can read the rest of the article here.
You can read exclusive content from Gateway House: Indian Council on Global Relations, here.
Copyright © 2018 by the Council on Foreign Relations, Inc.