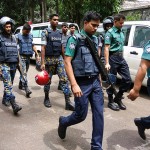 On March 24, the Shahjalal International Airport of Dhaka witnessed a failed suicide attack at the police checkpoint, which killed the suicide bomber.[1] Anxiety has seized Bangladeshi society, think tanks and the security establishment after this incident, which revived memories of the Holey Artisan Bakery attack of July 2016. What has also been perturbing about this new violence is its home-grown dimension.
Three days after the attack, intense discussions at Dhaka's Bangladesh Institute of Peace and Security Studies, had counter-terrorism practitioners, representatives of the security establishment, academics and students, and religious scholars, undertake a deep soul-searching exercise, looking for why Bangladeshi society is spawning such violence.
Bangladesh's terrorism problem is neither new nor unique. But its current manifestation of random, but apparently coordinated, terrorist attacks against secular bloggers, foreigners and the Hindu community, the increasing suicide attacks, and the militant sieges, has left the country shaken politically, economically and socially.
The ruling Awami League government, led by Prime Minister Sheikh Hasina, which had earlier declared a major victory in the fight against local militants and anti-India terrorist groups, is now scrambling to get a handle on the situation. In an intense crackdown, 900 suspects were detained by security forces in a single clear-out in June 2016.[2] After the Holey Bakery attack, Dhaka outlawed militant groups like the Ansar al-Islam, which have sought to revive their activities under new names.[3] For PM Hasina's government, it is critical to bring the situation under control, lest her political rivals take advantage of such grave lapses.
Many westerners are now fearful and have left the country. At Gulshan, a prime locality in Dhaka, housing diplomatic facilities, foreigners and senior government officials, the worry has intensified. The sudden flight of many expats in top development positions is having an adverse impact on Bangladesh's economy, which depends heavily on foreign development professionals and assistance. Despite the availability of well-paid, high- profile jobs, qualified people from abroad are staying away out of fear, choosing instead to work in South East Asia.
China is taking advantage of the vacuum. Three months after the Holey Bakery attack, in October 2016, Chinese President Xi Jinping paid a visit to Dhaka and signed loan and investment agreements worth around $20 billion with Bangladesh.[4]
Predictably enough though, the only industry seeing a spurt in activity currently is the private security business. Foreign companies, such as G4S, and local ones, like Elite Security Services and Integrated Security Services, have rushed in to fill a need, even as the government security forces struggle to cope. In a perversely ironical twist, hiring a private body guard has become a status symbol for many elite Bangladeshis.
Bangladesh's security establishment is stretched to the limit, with police forces being rushed in to Dhaka from other districts of Bangladesh to provide back-up support. Dhaka's streets are dotted with policemen, armed with automatics, and every building has metal detectors– equipment that was not in view prior to July 2016.
This is reassuring for the residents of Dhaka–but the militants have moved on, and now carry out attacks in other districts. Last week, local media reported at least three major stand-offs between militants and the security forces in Comilla, Sylhet and Moulvibazar.[5] [6]
The current spate of violence has overturned Bangladesh's conventional wisdom on terrorism: that young males from poor and underprivileged backgrounds alone take to violence. Now terrorists and suspects are not only Pakistan-sponsored, but also home-grown, and hail from both poor and affluent Bangladeshi families. This does offer a stark reflection of Bangladeshi society, which virtually has no middle class— it constitutes only 7% of the population.[7]
Encrypted technology has enabled members of such groups to communicate with each other under the radar while bomb making techniques have improved too. Women are increasingly participating in terrorist activities, the youth are willing to commit suicide attacks, and their identification with the nihilist ideology of the Daesh has left the security establishment searching desperately for answers. There is also a great concern over the potential radicalisation of Rohingya Muslim refugees, being forced to flee from neighbouring Myanmar.
The Bangladeshis are openly debating whether theirs is an Islamist society first or a Bengali one. Cognisant of the proliferation of Saudi-funded mosques[8] and the influence on the local maulvis of the Bangladeshi diaspora from the Persian Gulf, some intellectuals have made a more vocal demand for translation of the holy book of Quran into Bengali for an understanding of its meaning and context. Religious scholars are being asked to spread a counter-narrative against violent extremism. This religious debate itself is uncovering issues which, for a long time, had been swept under the carpet, issues, such as the treatment of, and violence against Bangladesh's own religious minorities and indigenous ethnic communities.
India can be an ideal partner for Bangladesh in this effort, offering capacity building and training support, such as in forensics and cyber security. Bilateral cooperation in the last few years has deepened, and PM Hasina's government is an important ally for India, which has been working to neutralise Pakistan-origin anti-India terrorist groups in Nepal and Bangladesh, post the 2008 Mumbai attacks. This strengthened counter-terrorism cooperation has set the tone for progress in other areas, including the successful conclusion and implementation of the Land Boundary Agreement in 2015.[9] Bangladesh has also become an important partner for India's efforts at sub-regional integration through the Bay of Bengal Initiative for Multi-Sectoral Technical and Economic Cooperation and the Bangladesh, Bhutan, India and Nepal motor vehicle agreement.
India wants to step up this bilateral engagement and sign a defence pact–with greater emphasis on intelligence sharing and more military engagement.  Yet, there is a deep skepticism in Dhaka and among many Bangladeshis, who fear the impact that the proposed arrangement will have on their sovereignty and foreign policy. Disagreements over the sharing of the Teesta river waters also cloud bilateral relations.
As PM Hasina embarks on a state visit to India this week, it is urgent and critical that the two sides overcome these hurdles and continue to maintain a united front against the terrorist and extremist groups. Its western borders are tumultuous enough; India cannot allow a destabilisation of its eastern flank lest the Daesh-inspired terrorists exploit Bangladesh's security fissures to target India.
Here are some major Indian companies currently doing business in Bangladesh.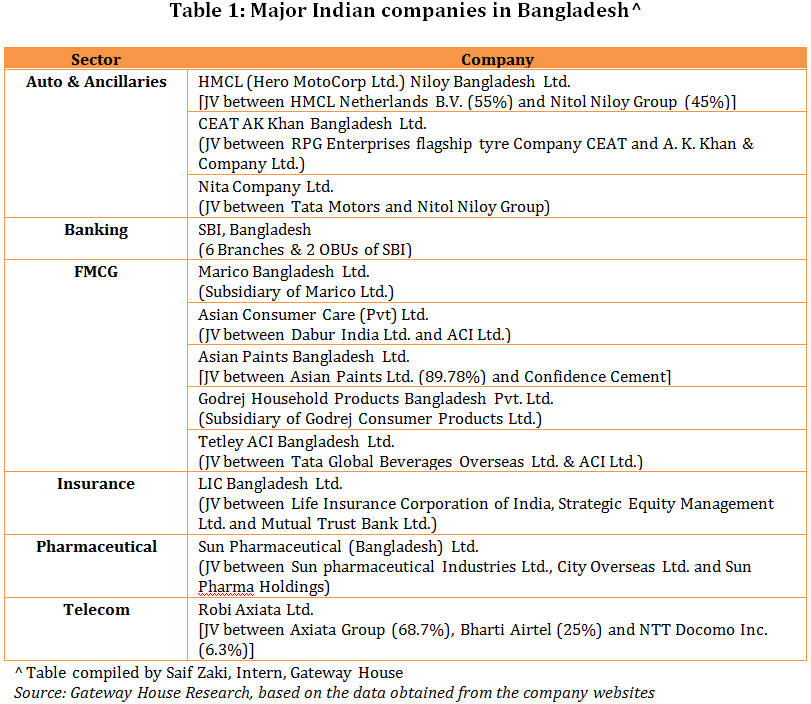 Sameer Patil is Director, Centre for International Security & Fellow, National Security Studies, at Gateway House. 
Sameer attended as a speaker at the CVE workshop organised by the Bangladesh Institute of Peace and Security Studies, Dhaka. 
This article was exclusively written for Gateway House: Indian Council on Global Relations. You can read more exclusive content here.
For interview requests with the author, or for permission to republish, please contact outreach@gatewayhouse.in.
© Copyright 2017 Gateway House: Indian Council on Global Relations. All rights reserved. Any unauthorized copying or reproduction is strictly prohibited
References
[1] Mahmud, Tarek, Adil Sakhawat and Kamrul Hasan, "Suicide bomber kills himself in attempted attack on police check post", Dhaka Tribune, 24 March 2017, <http://www.dhakatribune.com/bangladesh/crime/2017/03/24/suicide-attack-police-airport/>
[2] BBC, "Bangladesh arrests 900 in crackdown on Islamist militants", 10 June 2016, <http://www.bbc.com/news/world-asia-36497370>
[3] Special Correspondent, "Ansar al-Islam banned", The Independent, 5 March 2017, <http://www.theindependentbd.com/home/printnews/83957>
[4] Kallol, Asif Showkat, "BD, China to sign 25 projects worth $20bn", Dhaka Tribune, 13 October 2016, <http://www.dhakatribune.com/bangladesh/2016/10/13/china-bd-sign-25-project-agreements/>
[5] Mahmud, Tarek and Mohammed Serajul Islam, "4 militants dead as Sylhet raid nears conclusion", Dhaka Tribune, 28 March 2017, <http://www.dhakatribune.com/bangladesh/crime/2017/03/28/4-militants-dead-sylhet-raid-nears-conclusion/>
[6] UNB, "Moulvibazar, Comilla anti-terror raids end; 3 bodies found", The Financial Express Bangladesh, 1 April 2017, <http://www.thefinancialexpress-bd.com/2017/04/01/65802/Moulvibazar,-Comilla-anti-terror-raids-end;-3-bodies-found>
[7] ICEF Monitor, "Bangladesh: Middle class growth helping to drive demand for study abroad", 27 February 2017, <http://monitor.icef.com/2017/02/bangladesh-middle-class-growth-helping-to-drive-demand-for-study-abroad/>
[8] Dorsey, James M., "Creating Frankenstein: The Impact of Saudi Export Ultra-Conservatism in South Asia", SSRN, 24 July 2016, <https://ssrn.com/abstract=2813898>
[9] Ministry of External Affairs, "Land Boundary Agreement between India and Bangladesh", <https://www.mea.gov.in/Uploads/PublicationDocs/24529_LBA_MEA_Booklet_final.pdf>