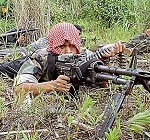 The signing of the Framework Agreement on the Bangsamoro with the Moro Islamic Liberation Front (MILF) by the government of Philippines on October 15, 2012 was hailed internationally as the first firm step towards ending a three-decade long armed rebellion, that had left thousands dead, wounded and displaced, in the archipelago's second largest island region, Mindanao. Hopes were high as the 12,000 rebel-strong MILF agreed to give up its pursuit of the creation of Bangsamoro – an Islamic nation independent from the largely catholic Philippines – in return for autonomy in the region; the majority Muslims were to exercise a significant share of administrative rights and the details on sharing resources and revenues were still being worked out.
Absent from the discourse, however, was the fact that the concerns and objections of the Moro National Liberation Front (MNLF) – the rebel group from which the MILF broke away in 1976 – were not taken into account by the government. The idea that the MILF would have more political clout in a resource-rich region does not sit well with the MNLF and this discontent has now translated into a violent outbreak against the government.
The roots of the MNLF-MILF rivalry lie in the 1976 Tripoli Agreement that resulted in the split of the MILF from the MNLF – following disagreement over the terms of the Agreement. Their struggle for the rights of Mindanao Muslims to be recognised by Manila has now deteriorated into this internecine enmity. It is now up to the Filipino government to try to mediate this rivalry – as also to make sure the arms that proliferated during the decades of civil war are destroyed – if it wants to guarantee peace in the region. Further progress for the region will hinge on this.
Compiled by: Rajeshwari Krishnamurthy
This blog was exclusively written for Gateway House: Indian Council on Global Relations. You can read more exclusive content here.
For interview requests with the author, or for permission to republish, please contact outreach@gatewayhouse.in.
© Copyright 2013 Gateway House: Indian Council on Global Relations. All rights reserved. Any unauthorized copying or reproduction is strictly prohibited