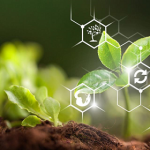 Over the past decades, the agriculture sector in India has grown critically important for food security and employment. India must ensure an adequate food supply for the country's increasing population. And it must focus on the quality of its labour, as agriculture and its related activities employ more than half of the country's workforce.
These two imperatives are acknowledged by India's policy makers, who in 2016 pledged to double farmer incomes by 2022. This goal was delayed when the three farm reform bills of 2020 were repealed a year after they became law.
How then, can India achieve its goals for food security and living wages for farmers? There are challenges to overcome, especially for the low-income farmer. But there is also technology available to assist in this effort, namely, Artificial Intelligence (AI).
Challenges:
Several hurdles hold back India's agriculture sector from performing to its full potential. These include inefficient traditional practices, dependency on monsoons for irrigation, and vulnerability to floods, droughts, pests and diseases. The majority of Indian farmers hold small, fragmented land parcels, lack access to quality seed, manure, fertilizer and technical advice to improve crop yields. Limited mechanization, degradation of land, loss of soil fertility, dependence on exploitative intermediaries, and the absence of agriculture marketing facilities have contributed to decreased crop yield per hectare and low farmer income.
Existing Legislation, Policies and Schemes:
The Government of India has made several provisioning policies, like national crop insurance, National Agriculture market (e-NAM), a contract farming law, an updated agriculture export policy, and a clean energy scheme for solar pumps, grid-connected solar and other renewable power plants. e-SAGU offers farmers expert solutions through the internet and audio-visual communication, community radio and Kisan Call Centers.  Another scheme aims to ensure fair market prices for farmers' crops.
The Promise of Artificial Intelligence:
To take the needed giant leap forward in productivity and food security, advanced technologies like AI must be used. Over the past decade, AI has opened the doors for decision-making systems and automation. AI-powered technological innovations have changed agriculture in developed countries like Israel, France, Japan, the U.S. and even China, where public acceptance of AI is greater.
Water, fertilizer, experience and information are essential to agriculture. Farming that relies on large amounts of water and fertilizer faces sustainability issues. Japan has developed AI-based digital farming technology that collects field data with different sensors and analyses the data with the accumulated knowhow of skilled cultivators who determine the right amount of water and fertilizer required to keep the soil in proper condition. Where the system is used, wastage is minimised and agricultural productivity improves significantly.
The level of acceptance of AI is lower in developing countries like India where technical advice is not as available. In India, crop and soil monitoring are the most important AI applications.[1] With machine learning and computer vision, mobile apps can be developed for farmers to take photos of their soil and/or infested crops, upload them on the app to obtain a reading of the quality of soil, and identify the pest/disease growing. The app can, in real time, provide advice on improving soil quality and/or the treatment of pests.
Predictive Agriculture Analysis:
By accumulating massive amounts of data from weather and soil reports, temperature, humidity, and historic crop performance data, AI can provide insights into various practices like the right time to sow seeds or harvest the crop, leading to improved yields and reduction in overuse of water, fertilizers, and pesticides.
Although older farmers may resist, young Indian farmers will eagerly adapt to AI-based precision agriculture. India already has a highly digitized citizenry, and the use of mobile phones and the internet in rural India is outpacing that of urban India. With some training, the farming community can use AI and machine learning, which increases farm productivity by 50%, and can more than double their income.
Drones equipped with multi-sensor cameras can facilitate the farmer's inspection of the land for patches infected with pests and identify areas that lack irrigation. AI-powered agri-tech services like weather prediction, crop health monitoring and stress identification, coupled with data and analytics, can build robust predictive models that optimize resources while educating farmers.
AI-powered deep learning models can analyse demand and supply chain bottlenecks in real time and offer suggestions for farmers to sow crops according to global projections of demand and supply. The models will help build platforms to ensure transparency of crop prices and their by-products and help farmers become profitable.
Several start-ups for AI in agriculture have begun to surface in Bangalore, Gurugram and Roorkee. Indian insurance and agriculture companies like Mahindra Agri and Max Bhupa that work with the government's PM Fasal Bhima Yojana are looking to use AI for crop and drought monitoring.
While technology is important for growth, an enabling ecosystem is also needed in India, one that combines both public and private sectors to create, encourage and integrate the use of digital and physical tools. India can work with its partners and allies, like Japan. Japan's National Institute of Advanced Industrial Science and Technology, Tokyo[2], successfully uses AI for agriculture sustainability, water and fertilizer use. Though Japan and India are quite different, by sharing knowledge, together they can develop a cost-effective AI-based system especially for the low-income Indian farmer. In addition, the resulting products and information could be widely used beyond India. They would be applicable to the farmer in the continent of Africa, in which both India and Japan have a strategic interest.
AI for Poverty Alleviation in India:
Like Indian culture, agriculture in India is highly pluralistic and multidimensional. Every few kilometres, Indian tastes in food and language change. And yet India's diverse ecologies, crops and diets are inextricably interconnected.
India is a multi-product agricultural powerhouse and ranks second worldwide in farm output.[3] More than 60% of India's population depends on agriculture and related activities for their livelihood. Agriculture is crucial for sustainable development and poverty alleviation. It contributes approximately 18 % of GDP and 40% of total rural Net Domestic Product.   Therefore, addressing this sector's challenges through AI-based technology will be a giant step towards an Aatmanirbhar Bharat and a connected nation. AI will complement human skills to improve food security in India and help develop crops and agricultural products that are a better fit in the global market. If India does not take advantage of this new technology to increase yields and lower prices, global companies could undercut Indian farmers as they aim to capture the Indian market with cheaper imports. This would make India vulnerable in the event of a global food crisis.
Dr. Dharmendra Singh is the Dr. Ajit Singhvi Institute Chair Professor, Department of Electronics & Communication Engineering, Microwave Imaging and Space Technology Application Lab, Indian Institute of Technology, Roorkee
This essay is part of a paper 'Analysing India's Economic Security Challenges'. Read the full paper here. 
The views and opinions expressed in this paper are solely those of the authors. The view expressed in the paper do not necessarily reflect those of NEDO
For permission to republish, please contact outreach@gatewayhouse.in
©Copyright 2022 Gateway House: Indian Council on Global Relations. All rights reserved. Any unauthorised copying or reproduction is strictly prohibited.
References
[1] For successful farming, a farmer needs to manage seeds, fertilizers, pesticides – when and how to apply these inputs, depending on soil and likely weather conditions. A prescription is requried which takes into consideration the specific seed genome, soil type, irrigation potential and the precise weather forecast, all of which must have timely availability and applicability. If provided, it will minimise wastage, and farmer income can more than double.
Now AI-based and automatic technology can make available highly granulated prescriptions for each farmer individually – for their specific genome, date of sowing, accurate weather forecast over the particular plot.
[2] https://www.aist.go.jp/index_en.html