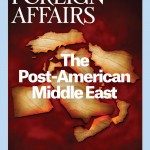 Over the past few years, the nuclear issue has dominated news about Iran. The landmark deal recently agreed to between Iran and the United States and other world powers sets out arrangements for handling that issue, but it leaves open many other questions about Iran's future course. One of the most fundamental questions is what path Iran will follow after the sanctions have been lifted: Will it open itself up to the world, fulfilling the country's economic potential, or will the country's influential conservative elite thwart global engagement? Iran's choice will have profound geopolitical implications and will shape the country's role in the world over the coming decades.
Conventional wisdom holds that the Iranian government will get a huge immediate economic windfall from the deal, thanks to the release of about $100 billion in frozen assets, and then continue to benefit as the end of the sanctions opens the floodgates to foreign investment. But the windfall from unfrozen assets will not be as significant as expected. Iran's preexisting financial obligations will likely reduce the amount of usable liquid assets to a figure closer to $50 billion. And given that Iran will need to keep a reasonable amount of that money in foreign reserves, the amount available for Iran's immediate use will likely be closer to $25 billion—not a trivial sum, but far less than Iran needs given that the infrastructure investment levels required to rebuild Iran's economy are estimated to be close to $1 trillion over the next decade.
CYRUS AMIR-MOKRI is a Partner at Skadden, Arps, Slate, Meagher & Flom. From 2011 to 2014, he served as U.S. Treasury Assistant Secretary for Financial Institutions.
HAMID BIGLARI is a Managing Partner at TGG Group. He was previously Vice Chair and Head of Emerging Markets at Citigroup.
This article appeared in the Foreign Affairs 2015 November/December edition. It is republished here with permission 
This article was originally published by Foreign Affairs. You can read the rest of the article here.
You can read exclusive content from Gateway House: Indian Council on Global Relations, here.
Copyright © 2015 by the Council on Foreign Relations, Inc