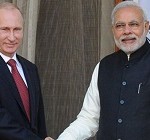 India and Russia signed on a "Strategic Vision for Strengthening Cooperation" in peaceful uses of atomic energy during President Putin's visit. Under this agreement, the two sides have agreed to construct and commission not less than 12 units in the next two decades. India needs to identify a second site, in addition to Kudankulam where reactors are already being built, for the second power plant.
This means India will build 10 more nuclear power reactors, in addition to the just completed 1000-mw Kudankulam Unit-1 and almost complete Unit-2. Russia is also providing technical assistance for Units 3 & 4 at the same site, projected for completion in 2020.
Nuclear reactors have low operating costs but high capital expenditure, and projects are prone to delays. Construction of Kudankulam Unit-1 started in 2001 and was expected to be over by 2007, but got over in July 2014. Building additional reactors at the same site will ensure that many of the factors that lead to delays such as protests, law-suits, and land-acquisition problems would have been tackled already and newer reactors can be completed faster. Kudankulam is one of the four reactors India plans to build with foreign help – the others are with Areva, GE-Hitachi and Westinghouse.
In addition to nuclear technology, Russia also supplies nuclear fuel to India – almost all of India's nuclear fuel imports are from Kazatomprom (Kazakhstan) and TVEL (Russia). India's domestic supplies of nuclear fuel are inadequate, and post-2005 imports have allowed India's nuclear power plants to improve their efficiency from ~50% to ~80% at present. Lack of fuel had constrained India's nuclear program in the past. As fuel availability is no longer an issue, India is free to build more nuclear power plants. Cost of electricity supplied by Nuclear Power Corporation of India (NPCIL) is less than the cost of coal generated electricity supplied by National Thermal Power Corporation (NTPC). Nuclear power also doesn't emit carbon dioxide into the atmosphere – so India needs to generate more of this cleaner and cheaper power.
These additional reactors of 12,000 mw will constitute about 5% of India's already installed power generation capacity. Nuclear energy is currently a marginal factor in India's energy mix – just 2% of capacity and 3.5% of electricity generation. Hopefully, the reactors being built with foreign help and India's own designs can bring about a meaningful shift in India's energy mix to a less-polluting and more economic form of energy.
Amit Bhandari is Fellow, Energy & Environment Studies, Gateway House.
This blog was exclusively written for Gateway House: Indian Council on Global Relations. You can read more exclusive content here.
For interview requests with the author, or for permission to republish, please contact outreach@gatewayhouse.in.
© Copyright 2014 Gateway House: Indian Council on Global Relations. All rights reserved. Any unauthorized copying or reproduction is strictly prohibited