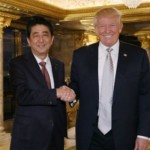 Donald Trump has made it amply clear that the old rules of doing geopolitical business won't apply in his administration. The question is: can he put a new framework in place before the uncertainties of disruption become costly?
The clues, so far, lie in the people president-elect Trump has chosen as his cabinet members and confidants, many of whom are retired generals and wealthy businessmen. Above them all is Jared Kushner, his son-in-law who has been appointed special adviser, which essentially means he can walk into any meeting.
As Trump assembles his team, there is a distinct dominance of China hardliners in the cabinet, which has wider implications for the Asia Pacific region. By courting Russia and aggravating China – the reverse of what the American establishment wants – he has already taken a sharp turn even before taking the oath of office.
At the same time, Trump's National Security Adviser Michael Flynn has been meeting key officials from Asia – he had a long meeting last month with Indian NSA Ajit Doval in Washington, where the two exchanged views on the region for more than an hour[1].
Significantly, Pakistan prime minister's envoy Tariq Fatemi was unable to get a single appointment with the transition team despite waiting for nine days[2]. That was a signal, if there ever was one, that some things are about to change.
Though mostly out of the news, the push for a more robust Asia policy is apparently coming from Stephen Bannon, a former navy man and Trump's chief strategist, who sees Narendra Modi as Reaganesque and a man of the times.
If Trump's opening salvo against China was a telephone conversation with Taiwan's president – a diplomatic thumbing of nose at Beijing – the nomination of Peter Navarro, a strident critic, as the head of the newly created National Trade Council is a figurative declaration of war. Navarro, a professor of economics at the University of California, Irvine, will play an important role in crafting the new Asia policy. His book Death by China: Confronting the Dragon-A Global Call to Action, about China's systematic flooding of U.S. markets and use of unfair means, was apparently an eye-opener for Trump.
Now it seems that Donald Trump may appoint Ashley Tellis — another serious China critic and pre-eminent South Asia scholar – as ambassador to India. Tellis, an Indian American, along with former ambassador Robert Blackwill – both were pioneering proponents of the U.S.-India Civilian Nuclear Deal — was among the first strategists to think through the Chinese threat to American dominance during the Bush Administration.
Tellis and Blackwill have since been writing consistently on how U.S. policies need to change to actually manage China's rise and how a strong India is necessary and integral to a stable balance of power in Asia.
If Tellis is nominated as ambassador, he would round off Trump's Asia team well, bringing academic knowledge and diplomatic experience in the region. He called the news about his possible appointment "speculation".
But it is likely that the "pivot" to Asia could become something more than a few hundred U.S. marines at an outpost in Australia and a few fleeting counter-moves against China in the waters. It may belatedly answer the plaintive call from a senior Indian official about the need for a louder American trumpet.
This flashing of red rags has already triggered strong reactions from China's ultra-nationalist Global Times. "If Washington dares to provoke China over its core interests, Beijing won't fear setting up a showdown with the U.S., pressuring the latter to pay respect to China,"[3] the paper thundered shortly after Navarro's appointment.
The sabre-rattling on both sides has implications for Asian countries, including India. Whether they are positive or negative will depend on the coherence of strategy, the seriousness of intent and the extent of Trump's commitment to the idea of retaining America's primacy.
The Trump transition team has let it be known through media leaks that it plans to put some teeth in the "pivot," something the Obama Administration failed to do because of its own indecision and China's extreme reaction. Such was the pushback from China, Obama rechristened it "rebalance to Asia."
The pivot, meant to signal a continued and determined U.S. presence in Asia Pacific, ended up confusing both allies and enemies. Judging from Trump's talk during the election campaign and after, indications are that he wants to expand U.S. naval presence in the Pacific.
The signal should go some distance in calming the nerves of Asian allies, who have wondered aloud about President Obama's commitment to Asian security. The Philippines and Malaysia are already under China's sway, impressed by its promises of investment and frightened by its growing military might.
Interestingly, the first foreign leader Trump met was Japanese Prime Minister Shinzo Abe, an ally who will be critical to the success of any energised U.S. policy in Asia as would be India, Australia and South Korea. All share deep concerns about China's influence in the region.
This meeting of minds could lead to more convergence and cooperation.
Seema Sirohi is a Washington-based analyst and a frequent contributor to Gateway House: Indian Council on Global Relations. Seema is also on Twitter, and her handle is @seemasirohi
This article was exclusively written for Gateway House: Indian Council on Global Relations. You can read more exclusive content here.
For interview requests with the author, or for permission to republish, please contact outreach@gatewayhouse.in.
© Copyright 2016 Gateway House: Indian Council on Global Relations. All rights reserved. Any unauthorized copying or reproduction is strictly prohibited
References
[1] PTI, Ajit Doval discusses Indo-US strategic ties with Donald Trump's NSA-designate Michael Flynn', Indian Express, 20 December 2016, <http://indianexpress.com/article/india/ajit-doval-discusses-indo-us-strategic-ties-with-donald-trumps-nsa-designate-michael-flynn-4436349/>
[2] Siyal, Tarique, 'Fatemi's 'failed' visit to the US', Dailytimes, 17 December 2016, <http://dailytimes.com.pk/pakistan/17-Dec-16/fatemis-failed-visit-to-the-us>
[3] 'Trump's Navarro nomination may raise risk of Sino-US conflict', Global Times, 22 December 2016, <http://www.globaltimes.cn/content/1025202.shtml>