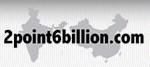 Aug. 29 – Raghuram Rajan, a noted economist and professor at University of Chicago will join the Ministry of Finance as its Chief Economic Advisor today – a position with considerable influence over fiscal policy-making.
He comes to India at a time when the country is feeling the pains of a slowing economy and a dysfunctional legislature.
In such a moment of flux, he has several things going for him. First, that he is no stranger to India. He chaired the Committee on Financial Sector Reforms that published the report, "A Hundred Small Steps" in 2008. It remains the seminal guide to introducing step-by-step reforms. Second, that he accurately predicted the global economic crisis. His 2005 paper, "Has Financial Development Made The World Riskier?" warned of the excessive risks financial intermediaries were taking to offer cheap finance to firms and households. His predictions, of course, came true as the crisis unfolded in 2008. And, third, that his beliefs resonate with India's core concerns today. In his book, Fault Lines, published in 2010, he put rising inequality as the main cause of economic instability in the world; a phenomenon that is evident by the numbers who cannot afford to live at the poverty line defined by the government.