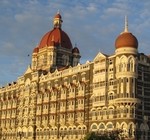 Two years ago on November 26, Mumbai was hit with the worst ever terrorist attack in India. Over four days, armed terrorists who came over from Pakistan by sea killed scores of innocent Indians and held hundreds of guests in two of the city's best known hotels. All but one of the 10 terrorists were killed; 175 Indians lost their lives and over 300 were injured. The pictures of the bodies lying in CST Railway terminus and of the iconic Taj Mahal hotel burning are seared in the collective consciousness of the entire city, indeed the world.
Mumbai is no stranger to terrorist attacks and has taken many bomb blasts in its stride. But what happened two years ago on November 26 has changed the city – and the country – in many fundamental ways. Some of these changes are plainly visible: there is heightened security in Mumbai. The police now have armoured carriers and even boats at their disposal; patrolling of the high seas has been increased by the Coast Guard; government and private buildings have put in all kinds of security equipment and measures. No longer can one wander into an office  building or a residential block without registering at the door and going through security checks. As for hotels, they are veritable fortresses. This is understandable, given what happened and the ever present danger of more terrorist attacks.
Some changes are less apparent but no less significant. Most corporates across India have invested in not only physical security but also data safety measures; in case of an attack or a mishap, all the key information and files of companies will be protected. The bigger organizations, especially with 24/7 processes, have back-up plans to ensure that in any emergency the work does not stop.
The 26/11 attacks also had a seminal effect on India's foreign policy. The Indo-Pak relationship has stalled since then, mainly because of Pakistan's recalcitrance in bringing the masterminds of the 26/11 attacks to book despite the abundance of evidence provided by India. This is in contrast to the manner in which the Indian justice system has functioned in the case of Ajmal Kasab, the lone terrorist who was caught alive by a policeman. He was tried and sentenced to death. His appear is now pending before a higher court. Post-26/11, India and the US have grown closer especially working closely on intelligence-sharing, despite India's unhappiness with American withholding of intelligence pertaining to David Coleman Headley, the man who conducted the reconnaissance of Mumbai and its vulnerable spots before the terror attacks for his Pakistani employers.
What however has not changed at all is the Maharashtra government's attitude towards the attack and towards security issues in general. Vilasrao Deshmukh, who was the chief minister then and R R Patil, the home minister at the time, both lost their jobs in the emotionally charged aftermath of the attacks. But, in the usual all forgiving style of political parties to their badly behaved progeny they were soon enough rehabilitated, the former in Delhi and the latter in his old job after the 2009 state elections.
The chief minister who followed Deshmukh Ashok Chavan, realizing that he had to be seen "doing something", immediately appointed a committee of over 60 people, including bureaucrats, advertising professionals and all manner of celebrity citizens, to come up with suggestions on how to make the city more secure. After one meeting the committee went into a limbo and has not met since.
A one-man enquiry commission appointed soon after the new chief minister took over and headed by a retired civil servant to look into lapses during the attacks came up with a mealy mouthed report six months after the attacks which did little except point fingers at the then police commissioner Hasan Ghafoor, who then was transferred to another department.
Worse still has been the government's reluctance to appoint a public commission to come up with a comprehensive report on what exactly happened – which means there will never be an official record of those four terrible days though , though the investigative website ProPublica has come out with a detailed, minute by minute account.
Strangely, even the opposition — including the fierce nativist party Shiv Sena, which is apparently concerned for Mumbai above all — seems to have forgotten the attacks; this is not the famed Mumbai spirit, this is just plain old political apathy.
Now the Home minister and the state opposition leader have angered survivors and relatives of victims of the attacks by going to Arthur Road jail on Monday and meeting Kasab, complete with a media turnout.
Plainly, terrorism and security do not seem to be A high priority for politicians in the state. Perhaps because most of Maharashtra's politicians are not from Mumbai and they care more for their own rural constituencies. Or perhaps the state leaders and its administration are simply not equipped to deal with such complex issues. Whatever be the case, apart from paying it lip service whenever the occasion arises, the political class has no time for 26/11. During the visit of President Obama, the state's leaders were busy with petty protocol and ego issues rather than joining him in the function to pay tributes to the victims of terrorism.
So the second anniversary will come and go on Friday, with the usual platitudes and statements. The new chief minister is busy settling down and has to acquaint himself with several issues, apart from managing his coalition, so it may be futile to expect much from him. But he could still make a difference by talking about what the government plans to do to make the average citizen feel more secure. That is the least that Mumbai – and other cities in state, including Pune which has also been attacked – deserves.
Siddharth Bhatia is a freelance journalist and writer.
This article was exclusively written for Gateway House: Indian Council on Global Relations. You can read more exclusive content here.
For interview requests with the author, or for permission to republish, please contact outreach@gatewayhouse.in.
© Copyright 2010 Gateway House: Indian Council on Global Relations. All rights reserved. Any unauthorized copying or reproduction is strictly prohibited.