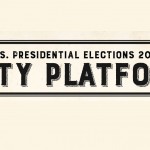 The protracted and complex cycle of the United States presidential elections, which began almost a year ago with candidacies, debates, dropouts and state primaries, reached a critical junction at the end of July, with the Republican National Convention and the Democratic National Convention, with the candidates having been officially selected, the real U.S. Presidential race begins.
Party conventions, which are largely exclusive to American politics, are grand exhibitions where delegates from the party nominate their presidential and vice presidential candidates. The event, which is usually spread over three days, is an integral part of the race to the White House. The conventions provide a stage for political contemporaries, party heavyweights, celebrities, friends and family, to endorse their presidential candidates.
The conventions are also where both parties officially adopt their party platform. These platforms, much like a manifesto, serve as a formal set of policy goals and objectives which are supported by the party. Depending on the political climate leading into the elections, the platforms may address a combination of economic and socio-political issues. While a majority of the party platforms consists of positions on domestic issues, foreign policy concerns around security, trade and investments are also addressed.
The table below breaks down the foreign policy stance of both the Democratic and Republican Parties while providing a Gateway House View to break down its meaning.
Gateway House View provided by Ambassador Neelam Deo
Arjun Chawla is a Researcher at Gateway House
Designed by Debarpan Das
This infographic was exclusively created for Gateway House: Indian Council on Global Relations. You can read more exclusive content here.
For interview requests with the author, or for permission to republish, please contact outreach@gatewayhouse.in.
© Copyright 2016 Gateway House: Indian Council on Global Relations. All rights reserved. Any unauthorized copying or reproduction is strictly prohibited