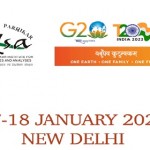 These remarks were delivered by Ambassador Rajiv Bhatia, Distinguished Fellow, Gateway House, at the 14th South Asia Conference, Working Session – I: Introducing T20 and G20 organised by the Manohar Parrikar Institute for Defence Studies and Analyses in New Delhi. 
Excellent initiative to focus on South Asia from the prism of G20 and vice versa.
Superb concept note, an invitation to ponder on the seven key questions raised therein.
Although what G20 does is relevant to all regions including South Asia, the latter has shown only limited interest in this multilateral grouping.
This must change because G20 priority themes, as spelled out by the Indian presidency, are meaningful to the people of South Asia. Economic growth and a resilient economy are of enormous importance.
Key features of South Asia as we see it today are:
Geopolitics trumps geo-economics, but it should not.
Regional integration, economic linkages, and infrastructure connectivity are at abysmally low levels. So is mutual trust in parts of South Asia.
Classical small-state syndrome of fear of the large neighbour remains unchanged, with China sharpening it on a regular basis. This is particularly witnessed in two countries, Sri Lanka and Nepal, and earlier in Maldives.
Ideally speaking, SAARC or BIMSTEC should have been inside the G20 community – as a permanent guest.
Fortunately, the recent 'Voice of Global South Summit' enables us to obtain valuable inputs. PM of Bangladesh made a substantive presentation. Her package of six proposals merits serious consideration. They are: maintaining world peace and stability; creating a new paradigm to tackle inequality holistically and in accord with SDGs; special financing for the most vulnerable nations; bridging digital divides; ensuring that all human beings, including Myanmar's Rohingya refugees sheltered in Bangladesh, have an equal right to lead a decent life; and strengthening South-South and tripartite cooperation to ensure global human development.
Intervention by the Maldives was also quite important.
In conclusion, let me offer two serious suggestions for T20 which can consider incorporating them in its larger brief for G20:
The definition of South Asia should now be aligned with the jurisdiction of BIMSTEC, with the provision that the entry of Maldives into it will be facilitated in a suitable manner.
BIMSTEC should be given the status of a permanent guest in G20, much like ASEAN, African Union, and NEPAD.
Ambassador Rajiv Bhatia is Distinguished Fellow, Foreign Policy Studies Programme, Gateway House.
For interview requests with the author, or for permission to republish, please contact outreach@gatewayhouse.in.
© Copyright 2023 Gateway House: Indian Council on Global Relations. All rights reserved. Any unauthorized copying or reproduction is strictly prohibited.