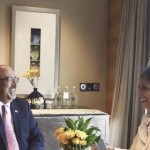 Manjeet Kripalani (MK):
Atul we are here at a very interesting time, geopolitically. We have Davos going on, debating globalisation, we have the Quad on-going. The U.S. has just completed a significant ASEAN meeting.
So what is really globalisation? I will do a rapid fire, so tell me if you agree or disagree.
Is globalisation ruthless self-reliance, as Jairam Ramesh says?
Atul Keshap (AK): Disagree. I think high-trust societies have to trust each other for maximum prosperity.
MK: Decentralized globalisation, as S. Jaishankar says?
AK: Yes, I agree. And you are seeing that with the Quad.
MK: Unchecked globalisation, which Mr. Jaishankar also said?
AK: Countries have to be careful to make the right choices and trust the right countries. So, I tend to agree with that. Unchecked is bad.
MK: Russian Senator Aleksey Pushkov said sanctions overlooked globalisation, that in fact, the world is much more interconnected because of globalisation.
AK: I do agree with that. But it still doesn't mean that the Russians will escape lightly from what has happened in Ukraine in terms of sanctions.
MK: And of course, Twitter, where many looking at Davos call them Gas bag globalists.
AK: No comments. 
MK: Christine Lagarde, President, European Central Bank and Janet Yellen, Secretary, U.S. Treasury, said it is new globalisation, which is trade with friends who share common values.
AK: Yes, agree.
MK: Bob Koopman, the chief economist of World Trade Organisation (WTO), said it is a reorganized globalisation in a fragmented world.
AK: Agreed.
MK: German Chancellor Olaf Scholz said globalisation is when everything was very cheap.
AK: Possibly. But I think I tend to disagree. I think there is plenty of innovation and prosperity ahead of us for the high trust societies.
MK: Japan Times called it 'toxic globalisation'.
AK: Yes. From certain corners of the world, that can be possible.
MK: Some others are calling it slow-balization.
AK: Slow-balization, maybe, although I have infinite faith in humanity.
MK: Balkanized globalisation?
AK: Possibly a little bit.
MK: There is regionalization and localization of globalisation…
AK: Now we're getting complicated.
MK: And resilient dependable free world supply chain says Atul Keshap
AK: Yes, I violently agree with that one
MK: Tell us about your resilient dependable supply chain, what do you mean when you say that?
 AK: The pandemic has taught us many lessons, and one of them is that we can trust, and we can rely on partners who share our values. If you look at what happened with the very dire pandemic needs of the American people in the early days, April, May of 2020, and how much India helped with medicines and with medical equipment and with personal protective equipment, that is the kind of trust we can have in the Indian people.
And if you look at the very tough days India faced in April, May of 2021, American people in business and government and society rushed aid to India because we believe in each other, we have faith in each other, we respect each other's values.
So when I talk about a free world supply chain, what I mean is a network of countries who trust each other, who share each other's values, who always want what's best for each other and will always help in times of need. We've proven that that exists during this terrible pandemic. And I think we now need to strengthen that.
MK: India provided Remdesivir very early on to the U.S. It was a good response from both sides, to express their friendship.
AK: And let me just add that other countries, unnamed, have tried to exploit the advantages that they had going into the pandemic and seek leverage. I don't think that's right. I think that high-trust societies don't do that to each other.
MK: Do you see these high-trust societies, if there is a new kind of globalisation, are they going to band together, while the other countries band together with others like themselves? Is that the division that is going to take place in the world?
AK: Well, I am sorry to say that it may go that way, because for many, many years, the U.S. and other countries tried very hard to ensure a global set of rules and standards for everybody to adhere to for shared prosperity around the entire world. But there's been enough disappointment in that whole process and enough attempts, frankly, to subvert it and to erode it that I think what we're looking at now – and you're seeing it in elements of the Indo-Pacific Economic Framework announced in Tokyo – is that we're going to go forward with countries that share our values, share our vision and have a view that trading and cooperating economically with other high-trust societies is probably the strongest and most viable way forward.
MK: On trading – we're in a very interesting era. Globalisation used to be that companies would led countries. Now post the pandemic and post the crisis in Ukraine, countries are leading companies and companies are doing as they are told. How do you see the U.S. companies, always leading globalisation, now that the world sees them retreating and following the flag rather than the other way around, how do you think that is going to play out with these multinational companies worldwide?
AK: Well, trade has always followed the flag. The truth is governments play an indispensable role in creating the framework in which companies operate. India and the United States are free-market economies. We are free societies. We are the guardians of these values around the entire world, and we are the world's two largest democracies. We are natural allies. And if you look at our companies they are looking to invest and trade and operate in high-trust societies which means each other's societies.
Indian companies are doing fabulously well in the United States. Across the entire United States.
And if you look around India, look at BKC or Lower Parel right here in Mumbai, look at Bangalore and Hyderabad, look at Gurgaon, look at the sheer growth of these urban centres in India, even in Salt Lake in Calcutta, it is because of American investment, American companies, American trust in the high-trust ecosystem of India and the great corporate values and the great human talent.
So, companies are going to take their cue as they always do, from the signals sent by the governments, and I think that the Quad summit in Tokyo and the previous Quad summits and other Quad initiatives send a powerful signal of the intentions of the leading democratic nations of the Indo-Pacific about what our future collaborations look like. If I were in an American or Indian company, I would feel very comfortable right now about trading and investing in both directions between America and India.
MK: When the U.S. partnered with China, these companies had the benefit of the China price i.e., 30% lower costs. How is that going to change now that the U.S. is turning away from China? Are we going to be in high-cost economic environment because those days have gone and India is really not about cheap goods, it is about affordable and built-to-last goods, not quite what China used to provide.
AK: Well, one of the drivers of price inflation right now is the profound global uncertainty caused by the war and there is a price rise in fuel, there is a price rise food, and it is unfortunately going to affect the poor people of the earth. It is a real tragedy, we were just coming out of the pandemic, nations were getting back on their feet. Now we are dealing with price rise for fuel and food.
That said, I think that companies and countries have realised that you need to have resilient, secure supply chains. Part of that resilience is to have your supply chain more greatly present in countries in which you can have high trust about the ability to move products, to move goods through the supply chain and I think India and the United States have the front rank of the societies that we can trust. We should have every faith in each other as we cross-invest for the mutual benefit of our 1.7 billion people.
It will take a little bit of time and adjustment to happen, but I am confident, given the innovation and amazingly high skills of Indian and American companies that are members of USIBC, a lot of that progress will happen very fast. These are the companies which have the highest apex of morality, innovation, technological prowess, consumer and social responsibility. These are companies that want to see a better future for the world and I think they will act very quickly as long as governments create that enabling environment.
MK:  It is really the big U. S. companies that are investing in India, I hear. The U.S. SMEs have not yet come to India and they don't look like they want to because they have gotten used to China. It is so easy in China.
AK: So, India has these new policies that are very interesting, you know the production-linked schemes. It has been a lot of, sort of, decluttering the Indian economic experience, a lot of opening up of blockages in the system, there is a pretty robust vision of where India is going in terms of a $5 or $10 trillion economy. What I would say is American companies whether big or small or medium, are catalysts. If India wants to be a $10 trillion economy by 2030 or 2050 or 2070, to an extent that is impacted by how much American companies can play a constructive role.
Look at these guys at Lower Parel, right outside the window, lots of them [real estate] are filled with American companies that are employing Indians and helping grow modern India, bringing in global capital a lot of which is American, to help invest in India – in roads  and harbours and airports and hospitals, all kinds of things that are good for Indian people, at lower prices. So our firms are productive catalysts. The investment they bring, speeds things up in India such that you can become a $10 trillion economy by 2030 if you really set the macro-economic conditions.
MK: We did a book in 2016 on the U.S.-India partnership being a $1 trillion trade relationship by 2030.
AK: I love it, that is double of what I predicted.
MK: It does seem that once the momentum picks up, the value that India provides in the affordability and the solidity of its products might help.
AK: Manjeet, our trade is $169 billion right now, untold and I have articulated $500 billion. That increase is happening faster and faster and so the critical job of the governments, both the American and Indian government is to empower the private sector. Ease of doing business is critical.
MK: That number was $120 billion in 2016 and $169 billion … and $500 billion! We really hope so.
AK: Visualise, Visualise, Realise!
MK: That is another Atul-ism.
With all this talk about globalisation, there is also talk about turning inward. Every country has an Aatmanirbhar policy. And India is going into global trade regimes and being Aatmanirbhar at the same time. How are we going to reconcile that?
AK: So, you are right that the pandemic has taught us a lot of lessons and countries are turning a little bit inward but again I go back to the idea of the free world supply chain, the fact that we can trust each other, the fact that we probably between the two of us can count all the prominent countries in that high-trust environment. We can create that sort of high-trust environment and then create access ways for countries that are less fortunate, to benefit from that ecosystem. I think that would be very good for the world, very good for our societies, good for India and America particularly given our profound advantages. And frankly, those who reject a high-trust world system can stay out.
Atul Keshap is President U.S. India Business Council and a former ambassador.

Manjeet Kripalani is Executive Director, Gateway House.
Produced by: Aliasger Bootwalla
This interview was exclusively conducted for Gateway House: Indian Council on Global Relations. You can read more exclusive content here.
For interview requests with the author, or for permission to republish, please contact outreach@gatewayhouse.in.
© Copyright 2022 Gateway House: Indian Council on Global Relations. All rights reserved. Any unauthorized copying or reproduction is strictly prohibited