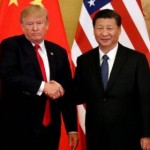 On December 18, the Central Committee of the Chinese Communist Party (CCP) commenced the Central Economic Works Conference. This is the single most important economic review and policy-setting forum of China's ruling party. Although the agenda and discussions are closed to the public, the annual meeting, held at a state hotel in Beijing, is a keenly watched national event. This year's conference predictably endorsed 'Xi Jinping's Economic Thought on Socialism with Chinese Characteristics for a New Era'[1]. Unexpectedly, however, the conference adopted a three-year horizon (against the usual one-year) to achieve targets in Xi's priority areas, namely, poverty reduction, environmental sustainability and prevention or defusion of major risks to the economy. These policy initiatives take after themes that were presented at the 19th Party Congress of October 2017. The push for numbers-driven, high-GDP growth of the four-decade reform era has now officially ended. Emphasis shifts toward quality of growth, starting with debt control and curb on future borrowing by SOEs and other known offenders.
Coming at the end of a triumphant year for the Communist Party and for the People's Republic of China (PRC), the CEWC ordinarily would have been the perfect segue to 2018. CCP dominance was unequivocally established in every aspect of national life. The year 2017 has well affirmed the PRC government's influence on international relations. Not only was Xi Jinping's Belt and Road Initiative (BRI) rolled out to the far corners of the world amidst saturated media coverage, but China also displayed its convening prowess by hosting world leaders and opinion makers at the BRI Summit (May), BRICS Summit (September), Wuzhen World Internet Conference (December), and other venues. The first head of state to visit Beijing at the start of President Xi's second term, was none other Donald Trump. All in all, this was to be annus mirabilis, a wonderful year, for the PRC and its leader.
The dampener came, of all days, on December 18 when the Economics Works Conference was in session—in the form of the National Security Strategy (NSS) that President Trump unveiled. Remarkably, the document makes about two dozen references to China, branding it a challenge and threat to U.S. national interests and global reach. Stung by the scale and sharpness of the attack, Beijing hit back at America's "cold war mentality" that holds the world hostage to a "zero-sum" game, rather than cooperate and co-lead with other major powers[2].
The NSS is a statutorily-mandated document, to be delivered by the United States government's Executive Branch to its Congress. It represents the president's broad strategic vision for America's foreign relations and domestic priorities over the coming year: it is typically transmitted to departments and agencies across the federal government, and most importantly to the Congress, which controls the nation's purse strings. Not every year witnesses the launch of an NSS, and not every NSS has the kind of impact that Trump's first one did. From Moscow to Beijing, Pyongyang, Delhi, Brussels and beyond, the document has had mixed reactions.
Trump's NSS identifies four "pillars" of American national interest: i) protect the Homeland, the American people, and American way of life, ii) promote American prosperity, iii) preserve peace through strength, and iv) advance American influence[3]. It terms China and Russia "revisionist" powers; Iran and North Korea rogue states; and calls out transnational threat organisations, particularly jihadist terrorist groups, and state actors who aid and abet them. India finds favourable mention as a responsible and leading global player. Crucially, the document notes the failure of past generations of policy, aimed at socialising China into a liberal, rules-based, international (western-led) system; to the contrary, China appears to be rising at the "expense of the sovereignty of others".
The new strategy pivots on this core assumption that China will never become "one of us".
Furthermore, the NSS asserts that China seeks to undermine U.S. influence in the Indo-Pacific; and to erode U.S. economic and technological/ R&D dominance through aggressive military posturing, predatory trade practices, and ever more sophisticated cyber- warfare. To be sure, the NSS suffers from errors of omission and commission, such as the broad brushstrokes that cannot tell Russia apart from China; or Iran from North Korea. In tone, content and intent, the document is significant in its departure from the 2015 Obama strategy that named China and India as "partners" in a multipolar world, and deemed Climate Change to be the ultimate global threat.
When Trump and Xi projected camaraderie and harmony in Beijing barely a month ago, there was a general sense of unease: it was conceivable that Trump would adopt a hardline stance upon his return to Washington D.C. At year end, Trump's NSS does away with multipolar niceties, and welcomes back Great Power competition.
The challenge for the United States will be to explain to its public and international partners, how it proposes to promote rule of law while simultaneously withdrawing from the Paris climate change agreement, the UNESCO, the UN Global Compact on Migration, and by remaining a non-signatory to UNCLOS. It must also clarify how it proposes to inspire and to lead the world towards cohesion and prosperity while exiting the TPP, undermining multilateralism in favor of bilateralism, and altogether abdicating its agenda-setting and rule-making responsibilities. This is as much about credibility as it is about ground-level tactics.
For its part, China must take stock of its image and how this corresponds to reality. There are two visions of China that compete for airtime and mindshare. The first is of a responsible and responsive re-emerging power that puts its citizens' welfare above all. It aims for high-value, sustainable growth. It reforms–rather than re-orders–the international status quo. Also, it promotes a community of common destiny. The competing vision posits China as a revisionist power, saddled with a middle-kingdom complex, and an overbearing attitude towards its own citizens and neighbours alike. This is a China that normalises economic bullying in the context of territorial disputes; amplifies surveillance techniques in the homeland and overseas; uses the carrot-and-stick approach to force technology transfer from foreign competitors; and goes abroad in search of resources while simultaneously protecting its domestic financial and industrial base. Incredibly, enough evidence could be marshalled to support either vision. The burden of proof rests with China.
India is in the enviable position of dispassionate observer, though not for long. The challenge for India is to hold on to its strategic autonomy, and its flexible outlook, while clearly articulating core interests and values in bilateral and multilateral arenas. India should resist U.S. pressure to align with its vision of the world, especially since it has never been an Indian priority to force China to liberalise. On the one hand, India should continue to refine all the elements of national power at its disposal, projecting power without appearing threatening to smaller neighbours, or appearing intransigent to larger partners. Different from the U.S. and China, India's global credibility, for now at least, will depend on its domestic capabilities: not merely GDP growth, but also strategies for poverty alleviation, redressing social imbalances, and defusing the ticking demographic timebomb.
Indira Ravindran is Adjunct Fellow, China Studies, Gateway House.
This article was exclusively written for Gateway House: Indian Council on Global Relations. You can read more exclusive content here.
For interview requests with the author, or for permission to republish, please contact outreach@gatewayhouse.in.
© Copyright 2018 Gateway House: Indian Council on Global Relations. All rights reserved. Any unauthorized copying or reproduction is strictly prohibited.
References
[1] 'Xi steers Chinese economy toward high-quality development', Ed: ZD, Xinhua, 21 December 2017, <http://news.xinhuanet.com/english/2017-12/21/c_136841067.htm>
[2] 'China committed to global peace, development, order: Chinese embassy in Washington', Ed: Mengjie, Xinhua, 19 December 2017, <http://news.xinhuanet.com/english/2017-12/19/c_136837249.htm>
[3] White House, Government of the United States of America, National Security Strategy of the United States of America, December 2017, <https://www.whitehouse.gov/wp-content/uploads/2017/12/NSS-Final-12-18-2017-0905-2.pdf>