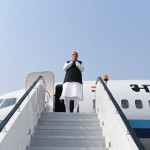 The following article was part of The Gateway of India Dialogue 2016 compendium 'Where Geopolitics meets Business'. This piece has been published separately.
The Gateway of India Geoeconomic Dialogue will happen on 13-14 February 2017.
Not only western scholars, but even Indian experts nurtured on modern education, may balk at using the Arthashastra, written 2,300 years ago, to evaluate Prime Minister Narendra Modi's foreign policy. They should, however, reconsider their perception.
Interest in studying Kautilya, author of the Arthashsastra and mentor of Emperor Chandragupta Maurya, and the appreciation of his contemporary relevance, pre-dates the Modi government. Serious studies have been carried out by the Institute of Defense Studies and Analyses (IDSA), a premier Indian think tank since 2012 with support from Shivshankar Menon, former national security adviser (NSA) and foreign secretary. [1] This special project has built on the many years of previous work by Indian and western scholars. More recently, Henry Kissinger's depiction of the Arthashastra as "a practical… guide to action" for rulers has underlined its seminal significance. [2]
The Arthashastra is a timeless and comprehensive treatise on all facets of statecraft: politics, law, economy, management of war and peace, intelligence, foreign policy, and diplomacy. It explains the fundamental purpose of a state, namely, to ensure welfare and protection of its people.
The complex security-development matrix is an integral feature of international politics at present. Both security (in a wider sense) and development are essential. They are inherently interlinked in the globalised society in which people live—under the shadows of nuclear arsenals and multiple traditional and non-traditional threats to security. Former NSA Shivshankar Menon has observed that "…in many ways the world which we face today… is similar to the world that Kautilya operated in when he built the Mauryan Empire to greatness." [3]
Restricting this analysis strictly to the Arthashastra's relevance to international relations, one may highlight that the treatise's quintessence is reflected in its three theories of saptanga (which views state power as seven limbs, including the treasury, the prime minister, and the army); raja mandala (circle of states, where one's own country is surrounded by friendly and unfriendly neighbours ); and shadgunya (six ways in which a state can conduct foreign policy ). [4]
What Kautilya wrote and practiced (as a scholar, mentor, and minister of the emperor) about a State's continuing interaction with different categories of neighbouring, intermediate, and distant states, remains highly relevant. His teachings are a part of India's intellectual DNA. Michael Liebig, a strategic affairs scholar who participated in the IDSA project, states that Kautilya is "a key factor influencing India's strategic culture." [5]
Kautilya and India's foreign policy
In this context, a critical look at Modi's foreign policy and its past legacy is noteworthy. Four of his predecessors provide useful comparisons. Of them, Jawaharlal Nehru studied the Arthashastra and wrote about it in his Discovery of India. His policy of non-alignment, panchsheel, and Afro-Asian unity was a calibrated and earnest endeavour to promote the interests of India and the Third World in a bipolar era. But, by mishandling the relationship with China, he showed an inadequate grasp of Kautilya's realpolitik.
In contrast, his daughter Indira Gandhi exhibited a deeper understanding of geopolitics through her Pakistan policy that resulted in the creation of Bangladesh, which was a strategic masterstroke. In that sense, she was the best exponent of Kautilya's art.
Atal Bihari Vajpayee, the first Bharatiya Janata Party prime minister, shared many policy traits with his Congress predecessors, but his crucial contribution was to make India nuclear. This earned India a special place in the world. A poet and a man of peace, he believed in the realpolitik of preparing for war in order to avoid it.
His successor Manmohan Singh, moving realistically beyond non-alignment and towards pluri-alignments, strengthened relations with major powers, which provided strategic resilience to the conduct of external relations.
In the past two years, Narendra Modi has practiced a realist foreign  policy, anchored in his deep conviction that the people's enlightened interest lies in working "for a bold India and a better world, a harmonious neighbourhood and a happier world, a strong Asia and a safer world." [6]
Modi's emergence has reflected India's greater self-confidence. "Its foreign policy dimension is to aspire to be a leading power, rather than just a balancing power", stressed Foreign Secretary S. Jaishankar. [7] This is close to being vijigishu (one who desires victory), as delineated in the Arthashastra. The ambition to become a major power reflects the impulse to be a chakravartin (the ideal, universal leader) of Kautilya's conception. [8]
Modi and his advisers seem to have absorbed the Arthashastra's fundamental message: the ruler should use power knowledgeably because knowledge is more valuable than power and wealth.
Kissinger saw Kautilya as "a combination of Machiavelli and Clausewitz." [9] He noted that European thinkers treated the balance of power as the objective of foreign policy, whereas the Arthashastra stipulated that the purpose of strategy was to conquer other states and prevail over the existing equilibrium to gain victory. Modi's worldview apparently conforms to this—here, it means that he wants India to emerge as a principal leader in the comity of nations. His vision is broader and bolder than that of his predecessors; it is one in which India has a bigger place than envisaged before. Clearly, he believes in widening the circle of friendly nations and keeping them in a creative and dynamic balance in order to counter threats to national security and accelerate economic transformation.
Has it been successful so far? Has India moved closer to this goal? A simple response is not appropriate at this juncture, but a nuanced assessment offers itself. One, progress is visible in the deepening equations with major and important powers across the geopolitical spectrum; two, both successes and setbacks have been experienced in India's relations with its neighbours; and three, far-reaching policy measures have been initiated to bolster India's role in the extended neighbourhood, Indian Ocean and the Asia-Pacific region. "The upshot of all this is that India is not a reluctant engager anymore," [10] said Arvind Gupta, India's deputy national security adviser, at an Asian security conference last year.
Modi's foreign policy thus mirrors the Arthashastra's emphasis on a realistic, pragmatic, and intelligent use of power, informed by knowledge and the larger cause or yogakshema [11] of the people. While focusing on enhancing hard power as advised by Kautilya, Modi's India continues to believe in vasudhaiva kutumbakam [12] and the use of  other forms of soft power. A judicious blend of hard and soft power has the potential to turn India into a smart power.
But, for preparing a provisional or final scorecard on Modi's foreign policy, it may be wise to wait for November 2016 or May 2019 when the present government's five-year tenure will reach its mid-point and its end, respectively.
Rajiv Bhatia is Distinguished Fellow, Foreign Policy Studies Programme, Gateway House. He is a regular commentator on international affairs, an author, and a former Indian ambassador.
The Gateway of India Dialogue was co-hosted by Gateway House and the Ministry of External Affairs on 13-14 of June 2016. The 2017 conference, The Gateway of India Geoeconomic Dialogue will be held on 13-14 of February 2017.
This article was exclusively written for Gateway House: Indian Council on Global Relations. You can read more exclusive content here.
For interview requests with the author, or for permission to republish, please contact outreach@gatewayhouse.in.
© Copyright 2016 Gateway House: Indian Council on Global Relations. All rights reserved. Any unauthorized copying or reproduction is strictly prohibited
References
[1] Shivshankar Menon was the national security adviser from 2010 to 2014, and foreign secretary from 2006 to 2009.
[2] Kissinger, Henry, World Order: Reflections on the Character of Nations and the Course of History (New York, Penguin Press: 2014), p. 195: "Millennia before European thinkers translated their facts on the ground into a theory of balance of power, the Arthashastra  set out an analogous, if more elaborate system, termed the 'circle of states'."
[3] 'Kautilya's Arthashastra', address at IDSA, 8 October 2013.
[4] For a full explanation, please see: Mishra, Malay, 'Kautilya's Arthashastra: Restoring its Rightful Place in the Field of International Relations', Journal of Defence Studies (April –June 2016, Vol. 10, No.2), pp.77-109.
[5] As cited by Col (Retd.) P.K. Gautam in the report on event held at IDSA on 19 April 2012, <http://idsa.in/event/KautilyasArthashastraandIndiasStrategicCulture>
[6] Nani Palkhivala Memorial Lecture on 'India and the World', Chennai, 18 October 2013 (i.e., before the last general elections.)
[7] Twenty-first IISS Fullerton Lecture, Singapore, 20 July 2015.
[8] The ancient Sanskrit term that refers to an ideal, universal ruler.
[9]  Kissinger, Henry, World Order: Reflections on the Character of Nations and the Course of History (New York, Penguin Press: 2014), p. 195: Machiavelli believed that public and private morality should be regarded as two different things, in order to rule wisely. Clausewitz, as experts point out, introduced systematic philosophy into western military thinking—both for the purposes of analysis and practical policy. Long before them, the Arthashastra presented these and other fundamental concepts of ethics, dharma (which is much wider in scope), warfare, and statecraft in a holistic and practical manner.
[10] Address by Arvind Gupta, deputy national security adviser, at the 17th Asian Security Conference at IDSA, 13 February 2015.
[11] Yogakshema means a blend of peace, security, and prosperity.
[12] The term vasudhaiva kutumbakam means 'the world is one family'.  Interacting with the media after the JETRO Investment Seminar in Tokyo on 23 July 2012, Modi said that this dictum formed a part of our "genetic system." < https://www.youtube.com/watch?v=wMN759_7ZUI&feature=share&t=7m46s>