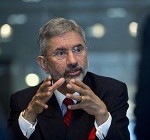 Foreign Secretary S. Jaishankar will begin his South Asian yatra next month starting with Bhutan, then Bangladesh and Nepal, and followed by Pakistan and Afghanistan. He will visit Sri Lanka and the Maldives twice–the first time accompanying Prime Minister Narendra Modi on his trip to India's neighbours to the south.
This visit should be seen as a separate string of interactions without planned reciprocal official exchanges. By focusing on SAARC's development agenda, the yatra could surmount the diarchic entropy with which the organistion remains afflicted.
It will, for the first time, give equal priority and mind-space in India's foreign policy to countries other than Pakistan. ASEAN has shown SAARC the way to boost commitment and delivery of regional projects and make common cause of confronting global challenges.
We tend to forget a few facts:  India's total land area exceeds that of all SAARC members combined. India has land borders with six states totalling 14,000 km, and is the only state to share borders—maritime and land—with all South Asian countries, except Afghanistan (if not for Pakistan-occupied Kashmir). Nepal and Bhutan are landlocked, Bangladesh and the Maldives fear rising sea-levels while India's coastline is over 7,000 km. India accounts for 81% of South Asia's total GDP, and is four time larger in area to the next largest country, Pakistan.
By deepening understanding of each other's' priorities and exploring new areas for cooperation, discussion will be freed from the strait-jacket of pre-ordered briefs, dynamism will be injected into a sterile situation and positivity will be introduced in each relationship.
Yet this is only the first step in a perpetual and delicate process. India will need to tread carefully in a situation where no amount of effort so far has surmounted latent sensitivities of India's "hegemony". By emphasising the equality of each relationship, de-hyphenating relationships with diverse domestic political forces and building mutually acceptable structures for regular interaction, synergies could be created where none exist.
Suggested priority areas for joint action are a review of on-going projects, countering linkages between groups engaged in terror and extremist violence, management of disasters and pandemics, and confronting the effects of climate change.
Its corollary on the Indian side will be to build positively on the existing enmeshing of contiguous Indian states as economic partners and construct a bridge between Delhi and the neighbouring capital. The recent visit to Dhaka by West Bengal chief minister Mamata Banerjee, to be followed next week by the foreign secretary, illustrates this point.
There is a need to create a regular inter-ministerial mechanism or agency to ensure timely project delivery and that India makes good on its commitments. Some of its building blocks are regular periodic reviews of budget allocations and delivery schedules on SAARC commitments, the earmarking of an inter-services formation for emergency humanitarian assistance to SAARC, and a regular review of connectivity. Success on these fronts will provide the ballast for closer interaction on political, security and social challenges.
The continuing concern at delays, slow-footedness and a niggardly approach on Indian commitments to neighbours like Bangladesh and Afghanistan, would defeat the purpose behind this innovative policy. What seems to be being attempted is nothing short of breaking the mould of India's traditional interaction with its neighbours, and aims to overcome the cycle of mutual distrust and animosity which has hindered the goal of security and prosperity for all. It calls for a determined, cohesive and enduring approach.
Inevitably, Jaishankar's proposed SAARC yatra is already seen as sugar-coating the bitter pill of resuming the dialogue with Pakistan. The implied sotto voce is that U.S. President Barack Obama's pressure has worked: Pakistan still calls the shots, India's earlier bravado was a passing fancy and it is back to its old ways.
There is another way to consider this excellent initiative.
It maintains the dose of realism in India's diplomatic practice we have seen under Modi: that India must constructively develop its relations within SAARC to ensure it becomes an asset in its global mission. The unilateral decision for a foreign secretary to visit all SAARC members, unmindful of reciprocity, is a unique step. It finally projects India's readiness to pursue a proactive and mutually beneficial policy towards all its South Asian neighbours.
Rajendra Abhyankar, a former diplomat, is Professor of the Practice of Diplomacy and Public Affairs at the School of Public and Environmental Affairs, Indiana University, Bloomington. 
This article was exclusively written for Gateway House: Indian Council on Global Relations. You can read more exclusive content here.
For interview requests with the author, or for permission to republish, please contact outreach@gatewayhouse.in.
© Copyright 2015 Gateway House: Indian Council on Global Relations. All rights reserved. Any unauthorized copying or reproduction is strictly prohibited