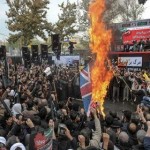 Iran and six world powers are close to signing a comprehensive agreement that can put an end to more than 12 years of conflict over Tehran's nuclear programme. But as that day dawns, Israeli hawks and Iranian hardliners are going through water and fire to make sure there won't be a deal.
The failure to find a solution to Iran's nuclear programme serves the interests of many, most importantly two groups in Tel Aviv and Tehran. One group is the war-mongers in the Likud Party and the comrades of Benjamin Netanyahu. They believe that the comprehensive agreement, which restricts some parts of Iran's nuclear programme, in return for a substantive removal of economic sanctions, will be tantamount to the re-emergence of Iran as a regional power in the Middle East. The move will revive Iran's economy, and initiate a possible rapprochement between Iran and the U.S., a situation that is unfavourable to many actors in the region.
The second beneficiary of "failed talks" would be the hardliners in Iran's parliament, powerful conservative media organisations, the militia and vigilante groups. They have invested heavily in pushing the negotiations into a deadlock, as the removal of the extensive anti-Iran sanctions means that they will lose their monopoly over Iran's economy, read "oil wells." Iran's oil market and petrochemical industry will be released from their control, and the European and North American firms—already queuing up to return to Iran's market—will replace them.
Western firms are ready and available to do business with Iran, without the bureaucratic complications that typify the work of Iranian contractors. They've largely been transparent in their contracts with Iran, and have abided by their commitments in the past. It may be recalled that Royal Dutch Shell, British Petroleum, Eni, Petrobras, Total SA, Gazprom, Repsol and Statoil were major shareholders in Iran's energy sector projects under President Mohammad Khatami. They gradually left Iran when former president Mahmoud Ahmadinejad pushed Iran into isolation. His immature and unhelpful policies laid the groundwork for the imposition of hard—hitting sanctions against Iran.
However, there's also an ideological aspect to the opposition of the Iranian hardliners. A nuclear agreement will inspire increased political and cultural exchanges with the West,and open Iran's doors to the global community. The hardliners, whose profit and existence is predicated upon ideological dogmas, won't be able to tolerate such an opening. Just as North Korean leaders don't have any clear reason for keeping their nation's doors closed to the international community and repeatedly warn their people against any contact and exchange with the West, so Iranian hardliners too don't have any logic for their stubbornness. They have been instructed—or brainwashed—that the Western powers are the "villains" and should be rejected. They chant "Death to America" in rallies and demonstrations, but are unable to explain the reason for the repetition of an outworn slogan, through rational argument.
It's what provoked them to attack the British Embassy compound in Tehran on November 29, 2011, which resulted in the closure of the British diplomatic service in Tehran and the expulsion of Iranian diplomats from London. Even the Supreme Leader Ayatollah Sayyid Ali Khamanei, condemned the so-called students who invaded the British Embassy in Tehran, and said their action was not prudent or defensible.
In a country where every mass rally and demonstration requires government permission, the hardliners and conservatives, who these days call themselves "delvapas" or "apprehensive"–apprehensive that a nuclear agreement with the United States will take away their "national dignity and honor"—freely stage rallies across the nation, without the necessary approvals. There's nobody to persecute them for holding unlawful rallies, while a similar rally by the supporters of President Hassan Rouhani and the reform movement can conclude with several people being arrested and taken to jail.
The media organisations affiliated with the "apprehensive" openly call Iran's foreign minister–now a national hero in the eyes of young Iranians, and one of the most well-liked politicians-turned-social-media-geek in the world—a "traitor." They publish cartoons ridiculing him, his neat appearance and his close relations with the U.S. Secretary of State John Kerry. All of this is despite the Supreme Leader publicly warning against the use of words such as "traitor" about the negotiators, stressing that they are doing a hard job and need support.
In their "illegal" rallies over the past weeks, the "apprehensive" angrily shouted, "We won't allow a deal to be signed." In this, they are now aligned with Netanyahu, who repeats that he won't allow a "bad deal" to be concluded. The same apprehensive demonstrators and their ideological leaders use alignment with Israel as leverage to demonise and ostracise their political rivals, usually, the reform-minded intellectuals. This group is not supportive of Israel's policies, including its indefensible occupation of the Palestinian territories and the construction of illegal settlements. But they refuse to call for Israel to be wiped off the world map. This subjects them to a campaign of defamation by those who for domestic purposes, accuse them of being abetted and funded by the Israelis to undermine Iran.
The hardliners in Iran are so exclusionary, short-sighted and overbearing that they don't even attempt to hide their intentions of solving the nuclear controversy on the battlefield, not at the negotiating table. Although they know that a military confrontation will unleash destruction, mayhem and chaos on Iran, they continue making persistent claims about Iran's need to preserve its dignity and values, as if their ultimate ideal is to increase the number of spinning centrifuges from 6,104 to 20,000, and enrich uranium to 20% purity. It is debatable whether they have the most rudimentary knowledge of how a centrifuge works or what enriched uranium is.
Where national interest is given up for ideology, it's not strange to see the hawks converge on similar objectives, whether they are in Tehran or Tel Aviv.
Kourosh Ziabari is an award-winning Iranian journalist, media correspondent and peace activist. He is a regular contributor to Gateway House.
This article was exclusively written for Gateway House: Indian Council on Global Relations. You can read more exclusive content here.
For interview requests with the author, or for permission to republish, please contact outreach@gatewayhouse.in.
© Copyright 2015 Gateway House: Indian Council on Global Relations. All rights reserved. Any unauthorized copying or reproduction is strictly prohibited