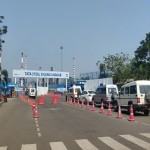 1. Introduction
Tata Steel has two steel manufacturing facilities in India, at Jamshedpur (TSJ) and Kalinganagar (TSK). The Jamshedpur plant has been operating for more than 100 years, while the Kalinganagar plant began operating in May 2016. The company currently has a capacity of 13 Metric Tonne Per Annum (MTPA) (10 TSJ+3 TSK) and plans to scale production by 17 MTPA to 30 MTPA by 2025.
The acquisitions of Bhushan Steel and Usha Martin in 2019, are set to contribute 5.6 MTPA and 1 MTPA respectively. The expansion currently underway at TSK will increase existing capacity from 3 MTPA to 8 MTPA. Additionally, Tata Steel has targeted organic growth of 5-6 MTPA.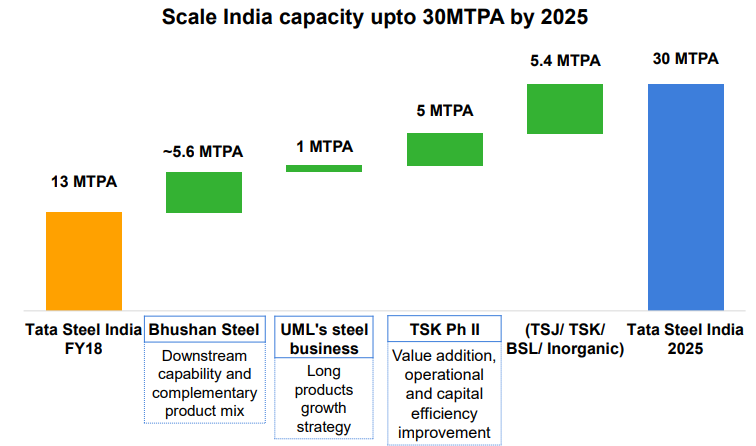 Tata Steel's management believes that digital transformation initiatives will be a major contributor towards this inorganic growth. In July 2019, TSK became the first facility in India to be recognised by the World Economic Forum (WEF), and included in the 'Global Lighthouse Network' list of 54 global facilities. As a result of this Tata Steel has since been organising 'Go and See' events for more than 30 Indian and international MNCs to increase awareness on Industry 4.0.
The TSK plant, designed in 2005, provided the plant designers an opportunity to map and introduce technologically advanced infrastructure as part of the plant design. These features incorporated at the design stage have helped TSK plant upgrade to Industry 4.0 solutions with relative ease as compared to TSJ.
Digital transformation initiatives at Tata Steel are not limited to TSK but are also being implemented at the older TSJ facility. With the aim to accelerate technology adoption, an Analytics and Insights (A&I) Centre has been setup in Jamshedpur. In 2020, analytics projects worth approximately $ 25 million were executed across the value chain.
2. Transformation Philosophy
Sarajit Jha, Chief Business Transformation and Digital Solutions Officer, at Tata Steel, believes the maturing of IT infrastructure and Manufacturing Execution System (MES) under Industry 3.0 is a fundamental requirement for a successful, digitally driven, Industry 4.0 transformation.
Learn Global – Implement Local
According to Tata Steel, while the journey for digital transformation is internally driven, understanding and implementing global industry best practices is crucial for accelerating the transformation. Tata steel brought in McKinsey and Company as 'Value Discovery Consultants' to assist in establishing a framework and roadmap for a sustainable digital transformation infrastructure, at the Kalinganagar facility.
Tata Steel's management believes that transformation cannot be driven by outsiders. Outsourcing of skill and expertise for digital transformation will not only prove costly but also fail to address a defined business problem. Process insights are crucial for a sustainable transformation and to consistently deliver valuable business insights. Across its HR chains, Tata Steel therefore encourages people to explore, fail and innovate in-house. Amit Kumar Chatterjee, Chief Analytics Officer, identifies the following as key drivers for a successful, enterprise-wide, digital transformation:
Leadership
Patience and perseverance
Tough strategic decisions
Collaboration
Resources
Mind-set transformation
Democratisation of analytics
It is interesting to observe that a majority of on-site engineers and technicians at TSK come from universities in Odisha and surrounding areas, making this a truly local effort at competing on a global scale.
3. Methodology
Opening Day Requirements (ODR): ODR is a check list that is thoroughly scrutinised by site engineers to ensure that all essential requirements impacting plant commissioning are met in a time-bound manner. Through 2014, the ODR was continuously monitored to ensure timely availability of critical digital infrastructure such as fibre-optic cables, radio, and data centres. A year ahead of the plant commissioning, site engineers started ensuring stabilisation of the digital infrastructure aimed at reliable and trouble-free operation.
Digital Value Acceleration Team (DVAT). In May 2016, the DVAT was created to focus on two aspects – organisational policy interventions and resource allocation. The DVAT evaluated each digital transformation project for its potential in solving key problems across value chains, and the project's ability to provide business intelligence leading to value addition. The team followed a 'Value Discovery 'path for digital solutions using a combination of data science, 'App' based tools, cameras, and Industrial IoT among others. The DVAT not only enabled value creation but also aided in projecting the capabilities of digital technologies to top management.
Structural Changes: Prior to Dec 2017, Tata Steel had three separate verticals – the Group Information System (GIS) Division (for IT infrastructure), the Automation Division (for automation requirements) and the Digital Value Acceleration Team (DVAT) catering to digital requirements within the enterprise. The digital initiatives attempted by the independent divisions often lacked meaningful impact on business outcomes. To facilitate unity in digitisation, in Jan 2018, the three divisions were merged as the 'One IT' division to form a client (plant) – partner ('One IT' at TSK and McKinsey) team. The partner arm under this team became the single point origin for all efforts pertaining to the enterprise wide Business Transformation through Digital Solutions (BTDS). The structural changes were implemented with an aim to provide – (a) scale for future expansion (b) structural alignment to facilitate rapid change and (c) agility.
Making Analytics Real, Valuable, Efficient and Logical (MARVEL). After convincing top-management of the model, in Sep 2017, the MARVEL wave 1.0 was kicked-off under the aegis of DAVT. The MARVEL wave 2.0 coincided with the amalgamation of various IT divisions under One IT in Jan 2018. This programme was aimed at accelerating enterprise wide transformation. The broad steps involved in product development under the MARVEL programme included: –

Proof of Concept:

Impact Assessment on Key Performance Indicators (KPIs)
Cost Benefit Analysis

Develop
Deploy
Impact re-assessment

Human Resource Training: The implementation roadmap for digital transformation requires substantial skilling and continued re-skilling of the existing workforce. To achieve this, a virtual Tata Academy for training was set up. Training was imparted through the following programmes:

Digital Awareness Programme: This programme was run between Aug 2015 to Dec 2016. In-house personnel identified by Tata Steel were chosen from various verticals in the manufacturing cycle and exposed to the capabilities of digital technologies under the Industry 4.0 umbrella.
Digital Immersion Programme: This programme commenced in Jan 2016 with the aim of scaling up the application skills of a select group of people who were chosen post the Digital Awareness Programme. As part of the programme, visits to other industries that leverage specific digital tools were undertaken.
Digital Enthusiast Exploration Programme: This programme was implemented between Aug 2015 to Dec 2016. Personnel from the Digital Immersion Programme were selected to further improve their skills in analysing problem statements by categorising them into digital and non-digital problems, and subsequently developing digital solutions to optimise process performance. Participants were required to create at least one digital solution to a process problem by utilising data analysis.

Implementation: Cross Functional Teams (CFT) also called 'Digital Squads' were set up to execute the transformation. The teams comprised of a mix of personnel with vertical expertise. Reverse mentoring within the team was encouraged. These teams consisted of:

Data Architects: Data Architects from the IT sector were responsible for designing the blueprint for organisational data management. They visualized, designed, and prepared data in a framework that was then utilised by data engineers and scientists. At Tata Steel, enterprise wide operations are structured in six levels. The data analytics layer provided insights to the MES. The MES based on the inputs of the data Analytics managed the planning, scheduling, production recording and quality requirements.

Elements of Manufacturing Data Architecture
Source: Tata Steel

Data Engineer: Data Engineers from the IT sector were responsible for testing and maintaining digital architectures, such as databases and large-scale processing systems. They dealt with raw data from the field and delivered data to the data science team in a format that was easy to analyse.
Data Scientist: Data Scientists from the IT sector were responsible for converting the data from the Data Engineers to generate meaningful business insights by using sophisticated data-analytics programs, machine learning and statistical methods. Once a solution was accepted, they presented a clear story to key business stakeholders on a daily, monthly or yearly basis.
Operations Translator: Operations Translators, were vertical specialists and the eventual end-users of the digital solution developed. They were responsible for defining the problem and the desired outcomes, and also validating the effectiveness of a given solution at addressing a specific operational problem. This knowledge was essential for a viable and sustainable solution.
Business Translator: The Business Translator was a finance specialist responsible for ensuring financial prudence during the R&D process and to assess and certify the Return on Investment of deploying a particular solution based on the Proof of Concept.
4. Success Stories
The two-billion-dollar transformation program announced in Aug 2018 and has already saved 1.47 billion dollars for the company cumulatively till March 2020.
Some of the Use Cases developed through the above framework at Tata Steel have resulted in the following benefits:
1. Tata Steel Jamshedpur (TSJ).
Reduction of scrap by 25% by optimization of bar drawing equipment through use of a camera
Digital twin of sinter plant that predicts performance 90 minutes in advance
Supply and network optimization to reduce cost in product distribution and logistics
Development of machine reliability model to detect anomalies and forecast performance 72 hrs in advance
Development of a raw material cost forecasting model
2. Tata Steel Kalinganagar (TSK).
Optimisation of Coke Dry Quenching processes to improve quality and improve energy efficiency
Smart raking system to democratise decision making skills, to improve yield, and ensure compliance with set quality grades for the finished product
Optimisation of reagent utilisation for the desulphurisation process
Development of Tata Steel app store with more than 110 applications for Level 5 operations
5. Future Plans
The Tata Steel Kalinganagar facility, at present operates a large number of digital and data science initiatives that are aiding various manufacturing value chain processes. As part of future digital expansion, Tata Steel aims to scale-up digital transformation across various elements of the entire supply chain so as to transform into the World Economic Forum's Edge to Edge (E2E) lighthouse facility. Towards this, a 'Reliability Centre of Excellence' has been setup to integrate current and future digital initiatives. Such digital architecture will provide a centralised and connected decision-making platform through the single-point access of plant-wide assets and operations. 
6. Key Findings
MNCs Centric
Tata Steel has assessed a 20X multiple for ROI on the various digital initiatives implemented.
Many MNCs, large cap and SMEs with capital expenditure capacities should consider an internally driven transformation. Availability of skilled manpower and agile digital infrastructure are important components. The strategy must be carefully crafted based on individual business needs and inputs from experts. A top down approach is more successful than a bottom-up one.
Vintage facilities and assets will have to undergo a sensorisation and IT infrastructure upgrade to facilitate generation of data which is important to build business insights based on data analytics.
The recognition of Tata Steel, Kalinganagar, by the WEF as part of the 'global light house network' is an important consequence and acknowledgement of the sustained modernization drive by the group since 2005, despite hurdles, to become a global benchmark for digital transformation.
MSMEs Centric
The metrics of manufacturing do not change. Yield, energy, throughput, quality, productivity and supply chains are equally important for MSMEs as they are for MNCs. Considering the capital intensive requirements however, MSMEs should consider deploying solutions developed by the
start-up ecosystem.
MSMEs are drivers for employment within India and have to therefore integrate employment
generation considerations in their roadmap for digital transformation.
MSMEs are often in control of operations that are internal to their organisation but are often challenged in external value chains. They should consider a discontinuous digitisation approach, in specific external value chains nodes to maximise impact.
For MSMEs the concern is integration in the existing external digital value chains of MNCs especially if they are a Business to Business (B2B) provider. MNCs can be incentivised to collaborate with MSMEs that feed directly into their supply chains, and assist them with digital expertise for mutual benefits.
Commander Amrut Godbole is Fellow, Indian Navy Studies Programme at Gateway House.
Sagnik Chakraborty is Researcher, Cybersecurity Studies Programme at Gateway House.
This case study is a part of Gateway House and India EXIM Bank's study, 'Digital Manufacturing in India'. You can read exclusive content here.
For interview requests with the author, or for permission to republish, please contact outreach@gatewayhouse.in.
© Copyright 2021 Gateway House: Indian Council on Global Relations. All rights reserved. Any unauthorized copying or reproduction is strictly prohibited.