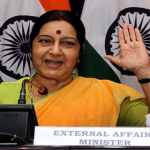 Foreign Affairs Minister Sushma Swaraj is currently at the centre of a political storm over a procedural passport matter.
Obfuscated from the gleeful media accusations against her, is an acknowledgement that after nearly a decade, India has had in Swaraj a competent and hardworking foreign minister, who stayed below the radar and supported Prime Minister Modi in his overseas engagements. In cricket parlance, while Modi is the flamboyant Sachin Tendulkar, she is the steadfast Rahul Dravid who ensures that he gets the maximum strikes, and then consolidates the gains of the sixes and fours scored while batting for India.
In the last year, Swaraj has notched up several achievements: She has travelled to 22 countries, ten of which have been to prepare for Prime Ministerial visits to those nations, such as Nepal, Myanmar, Sri Lanka, USA, China. The visits resulted in wins for India, both bilateral and in fora like SAARC, Asean and G20. With SAARC, for instance, agreements on the long-overdue Motor Vehicles Network and electricity grid were signed. The critical Free Trade Agreement in services with Asean, which will benefit Indian professional in areas like IT and logistics, has seen progress. Critical bilaterals as with the US, are finally smoothly on track, with little of the grumbling that was heard from Washington in past years.
She is India's first woman foreign minister – finally bringing India into the loop of those countries where women have reached high leadership positions without the benefit of dynastic association.
Under her watch, the Ministry of External Affairs, long viewed as sleepy and snobbish, is now a hive of activity, with performance targets to meet. The passport application process has improved dramatically, with India becoming the third-largest passport issuer in the world – and an internship programme has been instituted. Over 100 trade and investment agreements and MOUs signed during Modi's 19 foreign visits are being implemented and coordinated with domestic and foreign ministries – the daily job of a diplomat.
Swaraj is modest about her accomplishments but these are significant: the smooth transition of foreign secretary Sujatha Singh who was relieved to accommodate Modi's preferred S. Jaishankar, the evacuation of nearly 20,000 Indian citizens – including students – from troubled Iraq, Yemen, Libya, Ukraine and Nepal and several thousands of other stranded nationalities including Americans, the completion of critical agreements like the Land Boundary Agreement with Bangladesh – with a generous acknowledgement of the work of her predecessors – and keeping a steady continuity in India's foreign policy.
These were enabled by Swaraj's political experience and personality. A politician for 35 years, she knows how to engage publicly, and her four years as leader of the opposition in the Lok Sabha has honed the skills of negotiation. These are handy when parleying with China, or dealing with non-state actors like ISIS for the release of Indian nurses in Iraq. She also has an easy camaraderie with other women leaders, like Shaikh Hasina of Bangladesh, Hillary Clinton of the US, Julie Bishop of Australia.
Perhaps Swaraj's most important mission has been her engagement with the Arab world – a region on fire, with 7 million Indian expatriates and their $44 billion in annual repatriations, a major supplier of oil and which Modi has not yet visited. Between her visits to Afghanistan, the UAE, Oman and Central Asia, Swaraj has kept the tri-colour flying, providing much-needed security and reassurance to the Indian diaspora, and our energy security intact. In October, Swaraj will host the long-awaited India-Africa Summit, where all 54 countries in Africa will be represented.
Opponents bellowing for her blood over the Lalit Modi affair should be reminded of previous foreign ministers, so lacklustre that they read the wrong speeches at the United Nations General Assembly, or allowed a disgraceful situation like the Khobragade affair to occur and linger on to the detriment of India's global image.  That image has now been burnished by a hyperactive Prime Minister, and a diligent foreign minister, who has been doing her homework and handing in her assignments on time. So much so, that it appears that India's foreign diplomacy has run far ahead of its diplomacy at home.
If a ministry had to be rated, this foreign ministry would surely score as the top performer. And Swaraj would score as a top achiever in the cabinet.
Manjeet Kripalani is the co-founder and executive director of Gateway House: Indian Council on Global Relations, Mumbai.
This feature was originally published on Live Mint, here.
This article was exclusively written for Gateway House: Indian Council on Global Relations. You can read more exclusive content here.
For interview requests with the author, or for permission to republish, please contact outreach@gatewayhouse.in.
© Copyright 2015 Gateway House: Indian Council on Global Relations. All rights reserved. Any unauthorized copying or reproduction is strictly prohibited