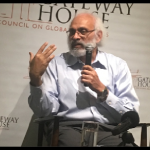 Subir Gokarn, India's representative to the International Monetary Fund, died on 30 July 2019, after a brief illness.
For India, it is a loss of a deep talent, one that the country needs so much now as it traverses its own dramatic transformation. Subir was an economist with an empathetic understanding of the ground realities of India and countries like it. He was also a sophisticated, innovative thinker with a disarming modesty. The combination was perfect.
For us at Gateway House, and especially for me, the loss is personal. When the Gateway House project began 10 years ago, Subir was the most encouraging. He understood the need for new policies for India, and independent institutions where they could be thought through, debated and put out for public and government consumption. Through his tenure at the Reserve Bank of India, at Brookings and the IMF, Subir remained a supporter of our ideas and progress.
His last public appearance was at Gateway House, on June 20, at a discussion on how to manage India's economy in an era of global uncertainty. With his typical forthrightness and simplicity, Subir laid out the global scenario, where, he said, inequality, a biased rules-based order, and the rapid advance of automation and technology has become the hallmark of a new era in transition, from one of acceptance of "the rules-based system, to increasing benefits of disengagement from the same." In this scenario, he said, for countries like India, "domestic markets create a buffer from global uncertainties".
Subir was both a realist and an optimist on India. He likened India's 25-year experience in financial reforms to "fixing a car in motion" and being "catalytic in nature rather than proactive". His recommendations: that the country's non-performing assets be fixed with customised responses for the different segments of business; that India capitalise on a robust payments system which, "post-demonetisation displayed the latent economic capacities for both small and large transactions"; and for infrastructure development, a critical element of  reform, the country needs to urgently establish a suitable model for financing.
Always, there was so much to learn from Subir. As a business journalist reporting on India for BusinessWeek, Subir was my best translator of the Indian economy. Comprehending India's complexities for a foreign audience was a job, and Subir knew the language and context of that translation. As chief economist at Crisil, Subir was known for his expertise on the states of India. He added an Asian and global understanding to that knowledge when he became the chief economist at Standard & Poor's, where we shared the same parent – McGraw-Hill.
As deputy governor at the Reserve Bank, Subir still put the man on the ground first. In an article for the Financial Times on India's jobs crisis, his solutions were simple[1]: use the various castes with their embedded vocational talents into the guild system of professional skills, and use it as an immediate skills-building bridge. It had given India a sophisticated supply chain in the past, one which made the country wealthy, fertile for trading and conquest through the centuries.
"Not using them has created a degenerative mismatch of skills and productivity in the country," Subir said. By locating vocational training centres around clusters of such skills, they can be modernised and transferred into the productive economy. It is also the essence of globalisation. Most importantly, he said, it will move India beyond being "a society determined by birth status".
He would have been pleased to know that some early steps are being taken in this direction by the government, which in the July 5 budget, proposed to link the creative industry with the economy[2], traditional crafts with global markets and to create a digital repository, especially for tribal arts and heritage.
Subir had planned to return to Mumbai after his IMF term ended in September. During his recent visit to the city, we had made many plans and blocked his schedule ahead of time. We will not see him again; but in our hearts and in our progress, Subir will still walk along with us.
Manjeet Kripalani is Co-founder and Executive Director, Gateway House.
This article was exclusively written for Gateway House: Indian Council on Global Relations. You can read more exclusive content here.
For interview requests with the author, or for permission to republish, please contact outreach@gatewayhouse.in or 022 22023371.
© Copyright 2019 Gateway House: Indian Council on Global Relations. All rights reserved. Any unauthorized copying or reproduction is strictly prohibited.
References
[1] Kripalani, Manjeet, 'Jobs for India's youth', Gateway House, 10 April 2012, <https://www.gatewayhouse.in/guest-post-jobs-indias-youth/>
[2] 'Budget 2019: Full Text of Nirmala Sitharaman's Speech', NDTV, 05 July 2019, < https://www.ndtv.com/business/budget-2019-full-text-of-nirmala-sitharamans-budget-speech-announcements-highlights-2064618>