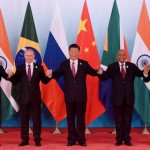 Africa does not have a single leader, but South Africa is widely viewed as an important leader in global affairs in many respects. This nation's salience, especially for India, its strategic partner, seems to be rising for two reasons.
First, the year 2018 will witness a series of celebrations, marking 25 years of the establishment of diplomatic relations between the two countries; the birth centenary of Nelson Mandela; and 125 years to the day when young lawyer, M.K. Gandhi, was unjustly thrown out of a railway compartment at Pietermaritzburg, an act that heralded a revolution. Second, South Africa now serves as the chair of two important multilateral groupings that shape and impact India's worldview, BRICS and the Indian Ocean Rim Association (IORA). The question, therefore, is: how will South Africa address its new responsibilities relating to these two organisations?
Internally, the country is amidst a complex transition. Jacob Zuma is in the last year of his presidency. Having lost much goodwill and popularity due to a series of corruption scandals, investigations and court cases, he is a diminished leader today. He lost the political battle in December 2017 when the ruling party, African National Congress (ANC), elected Cyril Ramaphosa as the party president over Zuma's choice, Nkosazana Dlamini-Zuma, a former foreign minister and his ex-wife.
Nonetheless, the Zuma camp managed to bag several key positions in the party's national executive committee, thus placing constraints on Ramaphosa as the new party president. As the latter leads ANC in next year's presidential elections, both he and his rival camp in the party will have to watch their step. Such a situation of domestic impasse and continuing dissension is hardly conducive to providing effective leadership in foreign affairs.
Yet, South African officials exude confidence, claiming that the nation has a well-endowed establishment, institutional memory, and intellectual and civil service resources to manage foreign policy challenges well. They assert that the five defining elements of South Africa's foreign policy will remain unchanged: promoting regional integration, advancing the African agenda, consolidating South-South cooperation, ensuring smooth North-South interaction, and reinforcing multilateralism.
Chairing BRICS
Viewed from this perspective, South Africa's chairmanship of BRICS faces interesting challenges. Here is a 10-year old organisation that went through a series of high-profile leadership styles of its Big Three – Russia, India and China. Now in its second decade, BRICS is led by one of the two junior partners, South Africa. (Brazil is the other.) Knowledgeable sources assert that no nation is big or small within BRICS' councils where all five, being sovereign nations, are equal and behave accordingly. For example, South Africans even claimed to have played a mediatory role on a few issues at a time when India-China relations passed through a most difficult phase last year. The continuing trust deficit between Delhi and Beijing is likely to be both an opportunity and a significant challenge for the current BRICS chair.
South Africa, having been the initiator of BRICS' outreach to neighbours and friends of the chair, is expected to push the proposal that loans by the New Development Bank (NDB) should now be extended to non-BRICS member states too. Besides, it will focus its energies on realising the BRICS' ambition to deploy all policy tools for pursuing innovation-driven strategy – on the assumption that this will increase the opportunities for BRICS economies and contribute to the global economy too.[1]
IBSA angle
Indications are that South Africa has not lost its fascination for the India, Brazil, South Africa (IBSA) Forum, the trilateral grouping of leading democracies from the three continents. While IBSA continues to function in a low-key fashion, as evident in ritual meetings of the ministerial-level Trilateral Commission and the IBSA Fund for Alleviation of Poverty and Hunger, its years of high profile activism ended when its 2013 summit, which was to be hosted by India, was shelved indefinitely. Reason? South Africa's joining BRIC, thereby turning it into BRICS, left IBSA largely ignored, especially at the highest political levels.
Senior officials of IBSA countries now appear to realise that neglecting this forum was a mistake.[2] Reports suggest that if New Delhi were to decide to host the long- postponed summit in 2018, the leaders of South Africa and Brazil may be happy to attend. Whether India is inclined to take such an initiative, however, remains unclear.
As chair of IORA
South Africa is likely to have a better chance of success in leading IORA to further consolidation and progress. South Africans feel a special affinity towards, if not a sense of ownership of, IORA since the idea of an association of Indian Ocean littoral states emanated from Nelson Mandela. Happily for this grouping, it is now on an upward trajectory, thanks to the excellent leadership provided by the past three chairs – India, Australia and Indonesia. The historic summit of IORA in Jakarta in March 2017, the first ever in its 20-year existence, took it to new heights, especially in terms of defining its goals. South Africa is keen to address the key challenge to build on cooperation in the six priority areas and on three cross-cutting themes.[3]
Further, Pretoria is pushing ahead to create IORA's three new mechanisms i.e. a Working Group on women's empowerment, one on the Blue Economy and a Core Group on tourism. Following the successful deliberations at the ministerial meeting in Durban last October, there is a realistic expectation that new groups should be in place by October 2018.[4]
Another proposal South Africa is rightly keen on is to define clearly the role of IORA's seven 'Dialogue Partners'. They are: China, Egypt, France, Germany, Japan, U.K and U.S. They are all important stakeholders in the entire spectrum of security and development issues pertaining to the Indian Ocean. The South African view seems to be that these seven nations cannot be treated as observers, but should be involved optimally with IORA's work so that its specific goals can be achieved with maximum possible assistance from them.
Conclusion
Over the years South Africa has developed very close relations with China, particularly in the economic field, with some detriment to India. How Pretoria manages to balance these two important Asian powers in the context of its bilateral and multilateral diplomacy will be monitored closely. Further developments within BRICS and IORA will provide useful parameters with which to assess the twists and turns in this gripping story.
Prime Minister Modi's forthcoming visit to South Africa to participate in the BRICS Summit in July 2018 – and the buildup to it – will surely provide useful clues.
Rajiv Bhatia is Distinguished Fellow, Gateway House and a former high commissioner to South Africa, Lesotho and Kenya.
This article was exclusively written for Gateway House: Indian Council on Global Relations. You can read more exclusive content here.
For interview requests with the author, or for permission to republish, please contact outreach@gatewayhouse.in or 022 22023371.
© Copyright 2018 Gateway House: Indian Council on Global Relations. All rights reserved. Any unauthorized copying or reproduction is strictly prohibited.
References
[1] Bhatia, Rajiv, 'After Xiamen, a stronger BRICS?', Gateway House: Indian Council on Global Relations, 14 September 2014, <https://www.gatewayhouse.in/stronger-brics-2017/>
[2] Based on the author's interaction with diplomatic sources.
[3] Government of South Africa, Jakarta Concord: The Indian Ocean Rim Association: Promoting Regional Cooperation for a Peaceful, Stable and Prosperous Indian Ocean, <http://www.dirco.gov.za/docs/2017/iora0309a.pdf>
[4] Department: International Relations and Cooperation, Government of South Africa, Durban Communiqué: The 17th Meeting of the Council of Ministers of the Indian Ocean Rim Association (IORA), Durban, South Africa, 18 October 2017, <http://www.dirco.gov.za/docs/2017/iora1020.htm>