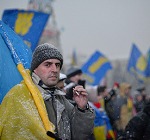 Although Ukraine's economy is underdeveloped and the western parts of the country remain mainly agrarian, while the eastern parts are more industrialised, it has sizeable trade ties with Russia and the European Union. Its GDP is $180 billion, and of its total trade of $155 billion, 29% is with Russia, its principal economic partner, while its trade with the European Union is around $45 billion. With discussions focused on the regional political and strategic dimensions of the ongoing crisis in Ukraine, its potential global economic impact – including on trade with the EU and Russia – has been inadequately examined, particularly in the context of threatened sanctions.
Q. What is the economic significance for other countries of the crisis in Ukraine?
For Russia, the geoeconomic significance of the crisis is in the fact that nearly 50% of its gas supplies to Europe are routed through Ukraine. Russia exports a third of the gas consumed in the EU. A steady flow of gas from Russia is therefore very important for Europe, especially for Germany, which imports around 60% of its gas from Russia.
An interruption in the flow of gas through this route could bankrupt Russia's primary gas supplier, Gazprom, whose plummeting stock value – a decrease of over 20% in the last four weeks – has been worsened by a crashing ruble.
American and European multinationals have reason to be concerned, because Russia-EU bilateral trade is worth $550 billion, and many European companies (including BMW, Carlsberg and British Petroleum) have a significant presence in Russia. Trade between Russia and the U.S. is much lower, at $40 billion, but for American multinationals, particularly food and beverage companies, and automobile and aircraft manufacturers, Russia is a huge future destination. Depending on the kind and depth of economic sanctions imposed, Russia has said that it will retaliate. Therefore the current operations and future prospects of U.S. and European MNCs can be negatively affected.
Q. Russia and the West have both offered debt-ridden Ukraine lucrative aid packages. Which deal should Ukraine have chosen?
Ukraine has current debt liabilities adding up to approximately $19 billion. This includes pending payments for gas to Gazprom worth $2billion.
One of the benefits to Ukraine of the Association Agreement with the EU would have been a $700 million reduction in tariffs on agriculture and processed food products. To pull Kiev away from the EU, Russia offered to buy Ukrainian government bonds worth $15 billion and supply gas at a reduced price of $268.50 per 1,000 cubic metres, down from $400.
When murky political developments forced the ouster of Ukrainian President Viktor Yanukovych, the EU tried to match Russia's offer by promising $5 billion in the next two years and a total of $15 billion over the next few years. In addition, the U.S. has offered $1 billion and the World Bank has announced an offer of $3 billion. The package from the West is linked to an under-consideration loan from the International Monetary Fund (IMF). Ukraine already has a troubled past with the IMF as a result of its inability to meet structural adjustment requirements normally insisted upon in IMF rescue deals.
The Russian offer was clearly better for a close-to-bankrupt Ukraine, but the arguments made by the pro-EU opposition groups in the country focused on the long-term value of integration with a wealthy, rule-based EU.  However, deposed President Yanukovych spurned the Association Agreement with the EU and the West-oriented opposition groups turned this into a political and strategic point of contention as they sought to integrate the country more closely with Europe.
Q. How will the crisis impact India's trade relations with Ukraine and Russia?
The crisis will have hardly any impact on India's trade with Ukraine. Bilateral trade is approximately $3.1 billion; India imports edible oil, petroleum products and fertiliser and mainly exports pharmaceutical products. Many of India's pharmaceutical companies have offices in Ukraine, with plans for future expansion into Eastern Europe. However, even if the West imposes economic sanctions the impact on India will not be significant, because pharmaceuticals are usually exempt.
The U.S. and EU have announced unilateral sanctions, including visa restrictions, and a freeze on the assets of individuals such as the ousted President Yanukovych and his billionaire son. But these will not concern India. Sanctions on Russia, on the other hand, can have some significance for India, since the bilateral trade is worth $11 billion — which is primarily in the defence, space and nuclear energy equipment sectors. India and Russia also have investments worth $8 billion in each other.
However, as Russia has a veto in the United Nations Security Council, no UN sanctions can be imposed. Western sanctions against Russia may have some impact, as presently seen in Iran, on the investments by Indian public sector undertakings like ONGC and GAIL in the oil sector, and perhaps discourage Indian companies that are planning to expand operations in Russia. However considering the importance of gas exports to Europe and the scale of investments by western companies (BP has a $28 billion stake in Rosneft and Exxon Mobil was in talks in 2013 to invest $190 billion on new exploration and development in Russia over five years), it is unlikely that sanctions on Russia will be taken to as punitive a level as with Iran.
Neelam Deo is Co-founder and Director, Gateway House: Indian Council on Global Relations; She has been the Indian Ambassador to Denmark and Ivory Coast; and former Consul General in New York.
This interview was exclusively conducted for Gateway House: Indian Council on Global Relations. You can read more exclusive content here.
For interview requests with the author, or for permission to republish, please contact outreach@gatewayhouse.in.
© Copyright 2014 Gateway House: Indian Council on Global Relations. All rights reserved. Any unauthorized copying or reproduction is strictly prohibited.