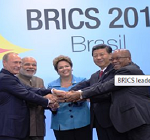 Next month, the five BRICS governments will begin to erect the New Developing Bank (NDB), focused on infrastructure development and structural changes focused on the developing world. Amidst the gossip of the NDB challenging the World Bank, what is important to note, is that this initiative offers a step towards a globally cohesive future.
Let's analyse the two banks, as they do share some commonalities: While the World Bank's two missions are to reduce extreme poverty to 3% and promote shared prosperity on a global scale, the two missions of the NDB are to finance investment in infrastructure, and ensure sustainable development in BRICS and other emerging and developing countries.
Herein lays the first difference. While the main objective of the NDB is focused on sustainable infrastructure development, the World Bank has much more all-encompassing view that focuses on a number of issues, ranging from medical aid to education.
The second difference is with the NDB's contingency fund. Named the Contingency Reserve Arrangement (CRA), this $100 billion nest egg is the BRICS version of saving for a rainy day. The CRA is to provide member countries with a bail out option in case any one of them has a Balance of Payments deficit. (Although, the IMF already exists to provide short term balance of payments, their funding is often insufficient and comes attached with inappropriate conditions.)
The tertiary difference will be in the structure of the NDB. The World Bank is renowned to be a cumbersome beast and securing a loan from them often proves to be a costly affair owing to its inflexible administrative structure. In the words of Amar Bhattacharya, the Head of the G24 Secretariat, "The governance structure of the (World) Bank is still 19th century, not even 20th century." The NDB on the other hand has the possibility of creating a modern, efficient and transparent financial institution with a high standard of accountability.
To read the full paper, click here.
This paper was published by Gateway House: Indian Council on Global Relations. You can read more exclusive content here.
For interview requests with the author, or for permission to republish, please contact outreach@gatewayhouse.in.
© Copyright 2014 Gateway House: Indian Council on Global Relations. All rights reserved. Any unauthorized copying or reproduction is strictly prohibited