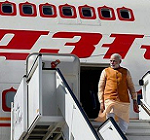 Schedule
26 September 2014 – 30 September 2014
Prime Minister Narendra Modi will be travelling to New York and Washington from the 26th to the 30th of this month and is scheduled to have over 35 engagements with Heads of government, business leaders in the U.S. and civil society.
---
New York
Accommodation: New York Palace Hotel, Manhattan
Friday, 26 September 2014:
P.M.: Prime Minister Modi to meet New York's Mayor Bill de Blasio.
---
Saturday, September 27: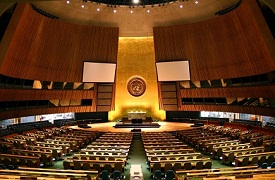 A.M.:
– PM Modi will begin his day by paying homage at the 9/11 Memorial in New York.
– Prime Minister Modi will meet the United Nations Secretary-General Mr. Ban Ki-moon.
– To address the General Assembly on the 27th morning. The theme of the session is: Delivering on and Implementing a Transformative Post-2015 Development Agenda. The focus of this year's UNGA will be on negotiations of this agenda which is expected to replace the Millennium Development Goals (MDG) . The MDGs were a set of eight goals like eradicating poverty, halting the spread of HIV/AIDS  and providing universal primary education that the UN members had decided to pursue with a set target date of 2015.
P.M.:
– Subsequent to his address, Modi to have bilateral meetings with the President of Sri Lanka, the Prime Minister of Bangladesh, and the Prime Minister of Nepal.
– Public address: PM Modi will speak at the Global Citizen Festival on the 27thevening at Central Park. This festival in the Great Lawn of the Central Park is held every year to coincide with the UNGA and is visited by several celebrities and musicians with over 40,000 free tickets being distributed. As per the current schedule, Modi is slotted to speak for 15 minutes at the event, the theme of which is ending global poverty by 2030.
– Later in the day, Modi to meet the former Mayor of New York Michael Bloomberg.
– To meet Nobel Prize-winning scientist Harold Eliot Varmus, director of the National Cancer Institute.
– In addition, the Prime Minister will meet a select group of 10 distinguished Persons of Indian Origin on the evening of the 27th.
---
A.M.:
– PM Modi is expected to meet New York Governor Andrew Cuomo.
– He will also meet Nikki Haley, Governor of South Carolina.
– Public address at 11 A.M.: The Prime Minister will speak at the Madison Square Garden. 20,000 tickets have been distributed on a lottery based model for the event. Modi's speech will also be telecast live at the Times Square.
P.M.:
– Modi will be meeting former U.S. President Bill and Hillary Clinton.
– The Prime Minister will then meet representatives of the Sikh community in North America i.e. organisations in the U.S. and Canada. This will be in the afternoon.
– Prime Minister will also be meeting with leaders of the American Jewish community on the 28th September. The meeting is to promote India's ties with the U.S. and in-turn strengthen India's ties with Israel.
– The Ambassador of India S. Jaishanker is hosting a dinner for the PM, where large cross sections of prominent Indian nationals have been invited.
---
Monday, September 29: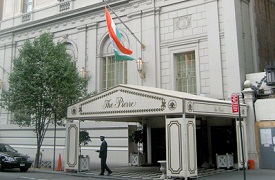 A.M.:
– There would be a breakfast meeting with eleven major CEOs of various companies on Monday morning — including Google's Eric Schmidt, Citigroup's Michael Corbat, Carlyle Group co-CEO David Rubenstein, Cargill CEO David MacLennan, Merck & Co CEO Kenneth Frazier, Hospira Chairman John Stale, Caterpillar CEO Dough Oberhelman, MasterCard CEO Ajay Banga and Pepsico CEO Indra Nooyi.
– Following that, Prime Minister will have one-to-one meeting with six other individual CEOs, Goldman Sachs's Lloyd Blankfein, Boeing's James McNerney, BlackRock's Laurence Fink, IBM's Ginni Rometty, General Electric's Jeff Immelt and Kohlberg Kravis Roberts (KKR) co-Chairmen and CEOs Henry Kravis and George Roberts, to interest them in investing in India.
P.M.:
– Prime Minister Modi to speak at the Council for Foreign Relations in New York.
– To attend a dinner reception hosted by Indian Ambassador to the U.S. – S.A. Jaishankar at The Pierre, a heritage hotel owned by India's Taj hotels. The dinner reception would be attended by Indian Americans and Persons of Indian Origin.
---
Washington:
Accommodation: Blair House, the presidential state guest house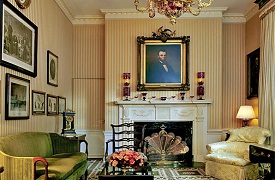 – Prime Minister is scheduled to meet President Obama who will host a private dinner  for Modi. Prime Minister Modi will be fasting during his visit to the U.S. and reports suggest he  will stick to his diet of fruits and lime juice for the dinner with the Obamas.
---
Tuesday, September 30: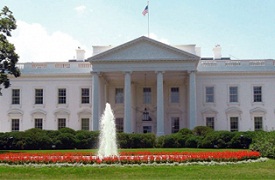 A.M.:
– On the 30th morning, PM Modi will pay homage at the Lincoln Memorial, the Martin Luther King Memorial, and the Mahatma Gandhi Statue at the Indian Embassy.
–   Modi will hold talks with President Obama. The agenda is likely to cover India's blockage of the WTO's Trade Facilitation Agreement, opening up of India's civil nuclear sector to U.S. firms, Climate change.
–   Following the talks, he will meet Vice-President Biden who is hosting a lunch along with Secretary of State John Kerry.
P.M.:
– Secretary of Defence Chuck Hagel will also call on the Prime Minister to discuss proposals for future joint naval exercises, enhancing counter-terrorism cooperation vis-a-vis Afghanistan and cooperation with Homeland security
– He is expected to meet Speaker John Boehner and the House leadership.
– The Governor of Maryland Governor O'Malley will call on the Prime Minister in the evening.
 –  Public address: Modi will address the gathering at the U.S.-India Business Council on the 30th in Washington. The address will be followed by a reception for him where he is expected to meet 300 to 400 businessmen.