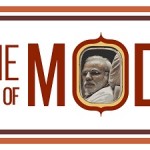 The following is a collection of Gateway House articles and podcasts reviewing Modi's foreign policy during his first year as Prime Minister.
Modi one year: the busy diplomat  by Gateway House
As Prime Minister Narendra Modi's first year in office draws to a close, we compiled a month-by-month review of diplomatic calendar, including foreign trips and incoming visits.
Modi one year: foreign policy review (Podcast) by Neelam Deo 
Neelam Deo, Director of Gateway House and former Ambassador, analyses the various facets of his foreign policy so far and outlines his foreign policy successes and failures.
Modi: India's salesman-in-chief by Manjeet Kripalani
Prime Minister Narendra Modi's foreign travels combine domestic and foreign policy to achieve India's twin goals of national security and investment inflow. The leader-as-salesman is not new, and India is just catching up with the global norm.
Modi's quest for clean energy by Amit Bhandari
A common thread during Modi's recent visits to China, Mongolia, and South Korea—as well as on his visits to other countries over the last year—is an attempt to move India away from coal and towards cleaner forms of energy such as solar power, natural gas, and nuclear energy. This signals a more responsible approach to development.
© Copyright 2015 Gateway House: Indian Council on Global Relations. All rights reserved. Any unauthorized copying or reproduction is strictly prohibited