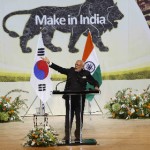 Not since Jawaharlal Nehru went about the world marketing his young country's leadership of a new non-aligned movement in the 1950s, has India seen anything like a salesman in its highest office. Now, Prime Minister Narendra Modi has set himself that job – and won the title of India's salesman-in-chief. Though new for India, it has become the job description for modern heads of state, who from Barak Obama to Xi Jinping, travel abroad to sell their country's capabilities and bring home jobs, trade and investment. Modi is merely catching up with the trend, and doing it with vigour.
In the 12 months since he was elected, Modi has travelled to 18 strategic locations with a combined GDP of $46 trillion and population of 3.5 billion, selling India's potential and putting the country back into global play.
India needs a salesman for two reasons: First, because investments create jobs. Second, because it's a matter of national security— and global presence. The weight of 1.3 billion people has not yet been brought to bear in international affairs through the last decade's rise of Islamic fundamentalism, the global financial crisis and concurrent receding of Western dominance, the social media phenomena and the ascendant Chinese economic juggernaut. India can make a difference.
Modi has strategically linked the domestic and the foreign for both these goals.
Over the last decade, foreign institutional and direct investment has left the country – from an inflow of $36 billion in 2004 to just $20.6 billion in 2014. Indian business also left, investing in manufacturing abroad – over $50 billion from 2009-14 alone – instead of having billions stranded in projects at home. The much-needed $1 trillion  investment in infrastructure was dominated by new firms with political connections, which are now mired in debt of nearly $50 billion. GDP growth of 4.5% wasn't creating the needed jobs and the country's international credit rating was near junk. Foreign investment needed wooing.
There is also a serious security issue. India is now firmly encircled in a hazardous security zone due to the actions of Beijing, Washington and Moscow. China's assiduous wooing of South Asia is a top concern, particularly the recent $46 billion economic corridor linking Pakistan with China, and running through Kashmir. So is the US' continuing and virtually unconditional aid and arms sales of $31 billion to Pakistan since 2001. Most worrisome is Russia's June 2014 announcement to sell arms and hold joint military exercises with Pakistan – presumably in response to India's lukewarm stance on Ukraine.
Through his high-profile diplomacy, Modi has pulled India out of the security shadows, clearly reflecting that threats will be countered by a tough leader. The active humanitarian missions in Yemen and Nepal supports this man-of-action position, and gives India yet another legitimate claim to permanent membership of the UN Security Council.
Modi's sales pitch is conducted on two levels, national and personal.
Nationally, he presents the civilisational and contemporary dimensions of India, referring to both the benefits of yoga and the country's technology-receptive youth eager for jobs and productive lives – a contrast to the India portrayed mostly by its poverty. This national goal—jobs, investment and security—he has assigned to himself both domestically and internationally.
It is backed by his compelling personal story, authentic personality, an image unblemished by corruption and an easy, unaffected bonhomie with world leaders and audiences – an emotional hook boosted by Modi's massive electoral mandate.
Positioning established, Modi has carefully selected his prospects and their pain-points. Governments and business, of course, but also financiers, students and the Indian diaspora, who have been disillusioned by India. In almost every country, Modi has met these groups. He has persuaded governments about a globally cooperative India, to business and finance he has promised a single-window welcome and a stable regulatory regime. On students he has made the impression of a modern leader linking future generations to each other. His e-visas will welcome a potential 4 billion visitors from 76 countries. From the nearly  9 million-strong diaspora in the 18 countries visited, he sought an investment of their skills and capital in return for a cultural  pride they have longed for.
The careful courting has elicited promises of nearly $100 billion in foreign investment but also considerable political capital. This is particularly true of the diaspora, whose massive turnout from New York to Sydney is a canny reminder to the leaders of those countries that their Indian-origin citizens are a powerful vote bank – with Indian interests at heart.
Now Modi has to deliver. This will require tackling domestic issues in earnest. Building new infrastructure, easing regulation and interest rates for jobs and entrepreneurship, reducing corruption, accountable and digitized governance, energy security, women's safety are immediate priorities. Some groundwork has already been laid, like devolving power and funding to the states, clean auctions of natural resources like coal, a new general sales tax, and increasing foreign investment limits. Competent ministers like Suresh Prabhu will kick-start reform in the railways–an area China wants to invest in.
Whether Modi's sales pitch has worked, will become evident in the next six months, when the impact of his structural reforms are felt – if power shortages really decrease, on-line government services really deliver, and the partnership agreements signed in the past year, materialise.  Then, will the salesman transform into the statesman.
Manjeet Kripalani is the co-founder and executive director of Gateway House: Indian Council on Global Relations, Mumbai.
This article was exclusively written for Gateway House: Indian Council on Global Relations. You can read more exclusive content here.
For interview requests with the author, or for permission to republish, please contact outreach@gatewayhouse.in.
© Copyright 2015 Gateway House: Indian Council on Global Relations. All rights reserved. Any unauthorized copying or reproduction is strictly prohibited