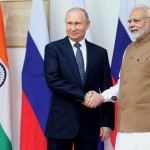 Indian and Russian diplomats responsible for drafting the joint statement – the outcome document of the Modi-Putin summit on 6 December – missed hitting a century, but they scored big.
Comprising a record 99 paragraphs and entitled India-Russia Partnership for Peace, Progress and Prosperity, the astutely-crafted document mirrors all aspects of the 'time-tested' relationship and its reality, range, diversity and ambition. Buttressed by the signing of 28 bilateral agreements, the 21st summit of leaders may be viewed as a major milestone in the development of India-Russia relations. No wonder Prime Minister Narendra Modi stressed in his opening remarks that while a lot of geopolitical equations have emerged, the friendship between the two countries has been "a constant among all these variables."
A decidedly positive outcome stems from the fundamental orientation of the two leaders who are strong nationalists as well as ardent advocates of multipolarity in the world. Delhi and Moscow consider each other as important power centres fighting for space in which the stronger players – the U.S. and China – as well as other stakeholders like the EU, Japan, ASEAN and Africa, have been shaping geopolitical dynamics.
But, more importantly, the solid results of the summit should be attributed to diligent preparations. They began with Foreign Secretary Harsh Vardhan Shringla's visit to Moscow in February. They picked up momentum through candid and constructive discussions held during the visit of Foreign Minister Sergey Lavrov to New Delhi in April and of External Affairs Minister S. Jaishankar to Moscow in July as well as other ministerial visits and interactions between the national security advisers. An agreed approach on how to deepen and diversify bilateral cooperation fit for the needs of the 21st century and a marked convergence on regional and multilateral issues were secured to mutual satisfaction.
Two-thirds of the joint statement focused on the current multi-faceted bilateral cooperation and how it may be strengthened in the future particularly in the four vital pillars of defence, space, civil nuclear cooperation and energy, and economy. The convening of the first-ever meeting of the defence and foreign ministers under the 2+2 mechanism timed to precede the summit on 6 December, was significant. India has this model of dialogue with only three other countries – the U.S., Japan and Australia.
The confirmation by both sides about the commencement of supply of S-400 missile defence systems in December 2021 and the conclusion of the agreement on joint production of over 600,000 AK-203 assault rifles at a location in Uttar Pradesh shows progress. It reflects the close and continuing links between Russian and Indian defence establishments and industries, reaffirming New Delhi's dogged adherence to its strategic autonomy.
On the wide spectrum of economy covering trade, investment, energy, technology and other domains, the New Delhi summit has a clear path forward. It includes long-term arrangements for the supply of commodities like oil, gas, fertilizers and coking coal to India; Russian investment in 13 sectors backed by India's Production-Linked Incentive (PLI) schemes; investment by Indian companies in Russia's Far East; and accelerating lagging connectivity projects such as the International North-South Transport Corridor and the Chennai-Vladivostok Maritime Corridor.
Bilateral trade stood at $9.23 billion in 2020 and showed an increase in the first half of 2021, but the two governments recognize its low level and acknowledge the need for greater efforts to achieve the target of $30 billion by 2025.  Bilateral investment in hydrocarbons, banking, automotive and telecommunications sectors has been doing better at $30 billion and is steadily heading to its target of $50 billion by 2025, with a bilateral investment treaty also under negotiation. Expansion of banking cooperation, mutual settlement of payments in national currencies, and interaction of tech-based platforms such as India's Unified Payments Interface (UPI) and Russia's Faster Payment System (FPS) are other measures under consideration. This plays to the fintech strengths of both countries.
India and Russia do have common interests in counter-terrorism and regional issues such as Afghanistan and Syria. On the former, they called for "a truly inclusive and representative government" and the need for humanitarian assistance, combatting terrorism and drug trafficking. On the latter, they agreed on humanitarian assistance and to advance "a Syrian-led and Syrian-owned, UN-facilitated political process."  There was the usual discussion on the UN reform, cooperation at the UN and other multilateral fora including G20, BRICS, RIC and SCO.
But the most skilful diplomacy was at play in addressing the public differences between Delhi and Moscow on the usage and the composition of the 'Indo-Pacific/Asia-Pacific' – the former being India's preference, the latter being Russia's. In usage, both agreed on the phrase "in the regions of Indian and Pacific oceans." In practice, both want the region to be "free, open, transparent and inclusive." But differences remain: Russia is opposed to the formation of non-inclusive clubs like the Quad and AUKUS, while India continues to be an enthusiastic member and supporter of the Quad and is not uncomfortable with the AUKUS, given the omnipresent China factor. They just agreed to disagree.
The intricate challenge India and Russia face is similar, if not the same: Russia's closest partner, China, is India's adversary; and India's good and increasingly close friend, the U.S., is Russia's adversary. Both India and Russia are keen on safeguarding their relations with their friends, but neither is willing to turn the existing cooperation into dependency. That is why India and Russia will remain strategically tied to each other, despite occasional differences. On July 8, Jaishankar observed, in his address to the Russian think tank IMEMO, that the India-Russia relationship rested on "the foundation of a more democratic and diverse international order" and on ensuring the "interests of a critical partner." Clearly, both Delhi and Moscow are capable of managing this challenge.
Essentially it is now up to the officialdom in the establishments of the two countries to translate ambitious plans into action in a timely manner. In this task, they will need to actively draw in and involve the business sector, academia and civil society. Unfortunately, all of the four-and-a-half-hour-long stay of President Putin was in New Delhi. South Block is the engine of the central government, but it is not India. To woo the nation as a whole and India Inc. in particular, Russian leaders must widen their outreach by including Mumbai, Bengaluru, Kolkata and Trivandrum in their itineraries. And they need to spend more time making friends on Indian soil, outside of the government. That will make a critical difference to bilateral ties.
Overall, the summit has been a success, a necessary modernising of the India-Russia relationship – less Raj Kapoor and the Bolshoi Ballet, and more fintech and connectivity. It is these areas that will cement the bilateral relationship with the next generation.
Rajiv Bhatia is Distinguished Fellow, Gateway House and a former ambassador.
This article was published in collaboration with the Russian International Affairs Council, and can also be found here.
This article was exclusively written for Gateway House: Indian Council on Global Relations and the Russian International Affairs Council. You can read more exclusive content here.
For interview requests with the author, or for permission to republish, please contact outreach@gatewayhouse.in.
© Copyright 2021 Gateway House: Indian Council on Global Relations. All rights reserved. Any unauthorized copying or reproduction is strictly prohibited.