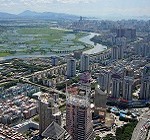 There has been much talk recently of a potential crisis in China's banking system,  and several financial ratings agencies and analysts have suggested all is not well. However, the Chinese system is so opaque, it remains difficult to get a clear picture. Much of the talk and debate remains theoretical and hard to prove.
Even the slowdown in Chinese manufacturing and inbound FDI has largely been passed off as a result of the lingering effects of the global economic situation. Yet Shenzhen, a benchmark city in China and the central hub for much IT and hi-tech manufacturing, is experiencing its slowest growth rates since 1979. That isn't about any global slowdown, that is about high wages and infrastructure that is expensive to maintain. Paradoxically, the global GDP rate was above 2 percent last year at a time when GDP growth in China is slowing. Higher costs are now coupled with a realization among many analysts that all may not be sustainable in China's 20 year manufacturing boom. Their sentiments are beginning to have an impact.
This article was originally published by China Briefing. You can read the rest of the article here.
You can read exclusive content from Gateway House: Indian Council on Global Relations, here.
Copyright © 2013 by the Council on Foreign Relations, Inc